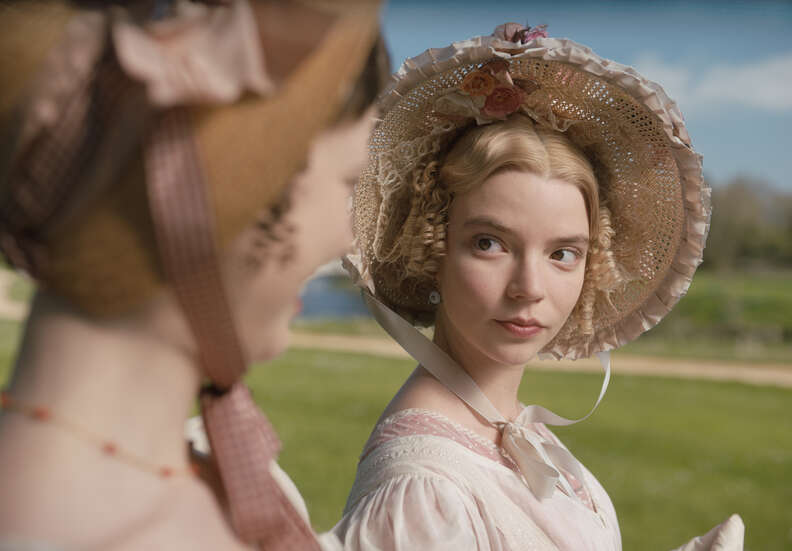 Focus Features
Focus Features
How the Martha Stewart of Indie Rock Made the New Movie Adaptation Jane Austen's 'Emma'
When photographer Autumn de Wilde's good friend Beck found out that she was going to be directing a new film adaptation of Jane Austen's Emma, he thought it was "perfect." "He was like, 'this is so you,'" de Wilde recalls. "I think people have this idea that rock and roll is only this certain thing, but we're all just pretending too."
You may not know it from her debut feature, but de Wilde has a reputation in the music world. She's best known for her photographs of indie icons like Jenny Lewis and Elliott Smith, and perhaps her greatest claim to fame is shooting the album art for Smith's Figure 8 featuring a Los Angeles mural that became a landmark following the musician's untimely death.
So how did she end up in Regency England? "Everyone in rock and roll calls me the 'rock and roll Martha Stewart,'" she says. "I am a total period film nerd. A Room with a View is my favorite room of all time... besides Die Hard." She earned her moniker while she was in a band and would bring cheese and crackers to practice, and one of her bandmates declared she was "bringing the comfort into rock." As we sit and talk in a midtown hotel restaurant, de Wilde keeps unveiling more evidence of her Stewart-esque qualities. She whips out her business card: A tiny leather bound notebook lined with Georgian wallpaper, which served as inspiration for Emma. She's obsessed with paper. She describes the elaborate robot invitations she made for Beck's Christmas party that arrived in envelopes covered in vintage stamps. "Beck has always been a fan of my crafting," she says.
De Wilde's Emma -- styled Emma., period included -- is not a radical reinvention of its source material. (Leave that to Clueless.) This new version is a faithful interpretation of Austen's 1815 novel that's nevertheless very funny, meticulously styled in hues that give it a marzipan-like aesthetic. De Wilde, who has photographed campaigns for Rodarte, balks at the faded yellow tones of some other adaptations' costumes: "They weren't antique then." Anya Taylor-Joy, of The Witch fame, is de Wilde's "handsome, clever, and rich" heroine, the vain Miss Woodhouse who adores getting involved in other people's affairs, but refuses to deal with her own feelings. Her Mr. Knightley -- the tale's foil-slash-love interest -- is Johnny Flynn, a folk musician and actor familiar to Netflix viewers as the lead of the rom-com Lovesick, formerly known as Scrotal Recall. (Flynn recorded a new song for the film.)
Even as de Wilde sticks to the strict codes of the period, her interpretation is not sexless. In fact, she throws in a surprising bit of nudity when we watch Knightley throw off his clothes in frustration near the beginning of the movie. "Mr. Knightley is the moral compass. He's going to be bossing her around a lot," de Wilde says. "I thought that I needed to undress him and say this is a man who is vulnerable." And, on top of that, Austen's characters wouldn't have been wearing underwear, she notes. At one point, Emma lifts up her skirts to warm her posterior by a fireplace, a moment inspired by a caricature de Wilde saw.
De Wilde envisioned her Emma. as a musical with no singing, and instructed her composer Isobel Waller-Bridge (Phoebe's sister) to "write in the key of the voice of the actor." Drawing on cartoons like Looney Tunes, pieces like Peter and the Wolf, and children's classics like Pollyanna, she wanted each character to have an instrument that would signify his or her sound. The pompous Mr. Elton (Josh O'Connor) is a bassoon, for instance.
If she's using music as a tool in her filmmaking here, it's an inversion of her work with musicians. She would always try to stage her photographs as if they were scenes from a movie, teaching her subjects like Smith what were essentially acting techniques that would make them more comfortable being photographed. With Lewis, she says she imagined each album cover they did together like a still from a movie that doesn't exist.

"It's a way for those very diary-like musicians like Elliott [Smith] and Jenny [Lewis] of giving them some protection so they can take something very personal that's about their mother or something and you put it inside of a film and they're still telling that story but now they've created a character that is them but not exactly them," she says. "That way we can fully explore that without feeling like they are betraying their personal secrets."
De Wilde's work in music brought her to Emma.: She was invited to pitch after releasing the video for Florence + The Machine's "Big God." She also sees the social pressures of Austenian society as analogous to being on the road with a band. Sure, Emma and her peers may be bound by drawing room conventions, but they may as well be bickering rockers on tour. "They're stuck in a van. They are stuck in a van or a bus. People start acting crazy," she explains. "This person likes that person and this person likes his girlfriend and blah blah blah. I had a lot of time on the road observing young people and what happens when you put them in a tin can. The Regency period is very similar."
Need help finding something to watch? Sign up here for our weekly Streamail newsletter to get streaming recommendations delivered straight to your inbox.