The Most Outrageous Moments from the 2017 Emmys
GettyImages/Jeff Kravitz/FilmMagic
This year, TV's biggest night was... kind of weird.
While the 2017 Emmys saw some of our favorite shows pick up well-deserved trophies, and prompted more than a few hilarious jokes from host Stephen Colbert, the three-hour ceremony saw its fair share of ups and downs. Sean Spicer also showed up; Donald Glover thanked Donald Trump in one of his acceptance speeches; and Hulu actually made some noise this year, thanks to Best Drama winner, The Handmaid's Tale. Yeah, like we said, weird -- in every way imaginable.
Read on for the rest of the night's outrageous moments.
Shailene Woodley says she doesn't own a TV on the red carpet for the TV awards
The Emmys pre-show wasn't exactly overflowing with noteworthy moments this year -- unless you count Lakeith Stanfield striking this very chill pose -- but actress Shailene Woodley was around to sprinkle some of her magic forest dust on the proceedings. The Divergent star, who was nominated for an acting Emmy along with most of her Big Little Lies cast members, told the E! Network that she was actually more of a reader than a loyal streamer. "I always read a book," she said. Suck it, Academy of Television Arts & Sciences.
Colbert sings, dances, and jokes about the President
"Hello Mr. President, looking forward to the tweets!" Stephen Colbert said early in his opening monologue, which proved to be loaded with much of the same political material that's helped the former Comedy Central star become the current ratings leader in the Late Night TV wars. After a pre-taped song-and-dance opening, which saw him inserting himself into shows like Stranger Things, the comedian took the stage backed by a team of Handmaid's Tale bonnet-rocking back-up dancers. The jokes that followed were pretty standard Colbert: pointed commentary delivered with a dad-like sheen of goofiness. "Tonight we binge ourselves, can you feel it?" he asked at the top of his opening -- and he did his best to help the binge fly by.
Colbert tells a brutal Bill Maher joke
Stephen Colbert's opening monologue pulled few punches, taking well-timed shots at HBO's Confederate show, all the random streaming platforms you've never heard of, and the President of the United States, but he saved his sharpest jab for one of his late night competitors: Bill Maher. After listing off some of the notable African American nominees this year, he also included the very white Real Time host. "I assume he's black since he's so comfortable using the 'N' word," said Colbert, referencing Maher's controversy from earlier this this year. "I don't know. Good night, that's my time." The joke killed -- and the fact that you could hear Anthony Anderson's infectious laugh in the background made it even funnier.
Sean Spicer makes a controversial cameo
If there was a moment that was designed to provoke "discussion" around the old watercooler, it was this Sean Spicer's appearance at the end of Colbert's monologue. Was it funny to invite the former White House Communications Director to parody his own insistence that President Trump's inauguration crowd sizes were huge? Or was it a lame attempt at humor that defanged Colbert's earlier Trump jokes? People will be arguing about this one until the next awards show.
Veep's Anna Chlumsky has the greatest reaction to Spicer
This GIF will last a lifetime.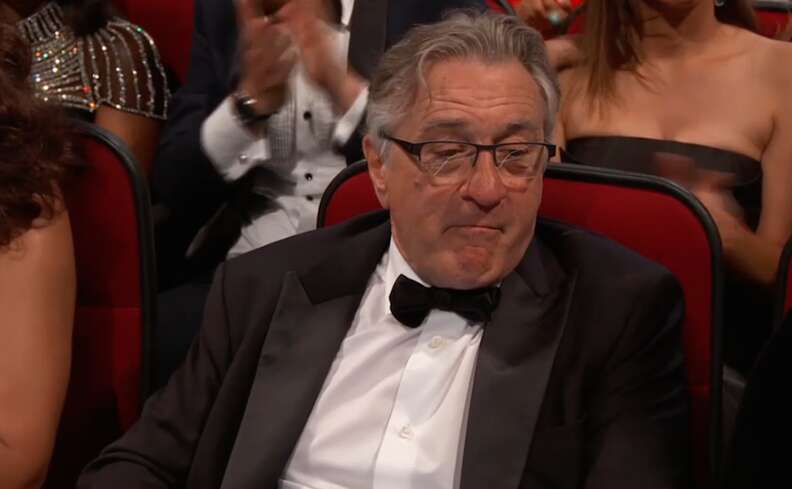 Colbert reminds Robert de Niro that he's a movie star at the Emmys
After ribbing the star-studded affair for having an inordinate amount of "movie stars," the cameras cut to one of the legends: Robert De Niro, who appeared to be bored out of his mind. "Are you enjoying the show, Mr. De Niro?" Probably not. But he was loving the fresh flavor of his Altoid.
Dave Chapelle wings it
On a night filled with odd moments of clearly prepared and fussed-over "funny" stage banter, leave it to Dave Chappelle to be the funniest by simply riffing onstage. While admitting that he skipped the rehearsal, the stand-up got laughs by just being himself and giving a shout-out to the DC public school system, which inspired a hashtag that gained traction throughout the night. What a legend.
Alec Baldwin wins an Emmy for playing Trump
You knew it was going to happen. Besides maybe Julia Louis Dreyfuss winning again for Veep, Alec Baldwin picking up another trophy for his portrayal of Donald Trump on SNL was one of the show's biggest locks. (Kate McKinnon also won an award for her work and the long-running show also picked up awards for writing and directing.) Still, it was wild to see Baldwin winning an award for something that started as a joke-ey cameo and has now taken on a bizarre life of its own.
Dolly Parton asks for a Grace and Frankie vibrator
The 9 to 5 reunion between Lily Tomlin, Jane Fonda, and Dolly Parton was one of the night's highlights, but Parton really took the the bit to another level with her joke about wanting a Grace and Frankie vibrator of her own. Honestly, she deserves her own Netflix show, too. Let's make it happen.
RuPaul gives Colbert the dirt on other statues
Thank God for RuPaul, who elevated a silly sketch about talking to "an actual Emmy statue" into a playful and gossip-filled little vignette.
Roger Ailes appears in In Memoriam
In 2016, a string of sexual harrassment allegations forced the media maven out the door of Fox News. Shortly after, Ailes aided President Donald Trump, saw his candidate seize the election, then died quietly in his home. The Emmys included him in the show's annual tribute out of due diligence -- he was involved with television, after all -- but the mention shocked the room, social media, and likely beyond.
John Oliver thanks Oprah's seat-filler
After HBO's Last Week Tonight won for Outstanding Variety Talk Series, the host thanked his producers, his showrunner, and, naturally, Oprah Winfrey. But because her seat was empty, he had to settle for the next best thing: "I'd like to thank Oprah's seat filler," he corrected. "I've only met Oprah once. It was like meeting the queen, only much better."
Julia Louis-Dreyfus drops some faux-Veep spoilers
JLD made Emmy history by grabbing her sixth consecutive comedy statuette for her role as now-ex-president Selina Meyer and thereby becoming the performer with the most Emmys for the same role. Teasing Veep's forthcoming final run, Louis-Dreyfus promised lots of surprises. "We did have a whole storyline about an impeachment," she quipped, "but we abandoned that because we were afraid someone else might get to it first." (Here's what you can actually expect next season.)
Charlie Brooker asks everyone to make love
Black Mirror has always been known for its techno-paranoia roots and bleak, bleak stories. But when Brooker won big tonight in the TV-movie writing category, he won for his most hopeful idea yet: "San Junipero," a love story set in a beachy California town. ("I'm gonna do the opposite of what I'd expect to see in Black Mirror," he told us last year, regarding the episode. "If we were just depressing all the time, it becomes too predictable.") True to the story's love wins message, Brooker then tried to incite an orgy with his acceptance speech. "Maybe if all of the beautiful people in this auditorium made love with each other, the world would be a far better place," he quipped, after noting how crappy 2017 has been. They didn't, but, you know, it's the thought that counts.
Hulu beats Netflix to top prize glory
Despite ubiquity and a $6-billion price tag on its current slate of original series, Netflix only mustered two major awards at the Emmys. Compare that to Hulu's five, which included a win by The Handmaid's Tale for the coveted Best Drama award. This was a jaw-on-the-floor shock to anyone paying attention to the streaming wars. With Netflix shows like House of Cards, Stranger Things, and The Crown all vying for the spot, Hulu -- which, for the longest time, boasted such shows as... Deadbeat starring Tyler Labine? -- stole the glory. Is the playing field finally leveling out for the major services? Will Amazon turn up the heat in the years to come? Will we finally bring ourselves to watch those final, gut-wrenching moments of The Handmaid's Tale in time for Season 2? Maybe after one more re-watch of Colbert's opening musical number...
Sign up here for our daily Thrillist email and subscribe here for our YouTube channel to get your fix of the best in food/drink/fun.