The 14 Most Outrageous Moments From the 2018 Emmys
Kristen Bell, Tituss Burgess, and Kate McKinnon

| Getty Images
Kristen Bell, Tituss Burgess, and Kate McKinnon

| Getty Images
While the Emmys certainly don't have the same glitz factor as the Oscars, nor the inebriated appeal of the Golden Globes, they're still an event that turns out some of Hollywood's biggest stars -- especially since television is attracting more Hollywood A-listers than ever. It's the night your favorite TV shows from the past year (technically running from June 1, 2017, to May 31, 2018, because the Emmys operate on a calendar not in use by any other human being) either get the awards you knew they deserved, or get robbed by out-of-touch voters who wouldn't know quality television if it hit 'em in the retinas with a nine-hour binge on a Sunday. You can customize your very own Emmys experience to fall somewhere on this spectrum.
This year's edition is the 70th annual Primetime Emmy Awards, and with Saturday Night Live veterans Michael Che and Colin Jost hosting, there were plenty of moments to remember, some of which don't even involve Game of Thrones. It was a night that touted diversity on the small screen, with decidedly mixed results. On the other hand, there was a surprise marriage proposal, so there were some genuinely outrageous moments! Here are our favorites.
Kate McKinnon and Kenan Thompson opened the show with a song about diversity.
Instead of opening with a bit from its two hosts, Jost and Che, the Emmys kicked off with a song from their SNL castmates Kate McKinnon and Kenan Thompson. The two Emmy-nominated comedians did their best with the slightly awkward premise that Hollywood had "solved" its diversity problem. Cameos from Tituss Burgess, Kristen Bell, RuPaul, Andy Samberg and Ricky Martin helped sell the bit, but the parody of self-satisfied entertainment industry back-patting couldn't help but feel like... self-satisfied entertainment industry back-patting. Even RuPaul telling everyone they hadn't "solved" anything couldn't solve this.
Chrissy Teigen and Brian Tyree Henry wanted no part of cringe-worthy monologue jokes.
Colin Jost and Michael Che's monologue did not get glowing reviews from critics who thought their punchlines -- save for a couple choice jokes like Che's description of The Handmaid's Tale as "Roots for white women" -- landed with a thud. Highlights of their introduction to the show came when the camera turned away from them and cut to the audience. After Che compared Laurie Metcalf's nomination for the now-canceled Roseanne to "nominating a cop for a BET award" the cutaway went to John Legend and Chrissy Teigen. Teigen -- always good for a reaction shot -- tried to duck out of view and failed. But she did create a perfect GIF. Later, Jost pitched a show called 15 Miles Outside of Atlanta, which would feature a white cast. Brian Tyree Henry shook his head even before Jost finished explaining it's about "white women who call the police on the cast of Atlanta." Henry wasn't any more impressed.
Henry Winkler screamed, "Daddy won!" after daddy finally won.
It feels like Henry Winkler has been on television for basically an entire lifetime. He got famous after all playing the Fonz on Happy Days, which began airing way back in 1974. But Winkler hadn't won an Emmy until this year, when he got one for his role as a slightly deranged acting teacher on Barry. So he gave the speech he wrote 43 years ago, and therefore told his kids, "Daddy won!" And instructed them to go to bed. Both of his kids are in their 30s. Hopefully they still listen to their dad.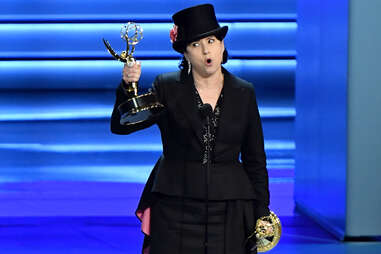 Amy Sherman-Palladino has excellent top hat taste and won a couple of Emmys.
If you've never experienced the sheer exuberance of Gilmore Girls creator Amy Sherman-Palladino, you got a double dose of her wacky style and no-bullshit attitude when she won for her work on The Marvelous Mrs. Maisel. Maisel -- about a Jewish housewife in the 1950s who gets into stand-up comedy -- ended up dominating the night, and Sherman-Palladino was the true star in a top hat and tails. Her wins, mind you, were historic, as she became the first woman to win for writing and directing in the same year. She opened her writing win with a line about the carpet: "Whoever put that carpet down hates women. I just want to say that right away. Time's up." When her name was called again, she not only did a Fosse-style jazz hand upon returning, she took her trophy and said, "My panic room's going to be so pretty." It's the kind of dialogue you expect from a Sherman-Palladino character, but coming out of the mouth of Sherman-Palladino herself.
Teddy Perkins made a creepy appearance in the audience.
Atlanta's Season 2 stand-out "Teddy Perkins," which told a strange story about a tortured musician (played by series creator and star Donald Glover, in heavy makeup) living in a mansion in self-imposed exile, was one of the most imaginative television episodes of the year. Sadly, director Hiro Murai was shut out in the Outstanding Directing for a Comedy Series category. (Murai and Glover, who was also nominated for directing the episode "FUBU," lost to The Marvelous Mrs. Maisel's Amy Sherman-Palladino.) But as the telecast cut to commercial, viewers got a jolt when Perkins himself was spotted in the audience. Did we miss out on an in-character speech? After the Emmys, the appearance spawned a low-level mystery: Who was that made up as Perkins? Donald Glover was shown seated nearby. So were his main cast mates and it wasn't Murai. Could it have been Donald Glover's Stephen, who's an executive producer on Atlanta With Teddy Perkins, you really never know.
Jeff Daniels thanked the horse that broke his wrist.
Jeff Daniels won an Emmy Award back in 2013 for his work on HBO's The Newsroom -- yes, really, he did -- so maybe he wanted to get a little weird this time? The stoic actor played a terrifying villain in Netflix's Western miniseries Godless, but he went for some dad laughs by thanking the horse that broke his wrist while he filmed the show. "Little tip for you young actors: When they call and ask if you can ride a horse, don't lie," he quipped. Toward the end, he also seemed to imply that winning the award had somehow healed his wrist. Emmys: What can't they do!
Michael Che gives out "Reparations Emmys."
Taking a break from making jokes on stage, Michael Che hit the streets in a pre-taped segment where he handed out "Reparation Emmys" to black TV actors who have been underappreciated over the years, such as Marla Gibbs from The Jeffersons, Jimmy Walker from Good Times, Kadeem Hardison from A Different World, Jaleel White aka Urkel from Family Matters, Tichina Arnold from Martin, and John Witherspoon of The Wayans Brothers. Like many of gags throughout the show, it didn't totally work -- the Cosby joke was especially rough -- but at least some great actors and characters from the past got a high-profile shoutout.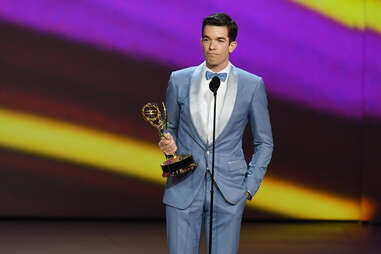 John Mulaney thanks his wife, who thought he would lose.
Sure, there was a marriage proposal at the Emmys this year. But John Mulaney's acceptance speech for Outstanding Writing for a Variety Special was romantic in its own way. He thanked his wife, Annamarie Tendler, who did not show up. "She was very busy and she said to me, 'I just cannot fly across the country to watch you lose,'" he said. "And I still think you made the right decision." (For what it's worth, Tendler figures heavily into the special for which he won, Kid Gorgeous.)
Holy crap! After winning the Emmy for Outstanding Directing for a Variety Special (the Oscars, these awards shows love giving awards to other awards shows), Glenn Weiss gave a heart-wrenching speech about his mother's recent death. His speech ended on a happy note, however, as he proposed to his girlfriend, Jan Svendsen -- using his mother's ring, no less -- sending an otherwise mundane evening into This Is Us levels of family-friendly entertainment. Oh, and Jan said yes.
Leslie Jones won the Emmy for Best Reaction to a Surprise Proposal at the Emmys.
Add it to the awards next year!
But Jan Svendsen had the actual best reaction.
She looked more surprised than the rest of us.
Thandie Newton forgot she wasn't on HBO.
When Thandie Newton took the stage to collect the Best Supporting Actress in a Drama Emmy for her work on Westworld, she must've momentarily forgotten she wasn't on premium cable anymore. The actress kicked off her speech by noting how "fucking blessed" she was and earned one of the few bleeps of the broadcast. It was like she was back in the Mariposa Saloon.
Hannah Gadsby kept her star turn going with a memorable performance as a presenter.
Tasmanian comic Hannah Gadsby's Netflix special Nanette became a sensation this summer when she interrogated the very notion of what stand-up comedy is and should be while announcing that she was quitting the business. Recently, her work has become controversial, with Norm Macdonald criticizing it -- without having actually seen it. So when she emerged to announce the winner for drama series director she acknowledged how surreal the experience is. "Somebody like me -- a nobody from nowhere -- gets this sweet gig, free suit, new boots, just because I don't like men," she said. "That's a joke of course." She continued before seamlessly transitioning into announcing the award: "Nobody knows what jokes are, especially men. Am I right fellas? That's why I'm presenting alone." It was a good primer to her halting delivery, and surely will send people heading to Netflix to experience more.
Game of Thrones won Best Drama.
Even Game of Thrones superfans would admit that the seventh season of the show was controversial: The most charitable defense of the often lackluster plotting was that the show's creators had to move a bunch of pieces across the board in awkward ways to set up the final season. Despite picking up seven trophies at the Creative Arts Emmys last weekend, it wasn't surprising that the fantasy show was mostly shut out of the major Emmy awards last night. (Peter Dinklage did win for Best Supporting Actor, and even he seemed a little tired of accepting the award.)
So, it was unexpected when the show won Best Drama at the end of the night, beating out the final season of FX's acclaimed spy saga The Americans and a range of buzzier, newer shows, including The Crown, This Is Us, and The Handmaid's Tale. Even creators David Benioff and D.B. Weiss looked befuddled. In retrospect, it shouldn't have been such a shock: Game of Thrones is now an Emmy juggernaut. Like one of the fire-spitting dragons on the show, it destroys everything in its path. Even with an "off" season, it can't be stopped.
Sign up here for our daily Thrillist email and subscribe here for our YouTube channel to get your fix of the best in food/drink/fun.
Follow the Thrillist Entertainment editors on Twitter @ThrillistEnt.