The 15 Most Outrageous Moments at the 2019 Emmys
Outrageous!

| Frederic J. Brown / AFP
Outrageous!

| Frederic J. Brown / AFP
The 2019 Emmys had some extraordinarily moving moments: Historic wins for When They See Us' Jharrel Jerome and Pose'sBilly Porter; an impassioned speech from Michelle Williams, winning for her performance in Fosse/Verdon. But it was also a messily produced show with a lot of silly promotion for Fox properties, notably The Masked Singer, lest you forget what network the Emmys were airing on this year. Forgoing a host -- which worked well for the Oscars -- didn't go over quite as well here, thanks too many labored jokes about, well, not having a host.
Luckily, the awards themselves saw a number of surprises and upsets that kept the actual trophy-giving interesting. Sure, sure, Game of Thrones won Best Drama, as everyone expected it would, but it didn't win everything it was up for. Meanwhile, in comedy, critical hit (and genuine masterpiece) Fleabag ended up triumphing over favorites like the final season of Veep. It was a real roller coaster ride of a show. Let's look back on some of the broadcast's most insane bits.
Gwendoline Christie showed up looking like a real-life saint
This year's Emmys kicked off with tons of impressive fashion moments. Patricia Clarkson showed up in a wine-colored gown that had fans on Twitter crying variations of "poison me." Billy Porter wore a giant hat. Egg, from the upcoming season of The Masked Singer, showed up looking like Egg! (It's Egg!) But it was Game of Thrones' own Gwendoline Christie who took the whole affair to church. The erstwhile Brienne of Tarth showed up looking like she had just stepped out of a religious Renaissance painting with a look that could only be described as holy.
The Emmys tried to go hostless but couldn't really commit to it
After letting SNL Weekend Update anchors Michael Che and Colin Jost play host for the evening last year, the Emmys decided to go without an official emcee for the 2019 ceremony, a move that lead to some odd moments in the broadcast. At the very beginning, Homer Simpson came out on stage and quickly fell through a hole in the floor, a visual gag that didn't really start the show with a bang. Then black-ish's Anthony Anderson was recruited from the crowd to run around backstage, leading to some frantic jokes about stealing trophies, and finally Bryan Cranston ended the segment with a speech about, you guessed it, the power of television. Or how the moon landing inspired his acting career. It was a lot.
Ken Jeong made a TikTok
For his presentational bit, Ken Jeong, joined onstage by his Masked Singer buddy Nick Cannon, did an elaborate gag about helping his daughter finish a TikTok, leading to an audience scream-along, and it ended up feeling like an awkward commercial for the video platform. Even Jeong seemed aware that the joke wasn't exactly landing with the audience, making a pained expression towards the end and commenting about how it would end his career. Not exactly a TikTok to remember.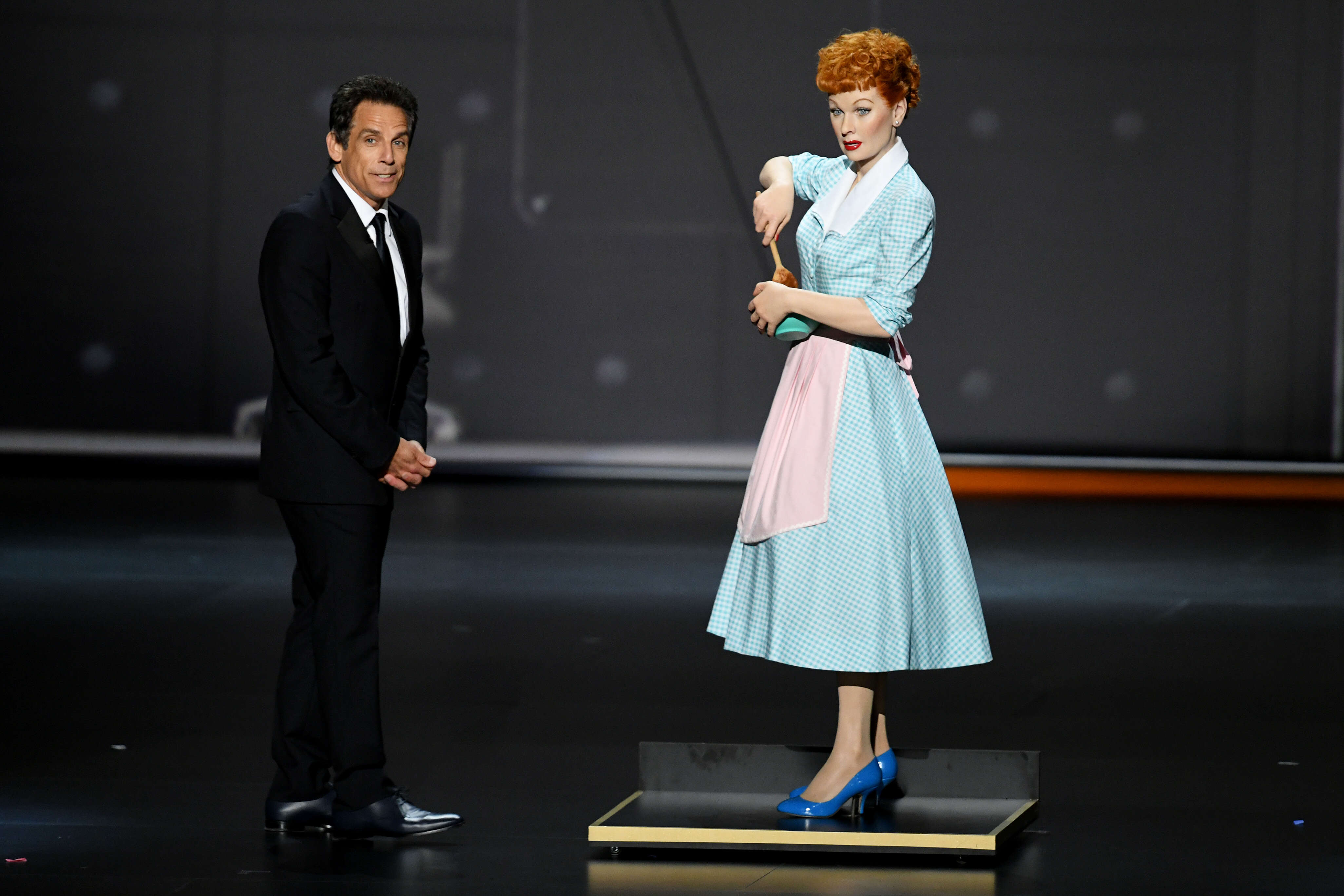 Ben Stiller presented next to some very creepy wax sculptures
When Ben Stiller first appeared next to a disconcerting wax figure of George Burns to spout platitudes about comedy, we were briefly horrified. When Stiller moved next to one of Lucille Ball, we thought we were losing our minds. When he finally reached his third subject, we finally got the joke. (And were relieved that the Emmys didn't actually think those statues were presentable in any way.) There was Bob Newhart, 90 years old, breathing and ready to call Stiller on his patronizing crap. Newhart may be a legend, but he's a living legend not an inanimate one. As they got on to announcing Supporting Actor in a Comedy, Newhart muttered: "I hated you, by the way, in Tropic Thunder."
Phoebe Waller-Bridge pulled off a surprise trifecta
For a moment, it seemed like it was going to be The Marvelous Mrs. Maisel's night at the Emmys again. Maisel was last year's big winner and it supporting players (Tony Shalhoub and Alex Borstein) took the night's first prizes, for best supporting actor and actress in a comedy series. But those 1950s jokesters didn't see a fourth-wall breaking Brit with deep trauma and a thing for a hot priest coming. Fleabag -- another Amazon show -- took nearly all the rest of the comedy awards. (Credit to Bill Hader, winning for lead actor in Barry, for briefly breaking the streak.) Creator Phoebe Waller-Bridge first won for writing, then Harry Bradbeer won for directing and then, in the biggest shock yet, Waller-Bridge took lead actress in one of the most competitive categories of the night. The award was expected to go to Julia Louis-Dreyfus for Veep's last season; after all, she has won for every other season of that show. Even Waller-Bridge appeared shocked.
When she went up to accept, Waller-Bridge, flabbergasted, said: "I find acting really hard and really painful." Later, when Louis-Dreyfus and Veep co-star Tony Hale were announcing the winner for Best Actress in a Limited Series or Movie, Hale, evoking his brown-nosing character Gary Walsh, tried to give that award to Louis-Dreyfus. Further into the show, Fleabag upset Veep once more, taking the Emmy for Outstanding Comedy Series.
Natasha Lyonne's great/weird clap
When you think about it, clapping is weird. You don't want to clap TOO loud, you don't want to elbow anyone while you do it, and god forbid your clap ends up looking odd. Unfortunately for many celebs, and fortunately for the rest of us, live telecasts involve a lot of clapping. Russian Doll's Natasha Lyonne, who appears to have a lifetime of bad clapping behind her, has joined the ranks of weird awards showclappers with her stiff-fingered applause, which the denizens of the internet immediately GIF-ed when the camera quickly cut to her after Fleabag's Phoebe Waller-Bridge beat out Lyonne for the Outstanding Lead Actress in a Comedy Series Emmy. You gotta hand it to her, though, for bravely clapping with all those giant rings on.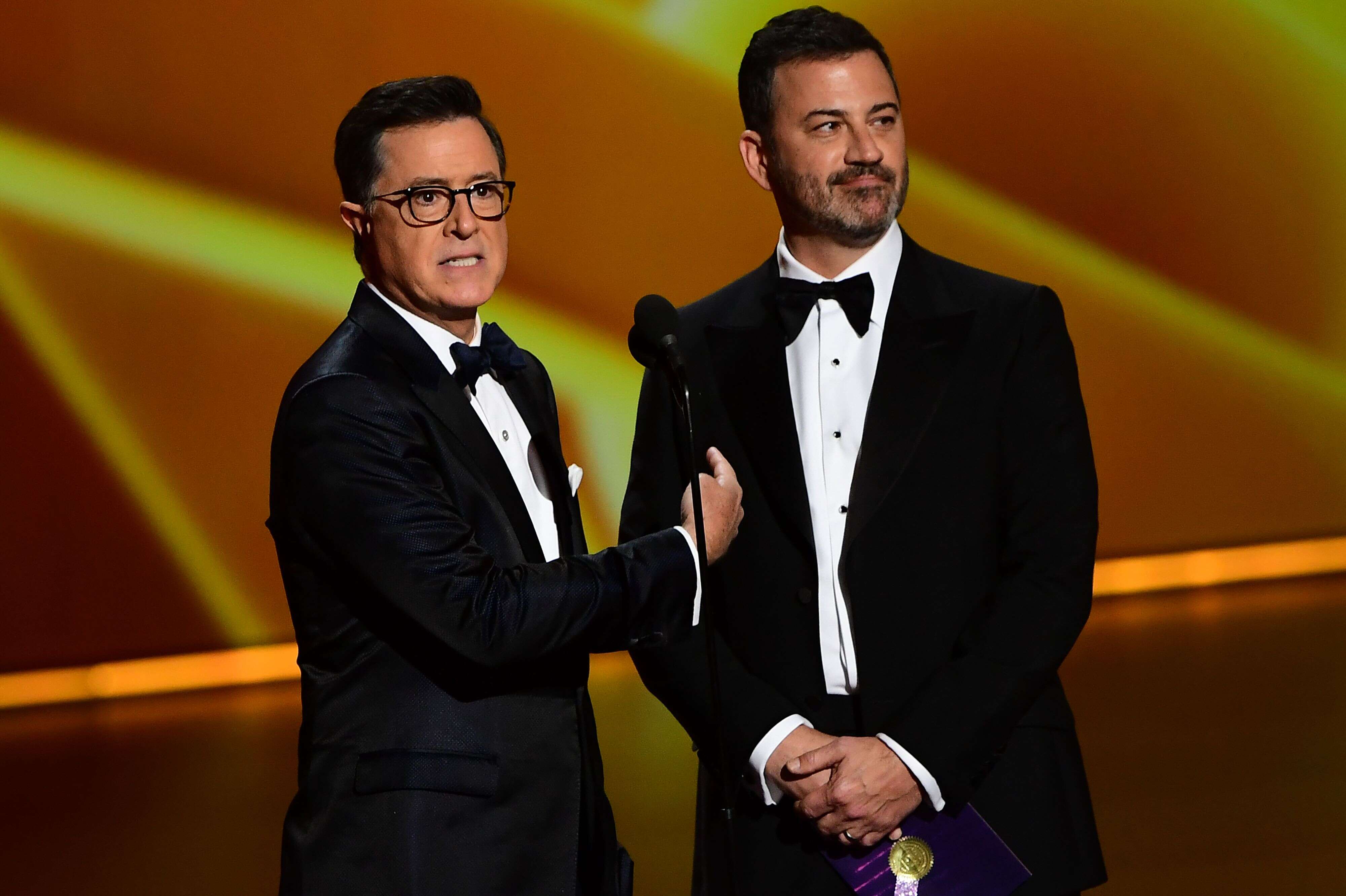 Jimmy Kimmel and Stephen Colbert made a plea on behalf of hosts
Before launching into a joke about Alexa taking over the presentational duties, a reference that felt a bit ominous after multiple Amazon series wins, Jimmy Kimmel and Stephen Colbert gave their review of the show so far: It sucks! The pair of talk-show hosts were particularly annoyed that the hostless ceremony was putting hosts like them out of work. "It's just sad," said Colbert, holding back faux-tears. "Hosts aren't optional!"
Thomas Lennon took a shot at Felicity Huffman
Though there wasn't a conventional host for the show, the Emmys tasked comedian Thomas Lennon, beloved for his work on absurd shows like The State and Reno 911!, with lightening up the proceedings by providing goofy, snarky commentary as the official announcer. Honestly, most of it was pretty innocuous! But a drolly delivered line about former Best Actress Emmy winner Felicity Huffman going to prison and multiple Chernobyl gags, like a reference to "the little nuclear disaster that could," ended up feeling a little mean-spirited and tone-deaf when slipped into the background. About midway through the show, Lennon said, "This is why people don't do this, because it sucks."
Sweet, sweet Ben Whishaw said "I'm hungover"
Ben Whishaw, of the James Bond series and Cloud Atlas, won his first Emmy last night for supporting actor in a limited series or TV movie for his appearance on A Very English Scandal, and it turns out he started celebrating his win a little early. About 24 hours early, to be exact. When the lanky Brit stepped onto the stage to accept his award from fellow Emmy winners Phoebe Waller-Bridge and Bill Hader, he took a few seconds to rub some color into his face before confessing, "I'm hungover! My agent took me out for drinks and I'm hungover." As they say, it's an honor just to be nominated -- and an Emmy nom is worth celebrating as early as you want.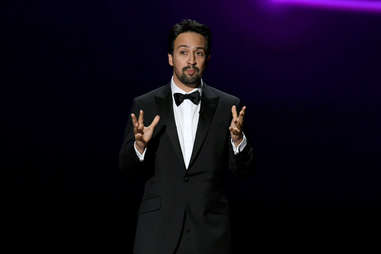 Lin-Manuel Miranda got snubbed in his intro
At the Emmys, stars and presenters are introduced with a credit or two dedicated to which TV shows they've appeared in. But sometimes, if you're Lin-Manuel Miranda, for example, you have to make do with a credit for a show nobody's seen yet. When Miranda, who pretty much everyone on the planet knows as the guy who did Hamilton and In the Heights and maybe also as the guy who was in that new Mary Poppins movie, strode out onstage, he was intro'd as "from His Dark Materials," the HBO show based on the Philip Pullman book series that isn't airing until November. O...kay? To make it all even weirder, he kicked off Adam DeVine and Samantha Bee's variety show song-and-dance segment -- you know, the kind of thing Miranda is actually known for. Weird!
Adam DeVine sung a ridiculous number
Workaholics and Pitch Perfect actor Adam DeVine is currently giving one of the funniest performances on television on HBO's The Righteous Gemstones, where he plays the goofball youth pastor younger brother to Danny McBride's mega-church preacher. You really should check that out if you want to see how hilarious and oddly poignant he can be. We can't say the same about the bizarre musical number he performed with Samantha Bee, which was framed as an old-fashioned tribute to variety shows but mostly ended up feeling like a trainwreck of randomness. A marching band and a Larry King impersonator and a cameo from the Lady Bug Masked Singer couldn't even save it.
Sarah Silverman pretended to be asleep
Nearly two-thirds of the way through the show, Sarah Silverman personified the boredom the at-home audience was feeling. After Saturday Night Live won what felt like its obligatory Emmy for Variety Sketch Series, the camera cut away to Silverman, also nominated in that category for her Hulu series I Love You, America, who appeared to be waking up from a wee nap. Was she doing a bit? Expressing general fatigue at SNL's endless run? Actually sleeping? (Probably not the latter.) Regardless, she really spoke for us all in that moment with her actions.
Peter Dinklage said a swear
Picking up his fourth Emmy for his work on HBO's Game of Thrones, actor Peter Dinklage brought a little premium cable, Lannister-approved language to the broadcast. "Ten years of absolute sweat, but 10 years of the most talented, motherfucking people," he said early on his speech, getting some laughter and applause from the crowd. Thanking the show's cast and crew, shouting-out creators David Benioff and D.B. Weiss in particular, he didn't seem too worried about getting bleeped. "Hey it's over," he joked from the stage. "I don't care."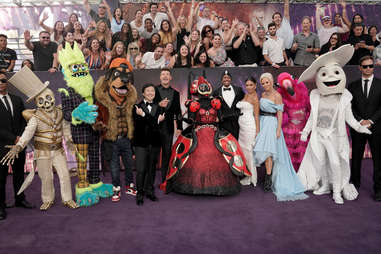 The Masked Singer was everywhere
There was one show that was all over the Emmys last night, and it wasn't Game of Thrones. It was Fox's competition variety show called The Masked Singer, which charmed and perplexed audiences in its first season at the start of this year, and is returning for another round on Wednesday. A selection of its bizarre cast, including the Flamingo, the Rottweiler, the Leopard, the Ladybug, and the Egg walked the purple carpet in full costume amongst the rest of the night's hopefuls and honorees, managed to sneak onstage during one dance number, and during a lull between presenters the fuzzy green Thingamajig teased his/her/their identity with the help of a bunch of bodyguards with shiny briefcases. Props to Fox for promoting their weirdest show on one of Hollywood's biggest nights.
Game of Thrones won, but not as big as expected
If one thing felt certain going into the 2019 Emmys, it was that Game of Thrones would take home the top prize of the night. But momentarily during the telecast, it seemed like there was a chance that wouldn't actually happen since Game of Thrones did not sweep as some predicted. (Though it did do quite well at the Creative Arts Emmys last week, taking home 10 wins.) Only one of its actors, Peter Dinklage, ended up with a trophy. It lost writing to Succession and directing to Ozark, Jason Bateman's episode of the Netflix drama beating out three Thrones entries. Still, the HBO juggernaut did end up the night with the Best Drama award. That was one of the only predictable moments in handing out the golden winged women. Fleabag nearly swept the comedy categories, shutting out the final season of Veep, a series which has dominated in the past, and beating last year's champion The Marvelous Mrs. Maisel in key races.