'Empire' Recap: Sex Tapes, Murder-Suicides, and Flip-Flops
RIP, Lyon Dynasty: Empire returned from hiatus last week, and the family sort of, kind of reunited at their OG label. Except for Lucious, because he's still the actual worst. Did you think Hakeem's coup would go over easy? Of course you didn't, this is Empire we're talking about. Let's dust off our Shakespeare CliffsNotes and try to make sense of all the drama -- and death! -- from last night's episode, "A Rose by Any Other Name."
That CEO crown looks good on Hakeem
Even after Lucious's ouster, Empire is still very much a family business. So of course Keem's first move at the helm is to make over the company's iconic logo in his own image.
Speaking of the deposed Lucious? He's hard at work on the music video for "Boom Boom Boom Boom Boom Boom (Boom Boom Boom)," where he tells a sexy reporter from the esteemed "Q&A News" that he is Steve Jobs. He's looking more like Woz lately, if you ask us.
Chuck Rhodes/Fox
Camilla's in charge
Last week we learned that Keem's ex Camilla (Naomi Campbell) had secretly married Empire board leader Mimi Whiteman and was scheming to wrest control of the company while Mimi is undergoing chemotherapy. Cookie gives Camilla a new nickname -- Ol' Resting Bitchface -- and we think it's going to catch on.
The first item on ORB's agenda is slashing budgets left and right, which, honestly, is a reasonable business tactic. Less reasonable is her obsession with her 22-year-old ex's age-appropriate new girlfriend. "She's pathetically in love with you," Camilla informs Hakeem, though from what we've seen of Laura (Jamila Velazquez) so far, she's the most level-headed player in the game.
Still, Camilla makes it clear that she wants to help Hakeem prove his CEO chops, and confirms that she is literally waiting for Mimi to die so that they can be together again. The joke's on her, though, because Keem is a double agent for the Lyon clan.
Jamal lets the gays down
Meanwhile, Lucious outed Jamal's hetero fling (with Alicia Keys!), which is all kinds of problematic. Even though, as Becky helpfully points out, IT'S NOT EVEN HIS SONG, Jamal's gay fans remake "Drip Drop" as "Flip Flop," flip, flippity flop. They encircle their former icon and show off some color-coordinated, well-accessorized choreography. It's a pretty awesome stunt until you realize that it's also kind of a hate crime.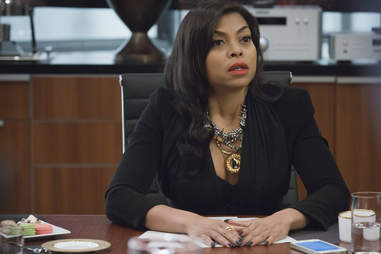 Chuck Rhodes/Fox
Cookie sharpens her claws
We never expected Tiana to help with retcon, but she does when Cookie crashes the starlet's rehearsal for her new single, "LBDT (Look But Don't Touch)," which will surely cement her role-model status with the hook, "Look at my body / Don't I look sexy." Those lyrics are creepily reminiscent of Rod Stewart, but judging by Tiana's bedazzled catsuit, that's unintentional. 
After T burns Mirage a Trois to a crisp ("They're barely good enough to even open for me," she sneers), Cookie realizes the sparkle diva has a point and enlists 3LW 2.0 to split her tour bill.
A tour will split up Hakeem and Laura "for a very long time," Camilla points out, so she's actually in agreement with Cookie here. Keem wants to keep his boo close to home, but thankfully, Laura is bright enough to realize how good this will be for her career.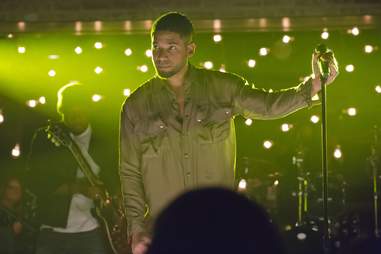 Chuck Rhodes/ Fox
Lucious gets ethered onstage
Jamal insists that it's no one's business whom he wants to hook up with, as if he's not a public figure and no one gossips about pop stars or something. Hopefully this teaches the dude to be more discreet about his dalliances going forward. Still, Lucious did out Jamal this time around, so Jamal decides he's happy to open up about his father's secrets.
In a live performance at Leviticus, Jamal drags Lucious hard in a new single that rhymes "the devil, he's a hater" with "dirty hypocrite manipulator" and points out that Lyon isn't actually Lucious' real name. Question: did anyone seriously think this drug dealer turned hip-hop mogul's name was that slick at birth? If Lucious is as famous as Empire constantly reminds us he is, there is absolutely no way he hasn't been doxxed by now.
To defend himself against what was actually the kindest part of Jamal's song, Lucious starts the spin cycle. He offers "The Dwight Walker Story" as an exclusive to his dubiously credible lady-friend over at Q&A News. Last week Jamal wouldn't settle for less than the cover of the New York Times, but this week we're giving our best material away to the lamest publication ever named.
Chuck Rhodes/Fox
Not even a tragedy can make Andre interesting
Andre's wife, Rhonda, is still recovering from that nasty tumble down the stairs and her subsequent miscarriage. To cope, she and Andre are attending counseling sessions with their reverend, who is probably not a certified mental health professional, which we can glean from lines like, "He's in God's care, which is far more powerful than any doctor's medicine."  
Rhonda treats God like he's Andre's imaginary friend and is convinced that he's about to have another psychotic break because he's acting paranoid. She keeps throwing around the phrase "recalibrate his meds" in a manner that implies she has no idea what it means. Yawn. Wake me up when something happens.
Chuck Rhodes/Fox
Goodbye, Camilla?
Everybody knows the only way to gain the upper hand over your enemy is to record a sex tape. So Hakeem pulls a Ray J and lets Camilla help him with his mommy issues again. (I wonder if he told Laura about this scheme.)
As soon as he leaks the sex tape, Mimi drops her Empire stock faster than Keem dropped the mic in his rap battle with Freda. Business Andre scoops up the shares to get Empire back in the Lyons' claws -- using the trust he set up for the son he just lost. This triggers an outburst, but Jamal and Hakeem predicted this might happen and wrote their big bro a sweet song with religious undertones to comfort him.
And it wouldn't be Empire without a jaw-dropping final scene, so Lucious pulls a B 'n' E and catches Camilla staging Mimi's suicide. We only see Mimi's knees, though, because they didn't want to write Marisa Tomei another paycheck, I guess?
Lucious is as cruel to Camilla as Jamal was to him, and tells her to take the poison she dosed Mimi with so that it looks like a murder-suicide. "Rot in hell," he tells her as she downs the unspecified drugs.
It'd be a shame to lose the Whitemans, but all celebrity cameos must come to an end, I suppose. Then again, no doubt Empire isn't above pumping Camilla's stomach next week. Stay tuned!
Sign up here for our daily Thrillist email, and get your fix of the best in food/drink/fun.
Lauren Leibowitz is an editor at Thrillist Entertainment, which is way better than Q&A News. Find her on Twitter @lleibowitzz.