In just nine episodes this season, Empire has given us enough battles, brawls, betrayals, and bizarre celebrity cameos to fill a typical primetime soap's entire run. To help you prep for tonight's midseason finale, here's a look back at the 20 most absurd plot twists and set pieces from the Fox show's second season.
Recommended Video
'Last Week Tonight' Writer Josh Gondelman Takes Shots, Talks About Working For John Oliver
Cookie protests police brutality in a gorilla suit
Kicking off the season with a brazen nod to current events, Cookie dons a gorilla suit while being lowered into a cage as part of a Black Lives Matter-inspired #FreeLucious rally. Costume designer Paolo Nieddu told Vulture that the tableau was an homage to Marlene Dietrich in Blonde Venus, but we think it was just an excuse for his department to use all that excess fur lying around.
Cookie pimps out Anika
Later in the season premiere, it is revealed that badass lesbian mogul Mimi Whiteman (Marisa Tomei) was only using Cookie to get to Lucious -- but not before she let Mimi bed her husband's ex as a bargaining chip. Talk about having your Cookie and eating it too.
Chris Rock is a cannibal, sort of
What's more ridiculous than casting Chris Rock as Lucious' drug-dealing, jailbird nemesis Frank Gathers? How about Lee Daniels' original plan for the character, which depicted Frank as a cannibal who casually munches on a tray of human body parts?
Frank's special gift box for Cookie
Empire may have drawn the line at cannibalism, but they certainly aren't above whipping out the old severed-head-in-a-box routine, Frank's way of saying "Howdy" after killing Cookie's cousin Jermel.
Lucious hires Thirsty Rawlings
We know that Lucious is prone to impulsive decisions, but hiring a University of Guam-educated lawyer (The Wire's Andre Royo) who introduces himself with the line "My friends call me Thirsty" seems like a questionable business tactic. Then again, Thirsty carries around his own personal "corpse-detection system" and his purple-suit game is strong, so, yeah.
And then Pitbull shows up
A nice reminder that, while Lucious may rule onscreen, Pitbull is the true emperor of the music industry.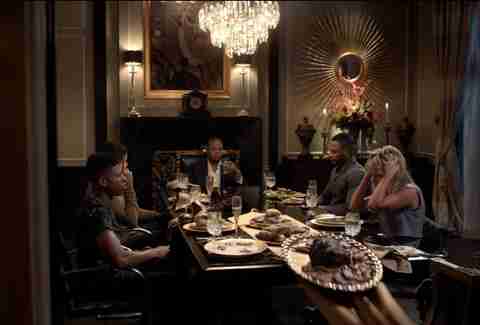 Cookie hams it up at Lucious' dinner party
Cookie is not happy when Lucious tries coercing her into giving up her new label, Lyon Dynasty. So naturally she protests by turning the table-runner into her very own ham conveyer belt.
Jamal & Hakeem's police brutality-themed video
Just when you thought Empire couldn't comment more audaciously on police violence than putting Cookie in a gorilla suit, the show has Jamal and Hakeem collaborate on a music video inspired by "a post-apocalyptic Black Panther theme with the brothers fighting police oppression." It is arresting.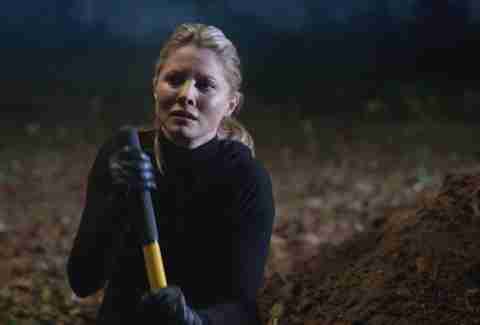 Andre and Rhonda dig up Uncle Vernon
Rhonda, the ultimate ride-or-die, helps her husband, Andre, disinter the remains of Lucious' long-time business partner Uncle Vernon -- a man she happened to have killed last season by conking him over the head with a candlestick. No matter that she's pregnant with Andre's baby. There's nothing like a midnight corpse excavation to strengthen those birthing muscles.
The corpse in the car
Did you guys know that leaving a decomposing corpse in your opposing lawyer's car is the perfect way to get a case dismissed? Thanks, Thirsty -- we'll try that one next time!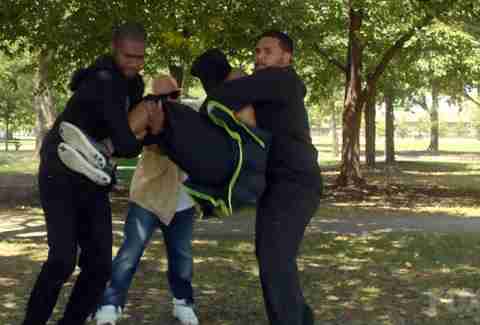 Hakeem gets kidnapped in broad daylight
Thankfully, Cookie has a very particular set of skills, skills that make her a nightmare for her son's captors.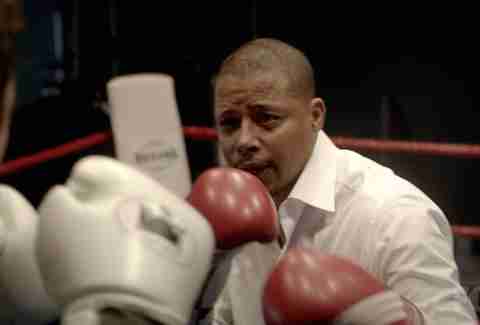 Lucious boxes out his potential business partner
In his quest to acquire music-subscription service Swift Stream, Lucious knocks out his corporate counterpart, floods him with morphine, and then, with Mimi's help, tricks him into merging companies. Nothing personal...
Lucious & Mimi celebrate the deal with a threesome
Most. Awkward. Business. Meeting. Ever.
Mirage a Trois debuts with "Mimosa"
After settling on the world's worst band name, Mirage a Trois, for his protege girl group, the world's worst manager Hakeem decides to kick off the singing trio's career with a brunch anthem titled "Mimosa." Even pre-"Friday" Rebecca Black wouldn't have agreed to be associated with this.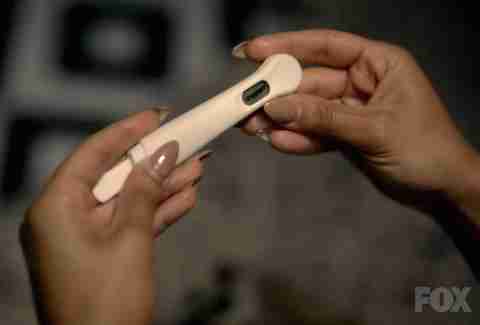 Anika gets pregnant with Hakeem's baby
Looks like Boo Boo Kitty has a little Lyon cub on the way! This is the point when Empire went full Days of Our Lives, and I'm not even mad about it.
Freda and Hakeem battle for Lucious's love
Dad's approval: the greatest musical motivator since mom's spaghetti.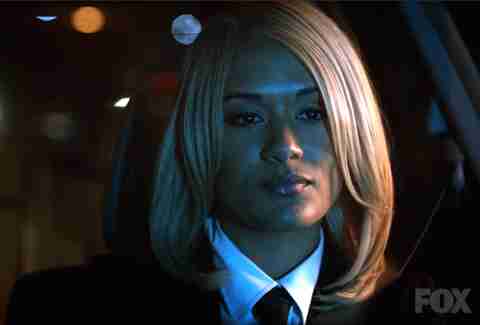 Anika kidnaps Laura by posing as her driver...
What, you thought Empire was only going to have one random kidnapping this season? Why should Hakeem's other lover go unscathed?
... and then becomes a full-blown stalker
Well, that escalated quickly. We're not sure how this whole Anika-goes-crazy subplot is gonna play out, but arranging photos of your ex-lover's son-turned-prospective baby daddy into a floor collage that would make Carrie Mathison quake is generally a pretty worrisome sign.
Oh, hey, Rosie
An entire list could be devoted to this season's absurd cameos, including Ludacris as a malevolent prison guard, Kelly Rowland as Lucious' mentally ill mother, Mr. Worldwide as himself, etc. But our favorite incongruous celebrity appearance has to be Rosie O'Donnell, who showed up last episode as Pepper O'Leary, Cookie's prison pal-turned-purveyor of bougie cupcakes.
Jamal makes out with Alicia Keys
Who knows why Empire suddenly felt the need to give its leading, openly gay character a heterosexual makeout scene? I suppose it's the next logical step once you've hit those familiar "corpse in a car" and "my lover's son got me pregnant" beats once too often.
 
Sign up here for our daily Thrillist email, and get your fix of the best in food/drink/fun.
  
Anna Silman is a staff writer at Thrillist. Much like Cookie Lyon, she thinks head-to-toe leopard print is always a good idea. Find her on Twitter @annaesilman.