Epperson Mountaineering: Packs That Rock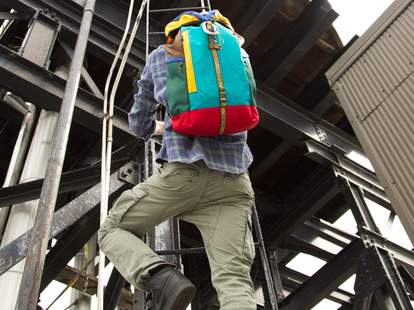 Mark Epperson couldn't find any acceptable mountaineering packs anywhere, so, like any impassioned fellow would, he buckled down and made his own, right here on American soil. Almost exactly like what George Washington did. Now 40yrs strong, the Montana-made line of ultra durable, high-quality, retro-handsome mountaineering packs are as home on the subway as they are at a cliffside campsite.

Anthony Humphreys
Details like tough Cordura fabric, padded bottoms, mil-spec tubular webbing, and an aluminum clasp for the clever top-opening main compartment are what make these packs excellent. Each one is inspected individually to ensure they're made to last.
Anthony Humphreys
Epperson Mountaineering Large Climb Backpack
Epperson bags hold up like iron and are ergonomically designed for comfort — you'll have a hard time finding better American-made packs that are also awesome-looking. Which means all your old Eagle Scout pals will be totes jealous.

Nick Caruso enjoyed being a Cub Scout, but once he passed Webelos things got a little too preachy. Follow him on Twitter @thenickcaruso.