Everything We Know About Season 2 of HBO's 'Euphoria'
It's supposed to be even darker than Season 1.
In summer 2019, HBO enamored audiences -- and prompted viewers to wonder if Gen-Z is OK -- with the release of its latest original series, Euphoria. The show, from Sam Levinson, son of Barry Levinson, and executive produced by Drake (among others), became an instant hit, praised for its young ensemble cast, led by Zendaya as recovering addict Rue Bennett, and raw, unsentimental portrayal of youth culture, addiction, and trauma. Once people got past the pre-release controversy -- you know, that now-infamous 30-dick scene -- and tapped into the experiences of the classmates in Rue's network, viewers were hooked (and invested in the teens' well-being). 
Rue, Jules (Hunter Schafer), and their peers have been through a lot in a short amount of time, but there's clearly more to their stories. Below, we look into where the series stands going forward. Here's everything we know about Euphoria Season 2 so far; check back for updates as we learn more.
Eddy Chen/HBO
Will there be a Euphoria Season 2? 
Before Season 1 even ended, HBO picked up Euphoria for a second season in mid-July 2019. As The Hollywood Reporter noted, it's the network's youngest-leaning series to date, making its renewal a no-brainer. Considering Euphoria gets about 5.5 million views per episode (accounting for streaming and delayed viewing), many of which tap into that young demographic, Season 2 was practically a surefire decision.
Upon the series' renewal, HBO's executive VP of programming Francesca Orsi said in a statement to THR, "Euphoria creator Sam Levinson has built an incredible world with an extraordinary cast led by the supremely talented Zendaya… We are so grateful that he chose HBO as the home for this groundbreaking series. We look forward to following these complex characters as their journeys continue through the challenging world they inhabit."
When will Euphoria Season 2 be released?
Season 1 may have aired in summer 2019, but it looks like Season 2 will be following a different release schedule for a number of reasons. As with all of HBO's releases, Euphoria's production was unfortunately put on hold in March 2020 due to the ongoing COVID-19 pandemic. 
While the series is delayed, HBO announced on social media just days before they put a stop to production that the cast was back together for table reads and ready to get things rolling. So, at the very least, fans can rest easy knowing that scripts are done and the show just needs to shoot and go through post-production. Everything is unclear at this time, but a release shouldn't come too long after they're able to film. Sydney Sweeney, who plays Cassie, told Entertainment Tonight, "I think everyone is hoping that [production] will be back sometime this summer, but they also don't want to rush anything just in case," she adds. "It isn't safe, so I don't think they wanna get too much hope in our minds and then have to push it longer. So we're kind of just waiting and seeing right now." If they do get back to filming this summer, maybe mark your calendar for late 2020 or early 2021, but don't get too hopeful.
How many episodes will there be in Euphoria Season 2?
An episode count hasn't been announced, but given Season 1 featured eight installments, that number seems likely for Season 2.
Who in the cast is returning for Season 2?
Since Zendaya leads the cast as Rue and her narration guides viewers through the lives of her classmates, you can bet that she'll definitely be back for Season 2. Plus, the star took to Twitter to share how humbled she was by the news of the series being confirmed for a second season, so consider that a given.
Since the show is so reliant on its large ensemble cast, and there's definitely more to everybody's story, assume the following core characters will be back: Jules Vaughn (Hunter Schafer), Nate Jacobs (Jacob Elordi), Lexi Howard (Maude Apatow), Fezco (Angus Cloud), Kat Hernandez (Barbie Ferreira), Cassie Howard (Sydney Sweeney), Maddy Perez (Alexa Demie), Chris McKay (Algee Smith), Gia Bennett (Storm Reid), Ethan Lewis (Austin Abrams), and Cal Jacobs (Eric Dane).
Eddy Chen/Euphoria
Will there be any new characters in Euphoria Season 2? 
In early 2020, the series put out a casting call for a handful of new characters. Right now, there's no word on who landed any of the following roles, but here's who they were looking to fill, which gives a little insight into what's coming next season: 
"Darian: Male. 18+ to play 17. Any ethnicity. An outsider. Sensitive. Vulnerable. Mischievous. Could struggle with addiction. Definitely not the cool kid at school but one of the more interesting kids."
"Ray: Male. 18+ to play 17. Any ethnicity. Attractive in a real and accessible way. Working class. Pure heart. Might be going nowhere in life but has a smile so genuine it's not depressing. Scrappy but a fighter. Not verbose or educated -- has all the words he needs."
"Ami: Female. 18-20s. Drug addict. Stripper. Hates her boyfriend. Talks shit. Can't read a room. Can make a bad situation worse."
"Serena: Female. 50s+, Caucasian. Sassy and tough. A real character. The kind of woman who partied her whole life and attended every Whitesnake concert and now she has several different hustles just to make a living."
According to Collider, one new addition has been confirmed: Kelvin Harrison Jr. It's unclear who the rising actor is set to play -- be it one of the roles above or someone else entirely -- but given he's got a few other A24 roles under his belt (Waves, It Comes At Night) and appeared in showrunner Sam Levinson's Assassination Nation, it seems like he'll fit right in.
In terms of the showrunners, who will be back for Season 2?
Creator Sam Levinson is largely at the helm of the show -- writing, executive producing, and directing much of the first season based on his own life experiences -- so he should be on for round two. It can also be assumed that Drake, who interestingly executive produced Season 1, will be back, considering the fact that he announced the show was returning ("OBVIOUSLYYYYYYYYY") on social media. But will Champagne Papi get behind the director's chair for Season 2? That's TBD. One thing confirmed, though, is that buzzy writer Jeremy O. Harris (Slave Play, Zola) has been upped from consultant to co-producer, as reported by Variety. As for who else will be writing/producing/directing the upcoming season, most everything is still very hush hush. 
What will Season 2 be about? 
Euphoria reached a high in its Season 1 finale. Maddy finally ended things with Nate (on the dance floor at the semi-formal, no less); Kat and Ethan put aside their differences and rekindled their romance; and Jules ran away to the city. But highs don't last forever, you have come down from them too -- so it only makes sense that Season 1 also arrived at the most inevitable conclusion for Rue when she relapsed. 
The dizzying finale left a lot of questions open, though, so Season 2 might be a bit of a withdrawal from the conflicts that went unresolved. For one, the wellbeing of Rue has been a huge concern for fans, as some thought the final, trippy music-video-like sequence meant that she overdosed, and her narration all along was from the afterlife. It's an interesting theory, for sure, but a bit tangential and one the cast has been quick to squash. Jacob Elordi who plays Nate told IndieWire, "This is the first I'm hearing [that theory]. My feeling is that that's pretty morbid. That's a different show, isn't it?"
It really does seem like subject for a different show. The direction for Season 2 seems more like it's poised to explore Rue's relapse and struggles with addiction even further, either potentially including a trip back to rehab or following her work towards recovery more closely.
Rue relapsed when she chose to stay home with her family instead of impulsively setting off for the city with Jules, which left fans wondering what that meant for their relationship and where Hunter Schafer's character was headed. Schafer herself told Refinery29, "I feel pretty complicated about it because I wholeheartedly understand Jules' desperate desire to be in a city where queer communities are easily accessible to her, and an energy that matches her frequency is accessible and a train ride away… But I also feel so much for Rue. It gets hard because their relationship was not necessarily healthy all the time and I think they both relied on each other in ways that made them want to be very close and far apart at the same time. But ultimately, like Rue, I understand why she left." As Schafer describes, there's many implications to Jules' "departure," so expect wherever she went and the effects it has on Rue to be explored in Season 2.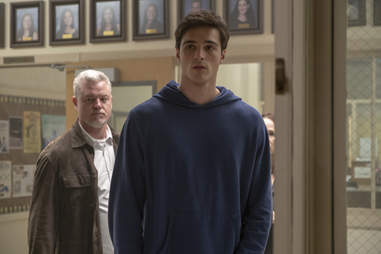 Eric Dane and Jacob Elordi as Cal and Nate Jacobs

| Eddy Chen/HBO
Here's another big question Season 1 left open: What will become of the Jacobs family now that Maddy saw what was almost definitely the graphic video of Cal Jacobs and Jules? Both Cal and Nate went to extreme lengths to protect their reputations this season, so now that Maddy has the upper hand, it's hard to say whether the truth will come out and what that means for the father and son. Knowing those two, it's unlikely they would react casually by any means. 
In an interview with EW, Jacob Elordi, who plays Nate, spoke to this and his problematic character's possible fate. "I want him to have a life and I want it to be honest," he explained. "I truly don't have any qualms about which direction it goes. I mean, obviously, it would be a lovely story if he turned out to be a real sunflower and lit up the world. But I definitely want it to be just true and real to his experience and I want it to kind of make sense. And I'm not sure what that looks like."
Similarly, fan favorite character Fezco might be headed down a darker path into the second season. He's now turning to even more criminal activity to make up for where he was short to pay back Mouse, so he might spiral into an even deeper life of crime or get caught for the crimes he's already committed.
Even Barbie Ferreira, who plays cam girl Kat, anticipates more "bad decision"-making in the future -- at least that's what she told The New York Times she thinks her character might get into. While Ferreira wasn't able to offer many plot details, she did say she at least hopes for more queer storylines. "I feel like in my personal life I've been gay as hell," she said. "I think Kat's a little queer, but that might be my perspective." Neither of these ideas feel out of the scope of where the show could be headed. And wherever it's headed, in typical, unpredictable Euphoria fashion, it's supposed to be even darker and more surprising than fans could imagine. Sydney Sweeney told ET, "You won't be able to guess what's coming… I couldn't even guess it. … I mean, everything with life as a teenager is shocking, so you never know what to expect."
Need help finding something to watch? Sign up here for our weekly Streamail newsletter to get streaming recommendations delivered straight to your inbox.