Everything We Know About Season 2 of HBO's 'Euphoria'
The show starring Zendaya is finally coming back in early 2022.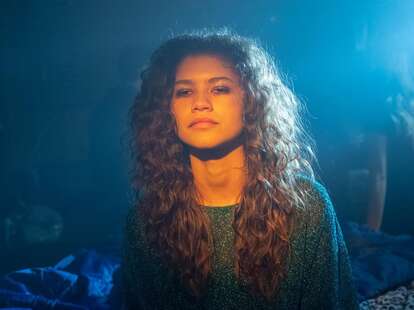 Zendaya as Rue in 'Euphoria'

| HBO
Zendaya as Rue in 'Euphoria'

| HBO
In summer 2019, HBO enamored audiences—and prompted viewers to wonder if Gen-Z is OK—with the release of Euphoria. The show, from Sam Levinson, son of Barry Levinson, and executive produced by Drake (among others), became an instant hit, praised for its young ensemble cast, led by Zendaya in an Emmy-winning performance as recovering addict Rue Bennett, and raw, unsentimental portrayal of youth culture, addiction, and trauma. Once people got past the pre-release controversy—you know, that now-infamous 30-dick scene—and tapped into the experiences of the classmates in Rue's network, viewers were hooked (and invested in the teens' well-being).
Rue, Jules (Hunter Schafer), and their peers have already experienced a lot in their young lives, but there's clearly more to their stories. Since Euphoria was picked up for a second season back in July 2019 before the first season was even through, below we take a look at where the show stands going forward. Here's everything we know about Season 2 so far.
When will Euphoria Season 2 be released?
It's finally—finally!—time to pull that glitter out of your makeup bag. HBO's resident angsty teen series is set to premiere on Sunday, January 9, 2022. The pandemic greatly delayed the second season of the show, which first launched in summer 2019, but the network announced its long-awaited return in late November 2021. Prepare to keep your Sunday nights open this winter, as the show airs weekly.
How many episodes will there be in Euphoria Season 2?
Just like Season 1, Season 2 is confirmed to feature eight installments.
Is there a trailer for Euphoria Season 2?
Yes! But brace yourself: It looks like this season is going to be even more of an emotional whirlwind than expected. A full-length trailer finally dropped in late December. It begins by showing Rue returning to Narcotics Anonymous—with a mysterious suitcase in tow(?)—but it appears as if her attempt trying to face her addiction runs short, once she meets another teen who's using, played by recording artist Dominic Fike. Rue's also still not over Jules, who continues to be frustrated by her friend's choices. And they're not the only two dealing with a lot at East Highland. Just about every one of your favorite teens makes an appearance—Sydney Sweeney's Cassie is going through it and the punching bag of her friends' jokes, Alexa Demie's Maddy is still with and confused by her boyfriend Nate's (Jacob Elordi) motives, and Lexi (Maude Apatow), somewhat surprisingly, is shown hanging out with Fezco (Angus Cloud). These kids just can't catch a break.
When HBO announced the season premiere date, it also dropped a teaser trailer that you can watch as well. Soundtracked by Frank Sinatra's "Call Me Irresponsible," Rue is shown being, well, irresponsible as she dances around her house while she's high. The clip also gives a little more insight into some of the dangerous criminal activity that it seems we'll find Rue and some of her friends caught up in going forward.
Who in the cast is returning for Season 2?
All of the East Highlanders you know and love (or hate) will be back in Season 2. Zendaya will continue to lead the cast as Rue, and since the show is so reliant on its ensemble cast (and there's definitely more to everybody's story), you can expect to see more of: Jules Vaughn (Hunter Schafer), Nate Jacobs (Jacob Elordi), Lexi Howard (Maude Apatow), Fezco (Angus Cloud), Kat Hernandez (Barbie Ferreira), Cassie Howard (Sydney Sweeney), Maddy Perez (Alexa Demie), Chris McKay (Algee Smith), Ethan Lewis (Austin Abrams), Nate's dad Cal Jacobs (Eric Dane), and Rue's sister Gia (Storm Reid) and mother Leslie Bennett (Nika King), as well as her sponsor Ali (Colman Domingo).
Will there be any new characters in Euphoria Season 2?
It seems like Euphoria is rounding out its splashy, moody world even more. In August 2021, Variety announced a handful of new additions joining the cast. Former Friday Night Lights star Minka Kelly is the TV veteran among them, with the other two relatively new to acting—but in typical Euphoria fashion, they're still very interesting names. Demetrius 'Lil Meech' Flenory—who'll make his acting debut this fall, playing the lead and his real-life father Demetrius "Big Meech" Flenory in Starz' Black Mafia Family—was also added to the cast. And the other new addition is played by Dominic Fike, a singer-songwriter who went from a Soundcloud sensation to collaborating with the likes of Justin Bieber, Halsey, and others in the past few years, making this his first acting gig.
As the plot of Season 2 largely remains a secret, there's little information on who those three will be playing. Fike revealed a bit about his character to Variety, though, saying he's playing someone who's a "homie" to Jules and Rue, and a bit of a "degenerate" who reminds him of his younger self. Fike was actually tapped to appear in Season 1 before the role he was auditioning for was written out, but later called back to try for the bigger role he landed in Season 2. Based on that information, it seems possible that he's playing the lead role of "Jamieson," who a casting call went out for in February 2021. Although nothing is confirmed, that character is described as a "mischievous, funny, unafraid, sensitive" teenage boy or non-binary person who is also an "outsider who might have a drug problem."
Whether Fike is playing Jamieson or not, they're supposed to be one of the many new characters next season. A handful of others have similarly been announced via casting calls. One for the recurring character Bruce also went out in early 2021, and he's said to be in his 30s-50s and "hot-headed man on probation with a history of crime." Even earlier in 2020 before the show put a pause on its production, a number of other characters were announced in open calls, too. While it's unclear if Minka Kelly or Demetrius 'Lil Meech' Flenory will be taking on one of these names, you can certainly expect to see the following:
"Darian: Male. 18+ to play 17. Any ethnicity. An outsider. Sensitive. Vulnerable. Mischievous. Could struggle with addiction. Definitely not the cool kid at school but one of the more interesting kids."
"Ray: Male. 18+ to play 17. Any ethnicity. Attractive in a real and accessible way. Working class. Pure heart. Might be going nowhere in life but has a smile so genuine it's not depressing. Scrappy but a fighter. Not verbose or educated—has all the words he needs."
"Ami: Female. 18-20s. Drug addict. Stripper. Hates her boyfriend. Talks shit. Can't read a room. Can make a bad situation worse."
"Serena: Female. 50s+, Caucasian. Sassy and tough. A real character. The kind of woman who partied her whole life and attended every Whitesnake concert and now she has several different hustles just to make a living."
In terms of the showrunners, who will be back for Season 2?
Creator Sam Levinson is at the helm of the show—writing, executive producing, and directing much of the first season based on his own life experiences—so he'll be on for round two. Drake, who interestingly executive produced Season 1, will also be back. The show will see even more contributions from buzzy writer Jeremy O. Harris (Slave Play, Zola), who has been upped from consultant to co-producer, as reported by Variety.
What will Season 2 of Euphoria be about?
If you thought Euphoria was dark in Season 1, prepare yourself: It's supposed to be even darker in Season 2. Details are scarce about the upcoming season and the cast has tried their best not to share any information about the plot, but when asked about Season 2, just about everyone's said that it's really, really dark. Zendaya has said "it's a difficult season" and "it's not going to be a fun watch," Sydney Sweeney's said it's "darker" and "more intense," showrunner Sam Levinson's called it "brutal," and Colman Domigo told ET it's "messy" and even compared the season to a "real sore wound." So, yeah, you get the picture.
Based on the Season 1 finale that revealed Rue relapsed and the two specials that aired in late 2020/early 2021, it's likely the "tough" season is going to be an unflinching look at addiction and recovery. It seems as though the show will go beyond just focusing on Rue's own struggle, and also explore how it affects those around her.
Her special, "Trouble Don't Last Always," showed just how abandoned she felt when Jules ran off to the city, causing her to use again and putting her in a particularly dark place. We might see her going back to rehab—but it likely won't be an easy journey to get her there because of how much her addiction has clouded her faith in herself. She even went so far as to say no drug made her feel as good as Jules did, so it seems like not only will Rue have to work towards her recovery, she'll have to learn how to feel secure on her own.
In "Fuck Anyone Who's Not a Sea Blob," though, Jules' perspective on their relationship finally took the stage. The special revealed that, although Jules did love Rue, one of the reasons she retreated from them being together and ran away was because of the parallels between Rue's behavior as an addict with her mother's. We saw just how much that weighed on Jules, especially because, unbeknownst to Rue and Euphoria fans until the release of the special, Jules was dealing with her mother's alcoholism at the same time as the events of Season 1. While the end of Jules' special shows her and Rue briefly trying to reconcile their friendship, with Jules apologizing and Rue seemingly desperate to work things out, it might not be easy for things to return to how they once were. It may be understood that the two both care a great deal about one another, but it's possible Jules might need to be vulnerable and explain to Rue her own experience loving an addict, and Rue accepting how tough that can be, or learning to be stronger on her own.
Of course, Rue and Jules aren't the only characters on Euphoria and there are still many loose ends from Season 1 that should be addressed going forward. Nate Jacobs, for one, is a character with a lot of questions swirling around him. As shown by the Jules special, she still has complicated feelings for "Tyler," the fantasy of a person she attached to Nate's online profile Shyguy118 that he catfished her with—but it's unclear if their communication was solely for blackmail or if there were secret feelings on his end too. He's a complicated character for sure, and his relationship with his father is at the root of a lot of his volatile behavior. As you may recall, Season 1 ended with (a newly single) Maddy seeing what was almost definitely the graphic video of Cal Jacobs and Jules. Both Cal and Nate went to extreme lengths to protect their reputations, so now that Maddy has the upper hand, it's hard to say whether the truth will come out and what that means for the father and son. Knowing those two, it's unlikely they would react casually.
In an interview with EW, Jacob Elordi, who plays Nate, spoke to this and his problematic character's possible fate. "I want him to have a life and I want it to be honest," he explained. "I truly don't have any qualms about which direction it goes. I mean, obviously, it would be a lovely story if he turned out to be a real sunflower and lit up the world. But I definitely want it to be just true and real to his experience and I want it to kind of make sense. And I'm not sure what that looks like."
Similarly, fan favorite character Fezco might be headed down a darker path into the second season. He's now turning to even more criminal activity to make up for where he was short to pay back Mouse, so he might spiral into an even deeper life of crime or get caught for the crimes he's already committed. With the general consensus that this season's supposed to be even more intense, we wouldn't doubt Euphoria taking a route that's even more shocking than anticipated.