Evan Peters' 'American Horror Story: Roanoke' Role Finally Revealed
This post contains spoilers for the most recent episode of American Horror Story: Roanoke.
Hours before the fifth episode of American Horror Story: Roanoke hit FX, creator Ryan Murphy cleared up a pressing question. "Evan Peters makes his season debut in tonight's American Horror Story," he wrote on Twitter. "And no, he's not playing a producer."
This was a revelation for AHS fans, who have spent most of the sixth season wondering where Peters was lurking. Was the series veteran one of the background colonialists? Was he yet to be introduced, a My Roanoke Story crew member, as Murphy so quickly shut down? Or was he something great, the spawn of Lady Gaga's satanic witch?
The answer: something altogether different. Peters finally arrived to the show in "Chapter Five" -- and in a most flamboyant, petulant, and curious manner. The intro to the episode introduced us to Edward Philippe Mott, an ancestor of American Horror Story: Freak Show's Gloria Mott, the heiress played by Frances Conroy, and her son Dandy, the serial killer in training.
The character's backstory is operatic in the Murphy mode: a member of the post-Revolution upper crust, Mott fled Philadelphia to Roanoke in search of sexual freedom. By day, he commanded his underlings to build him a house (the house, in the context of AHS: Roanoke) so he could fill it with art. By night, he made love to his black manservant. Well, also by day, too. In the backwoods, Mott was going to do whatever the hell he wanted, whenever the hell he wanted. Needless to say, the Evan Peters fanbase wasn't expecting any of it, but they loved it.
Mott's temper was his downfall. One day, the bigwig finds his gallery of portraits ruined. Instead of snuffing out one perpetrator, Mott accuses all of his maids, and locks them in the root cellar -- where Gaga's witch was last seen. Anything to keep his North Carolina sanctuary pure. Was the defiling art crime the act of a mortal, or an incensed spirit looking to draw Mott out? Whatever the case, there's a connection between Gaga's witch and Mott that has yet to be explored. All of the girls he locked up died in that root cellar, their bones later discovered decayed and rotten. Unintentional sacrifices to a lingering deity?
Ultimately, Mott's covert living plans didn't work out; as we learned in "Chapter Five," the Butcher seeks fresh blood to spill each Harvest Moon. Mott was in her crosshairs in that particular year. According to Doris Kearns Goodwin -- real historian! -- The Butcher and her spirit minions staked Mott through the heart in the year of our lord, 1792. To complement Mott's life, his death was... extravagant, to say the least. Egad, this episode was bloody.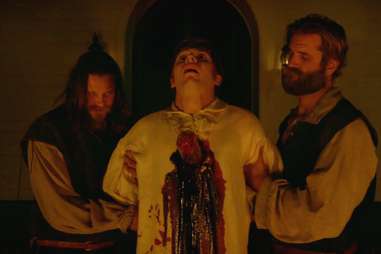 Even after the reveal, Peters' role remains a mystery. Later in the episode, we see Peter resurface as the ghost of Mott in the My Roanoke Nightmare reenactment as Matt and Shelby flee the house to escape The Butcher and her minions. Recalling the Beetlejuice-like friendly ghost moments in American Horror Story: Murder House, Mott appears to reveal the true nature of the room, and open a secret passageway through which the couple and Flora, Lee's daughter, could escape.
Still in wig and 18th-century threads, Peters' scenes were particularly silly, even by AHS standards -- so crazy, in fact, that you almost forget that a J-horror ghost popped out of nowhere to scare the crap out of us. The subtle "sunken eye" that flashes across Ghost Edward's torch-lit face throughout his reintroduction may be one of the scariest effects in the show's history:
Mott leads Matt and Shelby through a passageway into the woods, a move that only puts them directly in the hands of -- surprise! -- the hillbillies. Did Mott deliver them there intentionally? We learn in "Chapter Five" that the hillbillies have made a pact with the Butcher and Roanoke colonists to wrangle fresh meat for sacrifice during the Blood Moon. Could Mott also be in service? Or worse (better?), Gaga's druid/demon/pissed-off lady? Possibly!
This is to say, the other Evan Peters theories could still be true. "Chapter Five" ends the My Roanoke Nightmare tale by having Matt and Shelby escape, with Mott's ghost simply an encounter in the rearview mirror. But that can't be it for the high-profile cast member, even if the X-Men need him for eight more rounds of Quicksilver action. Peters is an AHS staple and he appeared, presumably, as an actor doing a dramatic reenactment of Mott's life in a documentary-within-the-show depiction of the crazy tale told by the real Matt and Shelby (André Holland and Lily Rabe). So Peters could turn up again, only as the actor who played Mott.
And if the documentary format continues -- which seems unlikely, as the format seems to be shifting to a found-footage series about the making of My Roanoke Nightmare -- he could be putting on that dandy wig again, or something else entirely. He could be anyone -- the beauty of existing on the spirit plane. But he might not be the piggy man, as the piggy man appears alongside him in certain moments. Which raises the question: who is the piggy man? We thought the Peters reveal would bring us comfort. We were wrong. Oink!
"Chapter Five" was a true American Horror Story episode -- many answers, many more questions. Luckily, we have next week's promo:
There's no Evan Peters, but the one-shot preview gives us a look at Cheyenne Jackson, finally revealed to be one of the My Roanoke Story producers. His character seems to be in ambush mode, like a ghostbusting version of To Catch a Predator. He looks a long way from Mott's manor in North Carolina.
But maybe not for long. Current whispers suggest Jackson and his crew could head on over to the original Roanoke house site, with reenactors in tow. Will they come face to face with real Matt and Shelby? Or worse, a disgruntled Edward Mott? And would the ghost of Mott then have to be played by a different actor than Peters? We'll learn a little more next week. And knowing AHS, that's emphasis on little.
Sign up here for our daily Thrillist email, and get your fix of the best in food/drink/fun.
Matt Patches is Senior Entertainment Editor at Thrillist. He previously wrote for Grantland, Esquire.com, and Vulture. Find him on Twitter @misterpatches.