Everything J.K. Rowling Revealed About 'Harry Potter' After Finishing the Books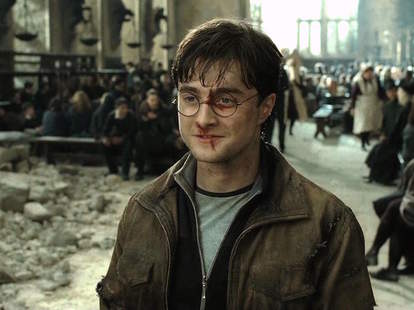 In July of 2007, author J.K. Rowling published the final installment of the Harry Potter book series, concluding the seven-book saga of The Boy Who Lived. The successful movie franchise would keep Harry Potter excitement in the air for a few years after Harry Potter and the Deathly Hallows, though Rowling made sure not to lead on her fans. What people had was what people had. She was done writing books in the wizarding world.
So far, the author's kept to that promise. Kind of.
This summer, the world will see an eighth Harry Potter tale enter the canon, in the form of the two-part play, Harry Potter and the Cursed Child. The show arrives on the heels of major Harry Potter revelations, dropped by Rowling on social media and her website, Pottermore.com, to stoke the imaginations of her readers. As we prepare for the Cursed Child, and the spinoff film franchise Fantastic Beasts and Where to Find Them, here's a comprehensive timeline of J.K. Rowling's story-expanding spells. She couldn't quit Harry Potter either: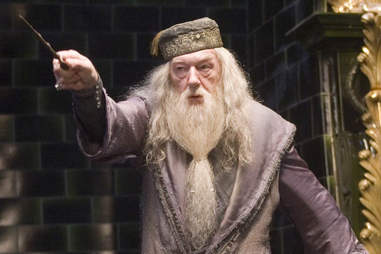 Warner Bros. Pictures
2007: Dumbledore is gay
The same year Rowling's final book hits shelves, American publisher Scholastic holds a contest where grand-prize winners fly to New York City to hear the author read from The Deathly Hallows. They also win the chance to ask her a question. One is seismic.
"Did Dumbledore, who believed in the prevailing power of love, ever fall in love himself?" someone asked.
"My truthful answer to you," Rowling replied, "[is that] I always thought of Dumbledore as gay."
Rowling also shades her story with these details, revealed at the Scholastic event:
Neville Longbottom married Hufflepuff Hannah Abbott and she was to become the landlady at the iconic Leaky Cauldron Pub.
Lilly and James Potter and their friend Sirius Black never had jobs after Hogwarts, they were in the Order of the Phoenix full time.
Hagrid never got married or had children.
Harry himself made sure that the portrait of Snape made it into the Headmaster's Office, but she doubts that he ever went to speak to it.
Warner Bros. Pictures
2007: Everyone is obsessed with the epilogue
Rowling's Deathly Hallows press tour is a world-expanding bonanza. During a Today show appearance, the author says that she had copious notes about the future of her main trio, and details on the next generation of young wizards, before scrapping them from the published text. "It didn't work very well as a piece of writing," Rowling admits. "It felt very much that I had crowbarred in every bit of information I could ... In a novel you have to resist the urge to tell everything."
That doesn't stop her from revealing these story details at her various stops:
Harry and Ron work as Aurors for the Ministry of Magic under Minister Kingsley Shacklebolt. Ron worked at Weasley's Wizard Wheezes for a time before becoming an Auror.
Hermione furthered the rights of subjugated creatures, such as house elves, in the Department for the Regulation and Control of Magical Creatures and is now "pretty high up" in the Department of Magical Law Enforcement
Ginny Weasley played Quidditch for the Holyhead Harpies, the all-female Quidditch team. Eventually she left the team to raise her three children while writing as the senior Quidditch correspondent for the wizarding newspaper, The Daily Prophet.
Luna Lovegood traveled the world as "a naturalist, whatever the wizarding equivalent of that is" and marries the grandson of Newt Scamander, author of Fantastic Beasts and Where to Find Them.
Neville Longbottom's parents never recover and live out the rest of their lives in St. Mungo's Hospital for Magical Maladies.
James Potter stole the Marauder's Map from Harry's desk one day.
Mr. Weasley fixed Sirius' flying motorcycle and gave it to Harry.
Voldemort's death broke the curse on the Defense Against the Dark Arts teaching position, now a wizard or witch can hold it for more than a year.
In the current day (2007) there was a new Headmaster of Hogwarts as Professor McGonagall retired.
Warner Bros. Pictures
2007: Rowling releases Tales of Beedle the Bard
Rowling releases the Tales of  Beedle the Bard, a short book of three short wizarding fables. She also makes seven copies by hand, and inscribes "notes" from Potter characters inside the flaps (six were gifts, the seventh was auctioned off for charity). The book includes five fables (including the "Tale of the Three Brothers" that establish the Deathly Hallows) along with "commentary" by Albus Dumbledore, and is said to be  "translated from the ancient runes" by Hermione, suggesting she compiled Dumbledore's notes and translated her copy of the book after the Battle of Hogwarts.
2008: The court blocks Harry Potter Lexicon
Rowling becomes embroiled in a lawsuit with the fan site "Harry Potter Lexicon," which plans to publish an encyclopedia of the wizarding world. Rowling eventually wins her case, but since she had praised the Lexicon website only to halt the printing of a book a few years later, Rowling's fan interaction seems to sour for a bit.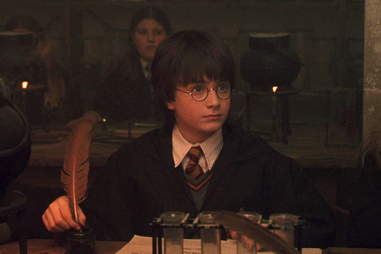 Warner Bros. Pictures
2011: Pottermore launches with The Magical Quill challenge
Pottermore.com, Scholastic's official Harry Potter hub, built to sell e-book and audiobook versions of the series, launches limited beta registration  ("The Magical Quill challenge") to coincide with The Deathly Hallows - Part 2's arrival in theaters. The site fully launches in 2012 and, over the years, grows to include new revelations about the world-building Rowling did in writing the final books.
2014: Hermione should have ended up with Harry
Rowling states in a Wonderland magazine interview conducted by Emma Watson that Harry and Hermione probably should have ended up together. "I wrote the Hermione/Ron relationship as a form of wish fulfillment," she says. "That's how it was conceived, really. For reasons that have very little to do with literature and far more to do with me clinging to the plot as I first imagined it, Hermione ended up with Ron."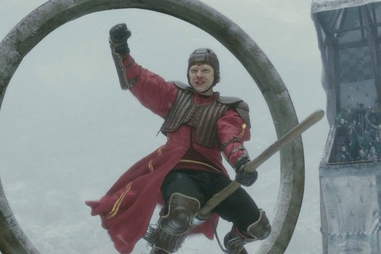 Warner Bros. Pictures
2014: Reports from the 2014 Quidditch World Cup
Pottermore comes of age in 2014 when Rowling posts two new pieces of writing that take place after the canonical Harry Potter series, both "covering" the 2014 Quidditch World Cup. The first is a report from the quill of Rita Skeeter, the gossip columnist first introduced in Harry Potter and the Goblet of Fire, and the other from an older Ginny Weasley, years after marrying Harry and retiring from her Quidditch days.
2014: Rowling reveals she's writing a Harry Potter spinoff movie
Escalating her Twitter interaction with fans, Rowling tweets a cryptic message ("Newt Scamander's History of New York Fauna: One town, my tale" Warmer.) that she reveals to be an anagram for "Newt Scamander only meant to stay in New York for a few hours," the first sentence of a treatment for Fantastic Beasts and Where to Find Them, a film she'll write.
Warner Bros. Pictures
Warner Bros. Pictures
2015: Fluffy the three-headed dog lived!
Rowling reveals on Twitter that the three-headed dog that guarded the trap door in Harry Potter and the Sorcerer's Stone lived out his days in Greece.
2015: Harry's Son James is a Gryffindor
In 2015, the first of Harry's sons would have started at Hogwarts, so Rowling takes to Twitter to update the world: James Potter is, unsurprisingly, in Gryffindor house.
Warner Bros. Pictures
2015: Rowling reveals Moaning Myrtle's full name
Also on Twitter, the author canonizes the weeping ghost's full name as Myrtle Elizabeth Warren. No relation to the American politician -- "Elizabeth" just sounded like a good British middle name.
2015: Hagrid can't produce a Patronus
While working on Fantastic Beasts and Where to Find Them, Rowling continues to answer questions on social media, and dispense canon updates, like this one about Hagrid's Patronus.
Warner Bros. Pictures
2015: The "t" in Voldemort was supposed to be silent
Perhaps a bit late too late to turn the ship around after the Warner Bros. adaptations spent eight movies saying "Voldemort" with a hard "T," but Rowling says the "intended" version sounds weird.
2015: Harry Potter and the Cursed Child is canon
Rowling takes to Twitter to announce a new Harry Potter play that will open in 2016 on London's West End called Harry Potter and the Cursed Child. After some initial confusion, Rowling clarifies that it is not a prequel and will be a new Harry Potter story featuring the familiar characters 19 years after the Battle of Hogwarts.
Jamie Parker, Noma Dumezweni and Paul Thornley

| Warner Bros. Entertainment
2015: Hermione could be black
Actress Noma Dumezweni is cast as Hermione in Harry Potter and the Cursed Child, causing a minor uproar with fans who don't understand how a black actress could land the part. Rowling shuts down any criticism by tweeting "Canon: brown eyes, frizzy hair and very clever. White skin was never specified. Rowling loves black Hermione."
2016: World-wide wizarding schools
At a Harry Potter fan event in January, Pottermore.com trumpets other international wizarding schools, along with short descriptions of the schools that had appeared in the books (Beauxbaton and Durmstrang in Goblet of Fire). New schools included Uganda's Ugadau, Japan's Mahoutokoro, Brazil's Castelobroxo, and the North American institution, Illvermorney.
2016: An apology for killing Remus
With both Pottermore.com and Rowling ramping up for the fall release of Fantastic Beasts and Where to Find Them, tweaks to the Harry Potter mythos taper off. Except for a brief apology on a special anniversary.
Fantastic Beasts and Where to Find Them

| Warner Bros. Pictures
2016: "History of Magic in North America"
Rowling begins her Fantastic Beasts world-building through the "History of Magic in North America," four brief summaries about the state of the wizarding world across the Atlantic up through 1920. The history lesson exposes a segregation between wizards and "No-Maj" (the American version of "Muggle") that was even more intense than in Europe. "History of Magic" also prompts Native American scholars to scold Rowling for appropriating their culture.
2016: Rowling unveils Harry Potter and the Cursed Child
The first week in June, previews will begin for the two-part Harry Potter sequel, based on a story by J.K. Rowling, Jack Thorne, and John Tiffany. The play is meant to be seen in the same day or on two consecutive evenings. International fans will be able to purchase the script as a book when it's released on July 31st, Harry's birthday.
Sign up here for our daily Thrillist email, and get your fix of the best in food/drink/fun.
Dave Gonzales is a Ravenclaw who works as an animation producer for reality TV. You can follow him: @da7e.