Every Radiohead Album, Ranked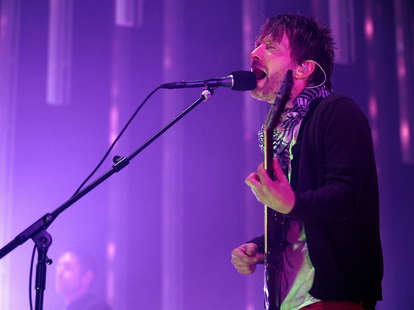 Jeff Kravitz/FilmMagic/Getty Images
I remember the first time I heard Radiohead. I was 16 years old, and my head was swimming from a night out that included things 16-year-olds probably shouldn't be doing. As I stared at the words "OK Computer" printed over abstract art on the jewel case, the opening riffs of "Airbag" hit my teenage ears like a buzz saw. And nothing in music ever felt the same for me.
With the release of Radiohead's new single, "Burn the Witch," today, and a ninth LP and summer mini-tour arriving imminently, the time has come for me to chart my fandom by ranking their studio albums from worst to best. But just remember, these eight albums are like my own children -- my depressed, beautiful, British, probably pale children -- and I can't be too hard on any of them.
8. Pablo Honey
Radiohead's first full-length work is not a bad album. But it's obviously the weakest offering in a lineup of really, really good albums. This is the band in its teething, Brit-alt-rock infancy. The 1993 LP is a clear product of the band's influences (Pixies, the Smiths, the Cure) that never fully delivers the trademark style and ambition that would later make Radiohead legendary. Despite its high energy, this album lacks swagger and personality.
Still, you'll find moments of value here. "Anyone Can Play Guitar," "You," and "Ripcord" are passable '90s alt-fodder, and the gloomy surf-rock closer "Blow Out" probably beats out the ballyhooed mega-hit "Creep" as the best song on the album. Pablo Honey is overly dismissed by fans and critics and literally everyone else -- but it shouldn't be skipped entirely. Once you've listened to every other RH song 100 times through, come back and give Pablo Honey a nice squeeze. It's like looking at an old black-and-white picture of your parents during their awkward years.
7. The King of Limbs
2011's King of Limbs was greeted with a resounding "meh" by both fans and critics, and in hindsight, it's easy to see why. After In Rainbows demolished any chatter about the band being past its prime, RH's heavily hyped surprise-release LP landed with a confused whimper instead of a bang when it was revealed to be a mere eight tracks long. Reviews deemed it too fleeting, too opaque, and lacking the stark ambition that usually comes with a Radiohead release. Some fans even consider the live From the Basement version to be superior.
Personally, I love KOL. But that opinion took its time to unfold. Songs like the swirling, poly-rhythmic "Bloom," the dark-magic disco of "Lotus Flower" and "Separator," and the sparse, shimmering waves of "Codex" and "Give Up the Ghost" represent some of the more polished songs the band has ever released, and they showcase the overlooked talents of bassist Colin Greenwood and drummer Phil Selway (along with guest-drummer Clive Deamer). The KOL sessions produced four top-shelf non-album tracks ("Staircase," "Daily Mail," "Supercollider," and "The Butcher"), and since some of them sound like B-sides themselves, it makes me wonder how much better the album could have been.
6. Hail to the Thief
HTTT is like the polar inverse of KOL: it's too long, too scatterbrained, too rough and overstuffed to be considered one of RH's best. The band itself has admitted that the premature leak of the 2003 album led to a sense of impatience, causing them to forgo producer Nigel Godrich's meticulous album trim-downs, and it definitely shows. The tracks lumber on, and Thom ends up rambling like an alcoholic uncle at Thanksgiving dinner.
Of course, it has some amazing songs, including a few of the band's heaviest moments, like the rollicking political repulsion of "2 + 2 = 5" and the fuzzed-out, nursery-rhyme riffery of "Myxomatosis." And the wildly accessible "There, There." Despite containing some of the most cheeseball lyrics of later RH albums ("Just cause you feel it doesn't mean it's there"), the song shines through as one of the band's gloomy best, featuring Jonny Greenwood's finest guitar solo post-OK Computer. For a look from another angle, try Yorke's revised track listing. It's a little cleaner.
5. The Bends
The title track has Yorke asking, "Where do we go from here?" An apt question, and if Pablo Honey was a band in its infancy, its 1995 follow-up shows the dudes in the throes of teenage angst and semi-embarrassing love songs. "The Bends" is a brilliant metaphor for their abrupt and jarring rise to fame, wrought by the success of "Creep," and Yorke's feelings of unease birthed the songs that would cement RH's place among the '90s alt-rock Mount Rushmore.
The bombastic title track -- along with other heavy rock-band starters, like the washed out, REM-esque "My Iron Lung" and the shape-shifting "Just" -- delivers grunge-soaked energy, while more brooding tracks, like "Fake Plastic Trees" and "Street Spirit" in particular, foreshadow the band's more sophisticated later efforts. Just as "You've Got to Hide Your Love Away" signaled the direction John Lennon and the Beatles would head toward in the Sgt. Pepper era, these songs gave a promising glimpse of the future and capped Radiohead's career as a standard rock band. On The Bends, they aren't there yet. But they were getting damn close.
4. Amnesiac
Amnesiac is unjustly considered to be the odd man out of the Radiohead catalogue. Released less than a year after 2000's landmark Kid A, it's basically pastiched out of that album's B-sides -- the tracks that were good but just didn't fit. That being said, Amnesiac is like diving headfirst into the fire that lurks among the mountains on the cover of Kid A. It's bleak, it's isolating, and it's always interesting.
The offbeat time signatures of the sweeping "Pyramid Song" remain one of the most compelling moments of music the band has produced. The drop-D riffing on "You Might Be Wrong" and melodic clanking of "Packt Like Sardines" provide two of the group's most weirdly accessible tracks. The full-on brass, Thelonious Monk-style "Life in a Glasshouse" is the lads at their least comfortable (in a good way). But none of these gems can save the album from a middling group of experimental songs that would have otherwise remained B-sides. And that's what ultimately bogs the album down. Sure, it's like Kid A's kid brother -- the Eli to its Peyton. Amnesiac may not be the most talented in the family, but it's still pretty freakin' good.
3. OK Computer
OK Computer is the album all other albums of its time are judged against. It's the standard. The prototype. The GOAT. The 1997 masterpiece turned the band from swaddled indie darlings to please-don't-call-us-prog-rock superheroes, mentioned in the same breath as Pink Floyd and even the Beatles. And here we are, placing the the bronze medal around its neck.
OK Computer was and is a groundbreaking album. "Paranoid Android" is like "Happiness Is a Warm Gun" for Gen Xers on antidepressants. "Let Down" is probably the single most under-appreciated song in the English language. "No Surprises" makes carbon monoxide poisoning sound like a radio jingle. "Karma Police" is the band's most iconic song. This was Radiohead's first big stab at making a true statement. They pushed the limits of guitar-based rock to their breaking point, and drove a fast German car right through it. Hundreds of thousands of words have already been dedicated to its persisting greatness. It's so highly regarded, I pretty much have to spend this time telling you why I didn't pick it as No. 1: I just think the next two albums are a little bit better.
2. In Rainbows
This is your subjective reviewer's personal favorite. Famously self-released in 2007, In Rainbows is simultaneously the culmination of everything the band had done previously and everything it's always wanted to do, all rolled into a collection of 11 songs, perfectly proportioned and expertly polished. The album's centerpiece -- and what I consider to be the band's best tune -- "Reckoner," occurs exactly 61.8% through the album, and the words "in rainbows" occur 61.8% of the way through the song -- following the rules of the Golden Ratio as it appears in nature and art. Whoa, dude.
There's taut songs like "Bodysnatchers" and "Jigsaw Falling Into Place," mellifluously sliding in between gorgeous jazz-fusion genre-benders like "Weird Fishes," "15 Step", and the synthy "All I Need," all building to the slow crescendo of the ethereal closer, "Videotape." It doesn't have the grandiose message and overarching themes of some other LPs. Nor did it revolutionize the band's trajectory or the industry at large (though its pay-what-you-wish release kind of did). No, this is simply the recordings of a band at its creative apex. Each song, on its own, is a personal favorite. And together they fit into this mixtape, demoing what all music should aspire to be -- a self-contained, sustained moment of holy shit.
Yorke lazily croons "You reel me out and then cut the string" on the album's opener, but he and his bandmates have never been more in control than on In Rainbows.
1. Kid A
And this is me at my most objective. Is Kid A my favorite Radiohead album? I literally just told you it wasn't in the previous write-up, which you'd know if you didn't just skip straight to No. 1. But as an album, this 2000 gem represents the apogee of the band's considerable talent.
Kid A is the rare album that, as a whole, is greater than the sum of its parts. Each of its 10 tracks come together like vignettes to form a wild-eyed narrative. "Everything in its Right Place" lays the groundwork with a flurry of aurally perfect tones behind twisted vocals than contort even further inside the disarming title track "Kid A." "The National Anthem" is the band at its most experimentally raucous, while the haunting "How to Disappear Completely" is Thom's favorite track ever. "Idioteque" is often trotted out as being one RH's best -- and its immediate ability to grab newbie listeners with its totalitarian rhythms and apocalyptic themes never ceases to amaze me. But the beauty of the album is the way each song supports the next. They are ten pillars, all holding the same idea aloft. This is an album so fucking magnificent, its B-sides turned into the No. 4 album on this list.
Ultimately, the music we ache for is the music we can never really put into coherent words. Trying to write about this album's greatness is like trying to fill the Goodyear blimp with your lungs. Kid A can only be described as indescribable. And as Radiohead's best.
Till the next one, at least.
Sign up here for our daily Thrillist email, and get your fix of the best in food/drink/fun.
Wil Fulton is a staff writer for Thrillist. He thinks the new album will be released exclusively at Best Buy. Follow him: @wilfulton.