2017: The Year Women Took Over Entertainment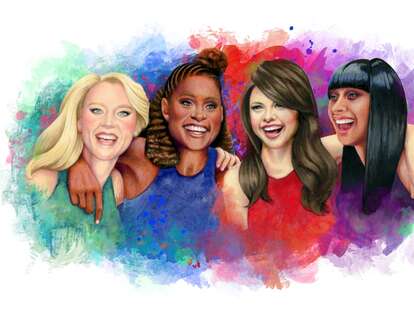 Kendyll Hillegas/Thrillist
Women were everything and everywhere in the arts this year. From the record-busting success of Wonder Woman to Cardi B's meteoric rise to an ultra-relevant adaptation of The Handmaid's Tale, 2017 put women's stories on the map in a more significant way than ever before. With a steadily increasing number of their voices outing sexual harassers and demanding equal pay -- as actresses Jessica Chastain, Emma Stone, Jennifer Lawrence, Robin Wright and many more did publicly this year -- this was also the year women in the industry made sure everyone will be listening closely in years to come.
Cardi B gets an A+ report card
Cardi B's chart-topping single "Bodak Yellow," her major-label debut, was dubbed the song of the summer by even the stodgy New York Times. The outspoken rapper, Instagram sensation, and former stripper from the Bronx has become a major star after breaking out on VH1's Love & Hip Hop: New York. She's the first solo rapper to have a number one hit since Lauryn Hill in 1998, and she's garnered legions of devoted fans with her hilariously raunchy Insta-comments and lyrics.
Charlize Theron creates an action vehicle worthy of her
Following her avenging apocalyptic heroine role in 2015's Mad Max: Fury Road, Theron bested James Bond and Jason Bourne with her super-spy performance this year in Atomic Blonde, a stylish action pic that featured the Oscar winner in the year's most thrilling onscreen brawls -- particularly a seven-minute fight scene whose shooting was so intense it reportedly left Theron with bruised ribs and cracked teeth. Atomic "cements her as the greatest action hero currently working in film," as one critic put it.
A new Rey of hope shines for Star Wars
With Daisy Ridley as the Luke Skywalker-esque hero of The Last Jedi (and, before it, The Force Awakens) women are finally taking center stage in the traditionally guy-heavy Star Wars franchise (the great Carrie Fisher's Princess Leia was formidable, but always sidelined as a protagonist). Ridley and Felicity Jones, star of Rogue One, have become role models for sci-fi-loving girls around the world, a fact Disney is finally acknowledging after getting called out in 2015 for not manufacturing Rey merchandise on par with the male characters. This is the third year running that women have carried the biggest sci-fi franchise in history.
Wonder Woman inspires a generation...
It was like watching Gal Gadot's Amazon superhero punch out a succession of foes, as this summer's Wonder Woman broke one record after another: best opening weekend for a female-directed film! Highest-grossing live-action, female-directed film! The DC blockbuster finally landed on being the highest-grossing superhero origin movie ever, no "female" qualifier needed.
Gadot's performance wowed audiences and film critics alike in the first major comics movie with a woman protagonist, bringing gravitas, humanity, and humor to the role (whose origins were later explored this fall in the also female-directed Professor Marston and the Wonder Women). With her insistence that she'd only participate in a sequel if noted sleazeball Brett Ratner was no longer attached (and he no longer is), the star is a real-life crusader for justice, too.
...while Patti Jenkins makes strides for female creators
The director of Wonder Woman -- whose previous movie was the critically-acclaimed Monster 14 years ago -- is on track to become the highest-paid female director in Hollywood history after lengthy negotiations to be paid as much as a successful male director of a franchise would be (specifically, Batman v. Superman director Zack Snyder).
Women are making comedy's biggest moves
The biggest breakout star in the comedy world this year was Tiffany Haddish, whose daffy and profane role in Girls Trip generated Oscar-nomination buzz and earned her a gig hosting SNL -- where the outspoken comic thanked her social worker for pushing her into comedy. SNL also continued to showcase the formidable Kate McKinnon, whose bottomless talents make her the must-see star of the show.
Surfing the channels, Issa Rae, Pamela Adlon, and Rachel Bloom all continued to rule the small screen with second seasons of their shows Insecure, Better Things, and Crazy Ex-Girlfriend, all of which put their own innovative new spins on the sitcom format and the portrayal of single women on TV.
Lady Bird sets records and rarities
It's hung onto an ultra-rare 100% rating on Rotten Tomatoes and, with its initial New York and Los Angeles rollout, broke the record for the highest-per-theater average intake for a female director in history. Not too shabby for the solo directorial debut from Greta Gerwig, the actress who made her name in the late-'90s mumblecore genre and then in the films of her now-partner, director Noah Baumbach. With what has been called a semi-autobiographical slant, Gerwig moves into full auteur mode as she directs Saoirse Ronan as a rebellious senior at a Sacramento, CA Catholic high school and Laurie Metcalf as her no-nonsense mom. What records will it set next?
Equal pay moves closer to the norm
While a number of actresses successfully lobbied for equal pay this year, some success can be credited to a kickstart at the end of December 2016, when Emmy Rossum resolved a contract dispute for the eighth season of Shameless. That makes 2017 the first year that she began earning the same pay as her co-star William H. Macy, while also picking up seven seasons of backpay.
Big Little Lies gets people talking, wins awards doing it
Reese Witherspoon has been a producing powerhouse for years now, with feature hits including Gone Girl and her own vehicle Wild, but HBO's Big Little Lies marked a new evolution for the producer/star, whose show earned five Emmys with its women-centric story about three friends and one very dark plotline about domestic violence that spawned a national conversation on the subject.
Ava DuVernay undertakes an industry-changing initiative
On a mission to change the gender imbalance in Hollywood, Ava DuVernay's show Queen Sugar, the hit OWN series, is one of the first shows to employ exclusively female directors. Duvernay also hit a milestone when she became the first black female director to helm a $100 million-budget movie -- that would be 2018's A Wrinkle in Time, an adaptation of the Madeleine L'Engle YA classic with a female hero, plus an appearance from self-made woman Oprah Winfrey in a glittery role.
Doctor Who catches up to the times in a TARDIS
It took over 50 years, but the BBC's beloved sci-fi series Doctor Who announced this year that its title character -- a two-hearted alien who regularly "regenerates" into different actors -- will, for the first time, be played by a woman. Jodie Whittaker, a British actress previously known for her role on Broadchurch, recently debuted the stylish new Who outfit, which makes sartorial nods to many of her predecessors.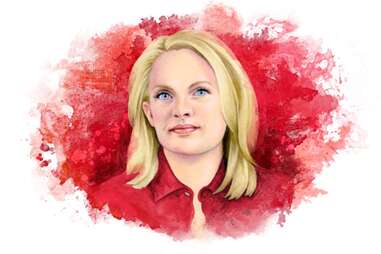 The Handmaid's Tale takes an uncomfortable look at reality
The Hulu adaptation of Margaret Atwood's novel, from female creator Reed Morano and producer/star Elisabeth Moss, was the hands-down, must-watch show of the year. Its depiction of a dystopian near-future in which women are forced into servitude as childbearing vessels struck a chord for many viewers with concerns about the future of women's rights, won the show four Emmys, and inspired activists around the country to don red-robed handmaid garb for public protests at political gatherings.
Feminist lit for girls gets even more accessible
Little girls are getting woke -- and titles like Good Night Stories for Rebel Girls are flying off the shelves. Chelsea Clinton's She Persisted showcases the stories of 13 heroic American women, while Kate Pankhurst -- a descendant of suffragette Emmeline Pankhurst -- had a hit with her Fantastically Great Women Who Changed the World. Then there's Women in Science, which highlights the achievements of 50 great women from fields including engineering, technology, and math -- a must-read for girls who loved last year's Hidden Figures.
Selena Gomez's winning streak carries on like she never left
After taking a break from public life last year, singer Selena Gomez is back on top and using her fame to do good. She went public with her fight against lupus, including getting a kidney transplant that came from her best friend, and parlayed her celebrity into massive fan donations for the Lupus Research Alliance. Named Billboard's 2017 Woman of the Year, she's had three top 10 hits this year in "Bad Liar," "Fetish," and "It Ain't Me."
Comics are for everybody now
There may be no more stereotypically dude-associated genre than comic books, and yet that demographic was upended this year: a new study found "the fastest growing demographic of comics readers are women aged 17-33," and the growing focus on diverse female heroes in comics titles -- including Ms. Marvel, Squirrel Girl, and America as well as indie creator hits like La Borinqueña -- shows it's just the beginning.