The 'Evil' Season 2 Finale Has a Scream-Inducing Cliffhanger
It was a perfect way to wrap up a great, gross season.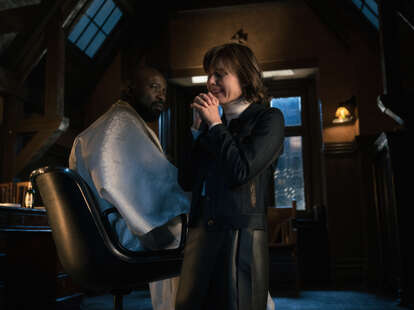 This post contains major spoilers for the Season 2 finale of Evil.
The second season finale of Evil had me up off the couch and screaming. It's rare that a TV show has that effect on me these days, but Evil is not your average TV show. The series, which jumped this season from CBS to Paramount+, is a special thing, a monster-of-the-week procedural, all the while keeping you hooked with character tension that can drive you up the wall in a good way. It's a throwback to the likes of Buffy the Vampire Slayer and The X-Files, when television could be, above everything else, just freaking fun.
Describing just what this most recent episode does so well has me sounding like SNL's Stefon because it really does have it all: Cannibals, satanic cults, creepy possessed dolls, the demonic pop-up book of the credits wedging its way into the world of Evil itself, SCTV legend Andrea Martin, and a not-so-celibate priest. To that last point: Evil saved its most shocking moment until the very end, finally following through on the fucked-up will-they-won't-they, just when it would be as messy as possible.
Yes, David Acosta (Mike Colter), now a full-fledged Catholic priest and not a priest-in-training, starts making out with his partner Kristen Bouchard (Katja Herbers). It's bad enough that he waited to act on his impulses after going through with his ordination, but to make it even worse, Kristen has just confessed to the murder of Orson LeRoux (Darren Pettie), the probably possessed serial killer who was taunting her and threatening her children. David hears her confession, offers her penance, and then they start making out. Absolutely wild shit.
Often when long-brewing romance is finally consummated, it can spell a certain doom for the show. It's the Moonlighting curse, after all. But, luckily, that likely will not be a problem for Evil. There's absolutely no way for David and Kristen to be a happy couple. David will be reeling from the guilt of his sin; Kristen is a) still married to her husband, Andy, and b) still maybe just a tiny bit possessed.
The good news is that Evil has already been renewed for Season 3, so there's no worry as to whether we'll be left hanging on this or the many other cliffhangers from the previous episodes. After all, showrunners Robert and Michelle King still haven't fully explained what's going on with the demonic cult, shepherded by Leland Townsend (Michael Emerson) and his mysterious "influencer" friend Edward Tragoren (Tim Matheson), that Kristen's mother Sheryl (Christine Lahti) was inducted into that has her injecting something behind her knee and on the receiving end of a shrunken head.
Turns out the Poveglia Codex, a document that has been looming over all of the spooky stuff happening on screen, is a "map of 60 demonic houses," according to the intensely devoted nun portrayed by comedy genius Martin. The sigils each represent a house, and each house master must secure its successor by literally being consumed. That's the reason why Mitch Otterbean (Taylor Trensch)—the grad student David, Kristen, and Ben (Aasif Mandvi) have been investigating in the finale—is so driven to cannibalism. At the end of the episode, he's invited to a Satanic shindig with Rosemary's Baby vibes over at Leland's, where he's offered a taste of the flesh of a dead body tattooed with one of the Codex's symbols.
It's juicy, lore-heavy stuff that also probably somehow connects to Kristen's daughter Lexis (​​Maddy Crocco), who was conceived at the demonically linked RSM Fertility Clinic and who has been visited (and possibly hypnotized) by Leland, which could possibly explain why we've seen her with a reptilian tail in her mirror reflection.
But all of this plays second fiddle to the tongue hockey that drives us toward the credits. From the start of the show, Herbers and Acosta have had irresistible chemistry, but it was also always clear that if characters ever got together, the consequences would be terrible. The Kings saved the big moment for when Kristen and David are each at their most vulnerable and the spiritual consequences of their transgression would be most damnable. You want to cheer, but you also want to recoil. It's scream-inducing TV at its very best.