Help! I'm Addicted to a Canadian Reality Show About Hair-Metal Ex-Wives!
If you were to tell me you've heard of a long-canceled Canadian reality show called Ex-Wives of Rock, you'd be lying. Sure, reruns of it aired on Fuse a few years ago, but if you were to tell me you watch Fuse, you'd also be lying.
Ex-Wives of Rock is hosted on a Canadian website that bars me, someone who doesn't live in a socialist paradise, from access. By installing one of those browser plug-ins that makes Firefox crawl, however, I can. Why, you may ask, would I go to such pains to watch something so allegedly devoid of artistic value? Good question.
Ex-Wives of Rock follows the lives of four women of various shades of blonde with one common problem: they all used to be married to butt-rock legends. They have since traded the decadence of the Sunset Strip for the comparatively safe confines of San Fernando Valley strip malls. They constantly lament their poor choices in marital partners, but had they not made them, they never would have gotten the opportunity to lament them on a Canadian reality show. Their pain is my gain.
The cast includes Athena Lee, a not-so-reformed punk who was married to a non-original member of the Scorpions for "14 miserable years." She is, not that you asked, my favorite ex-wife, a direct result of her pragmatic attitude and her competency on the drums. When shown getting her wedding dress shortened for her divorce party in Las Vegas, she requests the tailor take it all the way up to the slit so she can "ride somebody like a horse."
There's Sharise Neil, the ex of current hair-plugs recipient and former Mötley Crüe frontman Vince Neil, who now runs a clothing company, Kandy Wrappers [sic], which sells questionable styles riddled with animal prints and neon pinks. Her current boyfriend, Brandon, a guy who tells people he is in Nine Inch Nails but isn't, resembles the lead singer of Smash Mouth circa 1997.
There's Bobbie Brown, the former wife of Warrant lead singer Jani Lane, who died of acute alcohol poisoning in a Comfort Inn during the filming of Ex-Wives. Bobbie, Miss Louisiana Teen USA 1987, met her husband on the set of Warrant's "Cherry Pie" music video, which she starred in. She was also briefly engaged to Athena's brother, Tommy Lee, who married Pamela Anderson four days after they broke up. (Is Bobbie still bitter about it? WHAT THE FUCK DO YOU THINK?)
And there's Susan Dixon (who goes by "Blue," the color of her piercing eyes), the former wife of Warrant bassist Jerry Dixon. She now owns a pole-dancing studio in the Valley, because of course she does. A cup from Coffee Bean & Tea Leaf is attached to her left hand at all times. She is, not that you asked, my least-favorite ex-wife, for obvious reasons.
The whole sordid affair is narrated by Shannon Tweed, who is married to seemingly unfuckable Israeli rock god Gene Simmons, and has presumably been having sex with him since 1983, which is as long as I've been alive. Her voice-overs are often snarky and judgmental; I feel that she, as someone who has had sex with Gene Simmons for over 30 years, has no right to take such a tone.
Alternating currents of strength and desperation emanate from each ex-wife, the end result of which renders them profoundly more human than your average reality-show participant. They are, depending on the hour of the day, self-aware or oblivious. Kind or cruel. Smart or stupid. They all refuse to take shit -- until, of course, they feel as though they deserve it.
In one plot line, Bobbie, a staunch character if I've ever seen one, decides, much to the incredulousness of the other Ex-Wives, to move in with her emotionally abusive boyfriend. Bobbie has the most complexes of all the women, a result of childhood insecurities about her body. (In her memoirs, she writes, "My mother and I never told each other we loved each other until I had moved away and I was 19. Her dream for me was to be famous, a model of sorts. I was to be, and remain, beautiful, and through these attributes would complete and validate her as a good mother.") My heart weeps for this lost girl; I have, in spite of myself, developed empathy for, and emotional investment in the life of, the woman from the "Cherry Pie" video.
In another plot line, Sharise bargains with Brandon for her forgiveness, informing him that it will require him purchasing her two Chanel bags to make up for the fact that he drunkenly abandoned her on the evening of her dead daughter's cancer benefit. One can only assume he will purchase them with her money, as his facial hair and overall demeanor imply he has none of his own, thus negating the power of the gesture in the first place. My heart weeps for her as well.
Indeed, somewhere in the process of watching 14 episodes of the Ex-Wives laid bare, I felt empathy for them all -- with the exception of Blue. I understand her unlikability is bred from desperation, as she was the beta of the group during the laissez le bon temps rouler glory days of the '80s. Still, I cheer when her impossible dream of changing the pole-dancing clothing game forever fails.
(It's worth noting that the clothing's designer, Ashley Paige, whom Blue assures us is legendary but proves obscure upon Googling, appeared on a 2008 reality show called Ashley Paige: Bikini or Bust, which looks so ridiculous and substanceless that I must watch it. I resent the Ex-Wives and their continuing drama for keeping me from Paige's drama, which includes a character named Big Daddy Carlos, but I digress.)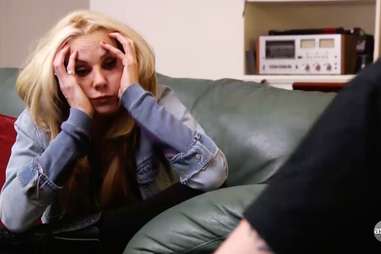 In the last episode of Season 1, Athena goes to see her bedridden mother, Boula, who is stricken with "everything you can have": COPD, emphysema, diabetes, and osteoporosis. It's tough, naturally, for Athena (who is also struggling with divorce, cancer, and substance abuse) to see her mom like that. Boula resembles Athena's brother Tommy, so much so that you could almost imagine it's him beneath piles of prosthetics in that twin-size bed, affecting an Old World accent.
But this is not a poorly written SNL sketch; this is real life. Reflecting on how difficult the recent past has been, Athena makes a declarative statement: "I think this whole year for me can suck it," she says, making deep and sustained eye contact with the person interviewing her off-camera.

And with that, the music becomes dramatic, and time-lapse footage of Los Angeles from dusk to dawn, sunrise to sunset, plays; a flurry of activity, an endless, unstoppable flow.
Cut to Blue, with as serious an expression as Botox will allow, informing us that Athena was missing for several days before turning up at her doorstep. "She looked like she aged 50 years when she came to the door," Blue says stoically. "There's something very, very, very, very wrong."

Blue, Bobbie, Athena's tattoo artist Deej, and her daughter Toby surround Athena where she lies, facedown on the bed, silently sobbing. "I just want it to go away," she whispers. "I swear I take 10 steps forward and 100 steps back." The hood of her bedazzled sweatshirt obscures her face, blocking the camera from documenting a black eye caused by her teen son. She's "on the lam," having run away from the hospital.

"How'd you get out of the hospital?" Bobbie asks. "I signed myself out, and then I left," Athena replies. "Jani used to do that all the time," Bobbie solemnly states. "And look where he is."
Something, it is decided, must be done. Thankfully, Deej "has connections" at a rehab center; she tells Athena, who balks at the price, "Don't trip." As she lies on the bed, curled up and avoiding eye contact like a wounded and frightened animal, they all tell Athena how much she is loved. Which, in spite of the fact that reality television is generally bullshit, I know to be the truth.

In the final scene of the season, she's escorted out of Blue's place and into the blinding sun, sunglasses covering her black eye. "This has been a rough year, man," Bobbie says via voice-over. "What does keep us together? I don't know. We've known each other for years. There's things about each other we can't stand. There's things about each other that we love. But if we've gone this long, we'll always make it through and be friends, I think. That's real. That's sincere. And you can't fake that," she declares as Athena drives off to rehab. Maybe it's the Stockholm syndrome talking, but I believe her.
Sign up here for our daily Thrillist email, and get your fix of the best in food/drink/fun.
Megan Koester is Thrillist's senior Hulu correspondent. Her favorite Decline of Western Civilization film is, naturally, The Metal Years. Follow her: @bornferal.