These 7 Face-Transplant Movies Will Transplant a Smile Onto Your Face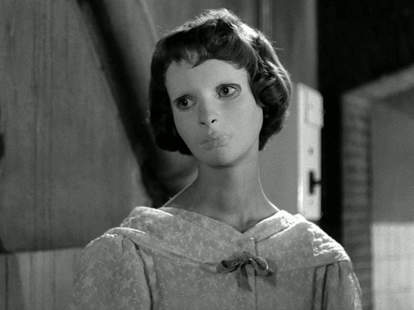 <strong><em>Eyes Without a Face</em> |</strong>&nbsp;Champs-Élysées Productions
Now that face-transplant surgery is viable, the tried-and-true horror movie premise of uncertain identity hits closer to home, even if it still feels like science fiction. The buzzed-about Austrian film Goodnight Mommy -- which recently became available for rental and download -- deals in this spooky realm: a pair of identical twins (Lukas and Elias Schwarz) become convinced that their mother is an impostor following her cosmetic facial procedure. To celebrate this serendipity, we look back at some notable movies trafficking in the once-unthinkable notion of switching faces.
Face/Off (1997)
This wildly successful and completely bonkers John Woo shoot-'em-up might be the first time the
feasibility of a facial transplant
was pondered by mass audiences. But just in case you're some uncultured goon who's never seen it,
Face/Off
is a showcase not just for America's two finest thespians (Nicolas Cage and John Travolta) but for Woo's audacious and stylish action sequences and a facial-swapping plot that's equally ludicrous and disconcerting. Its surgery scenes (two of 'em!) are a little less brutal than some of the other entries on this list (Woo chooses to pass over showing incisions in favor of reaction shots of
Bunny from The Wire
turning away in disgust), but makes up for it with the indelible image of Cage staggering around with a faceless, bloody skull.
Eyes Without a Face (aka Les Yeux Sans Visage, 1960)
When originally released, director Georges Franju's gruesomely realistic depiction of necrosis and heterografting surgery reputedly made audiences at the Edinburgh Film Festival literally faint, prompting Franju to remark, "Now I know why Scotsmen wear skirts." Eyes Without a Face is essentially a Frankenstein riff: a megalomaniacal scientist needs human flesh to perform what could be considered a resurrection, although in a very French twist, the assistant seizes young girls, not corpses. It holds up because of its strange languidness and for its poetic story about lost beauty, guilt, and the possessive love of a father for his daughter. Plus, the medical sections are still kind of freaky.
The Face of Another (aka Tanin no kao, 1966)
The fear that our souls exist independently of our bodies runs through a ton of Japanese horror, from the eye in The Eye to the mask in Onibaba. In Hiroshi Teshigahara's The Face of Another, a doctor with the world's worst medical ethics molds a mask from the face of some guy off the street and surgically attaches it to a burn victim's face. Blessed with the confidence of his new appearance, however unnatural it might be, the transplant recipient seduces his own wife and then confronts her because she cheated on him with himself (seriously). Face of Another is beautiful, insane, and psychologically astute, not to mention its most normal scenes are the ones filmed as X-rays.
The Mask (1994)
Hear me out: this is the same kind of movie as
The Face of Another
, except the mask in
The Mask
is not "some guy," but the Norse god Loki. Also, the soundtrack to
The Face of Another
does not feature
Fishbone
.
Dark Passage (1947)
One of the best parts of Delmer Daves' (very good) Humphrey Bogart/Lauren Bacall noir, which is based on a book by David Goodis, is the way it unrepentantly trolls Bogart fans, opening with scenes shot primarily from the point of view of a convict escaping to San Francisco from San Quentin. After undergoing plastic surgery to change his appearance, he recovers wrapped in Invisible Man-esque bandages. Although the convict speaks with Bogie's voice, the audience doesn't actually get to see him without bandages until more than halfway through the movie. As Laura Mulvey might have predicted, an hour or so of the Hump Man's eyes got top billing over Bacall's entire luminous presence.
Faceless (1988)
If
Neil Young's coke booger
in
The Last Waltz
made a movie, it would probably turn out a lot like Jesús Franco's lovably incoherent Euro-slasher. Take the basic plot from
Eyes Without a Face
, and add more gore, a smooth synth soundtrack, overly permed models in various degrees of bondage/undress, and Telly Savalas in his final performance (the most WTF swan song since
Orson Welles' in Transformers: The Movie
). Notably,
Faceless
takes place in the same world as another face-stealing movie directed by Franco, 1962's
The Awful Dr. Orloff
, with Howard Vernon reprising his role here in a bit part as the awful doctor in question.
Seconds (1966)
Both a face-transplant movie and a quietly psychedelic suburban-dissatisfaction film,
Manchurian Candidate
director John Frankenheimer's
Seconds
centers on an embattled New York banker who pays to be reborn as a Malibu painter with Rock Hudson's face. Despite being gore-free, the aura of paranoia and the canted-angle cinematography make this one of the most disturbing and uncomfortable selections on this list. If that doesn't sell you,
Seconds
subtly accuses the viewer of enabling assembly-line culture and offers an utterly unappealing hippie-orgy scene soundtracked by a tootling recorder.
Sign up here for our daily Thrillist email, and get your fix of the best in food/drink/fun.
Liam Baranauskas writes stories and essays, and sometimes refers to identical twins as "nature's doppelgangers." Follow him at @liambaranauskas.