Everything You Need to Know About the Viral Old Face Challenge Everyone's Doing
Few people would admit that they're thrilled about getting old, and even fewer are looking forward to looking old...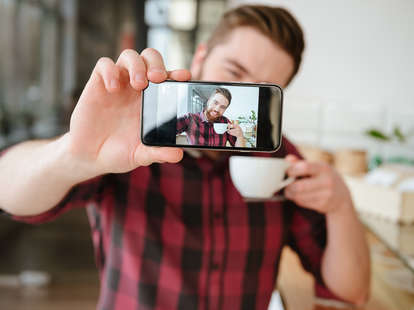 Shutterstock
Shutterstock
Few people would admit they're thrilled about getting old, and even fewer are looking forward to looking old. But it'd be easy to believe the entire internet is obsessed with prematurely aging at the moment, thanks to a new viral challenge that has hordes of folks sharing eerily realistic photos of what they may look like in a few decades on social media.
This new phenomenon, dubbed the FaceApp Challenge, has swept social media in the last week. Tons of people, including lots of celebrities, have been posting pics generated using an app known as FaceApp, which harnesses artificial intelligence to render images of people's faces into insanely realistic versions of their younger and older selves. If you've been on Twitter or Instagram in the last few days, you've likely noticed at least a few popping up in your feed. You also may have noticed people talking about the privacy concerns the app poses.
Whether you're horrified by the idea of seeing what it might look like to peek in the mirror in six decades or cackling with laughter at the prospect, here's what you need to know about the viral challenge.
What is FaceApp?
FaceApp is a mobile app for iOS and Android that uses neural network technology to automatically generate wildly realistic transformations of your face. Once downloaded, you can upload any photo with a face in it and apply any one of its "filters" to witness the transformation. The app has filters that turn faces young and old, others that add smiles and glasses, and even one that allows you to preview yourself with different hair colors. It was developed by a team in Russia and launched in 2017. That year, it briefly surged in popularity until it saw tremendous backlash over claims its "hot" filter was racist after users caught it lightening darker skin tones.
In the years since, the app's technology has advanced to a point where it can render truly photo-real versions of faces, which has helped usher in its latest viral boost.
How is everyone doing the old man filter?
When you download the free version of the app, you gain access to a limited selection of filters to add to your photos. Included among them is an "Age" filter, which you'll see along the options on the bottom of the screen. Once selected, it reveals an "Old" option, which is the one folks have been using to generate the pics they're sharing. Once selected, it takes a few moments for the tech to fully render it into the finished image, which you can then download to your device or share via various social platforms.
Are there any privacy concerns to worry about?
Considering the concerns that have been raised regarding the rise in facial scanning and recognition technology and its potential applications, you may be wondering whether giving a third-party app -- particularly one focused on face-scanning -- access to your photos. As the app has grown in popularity, questions have been raised about the company's privacy protections. For now, you may want to pause for a second and be cautious before you join the meme.
As 9to5Mac reports, FaceApp's privacy policy seems intentionally vague, saying it collects user content such as "photos and other materials that you post through" it. That's not necessarily a damning detail, but you can never be too careful when it comes to understanding how apps are accessing and using your data. For what it's worth, a developer named Joshua Nozzi recently warned on Twitter that his experience using the app involved some suspicious loading issues that led him to believe the app was downloading his entire photo library. For anyone who has sensitive photos or screenshots in their cameral roll, this is understandably alarming.
TechCrunch, however, reports that security researchers have found no evidence of this happening in the app. The tech publication also received a statement from FaceApp addressing these concerns.
"FaceApp performs most of the photo processing in the cloud. We only upload a photo selected by a user for editing. We never transfer any other images from the phone to the cloud," the company told TechCrunch. "We might store an uploaded photo in the cloud. The main reason for that is performance and traffic: we want to make sure that the user doesn't upload the photo repeatedly for every edit operation. Most images are deleted from our servers within 48 hours from the upload date."
In other words, the company directly denies uploading any other photos from your phone other than the ones you selected to edit with a filter. As for other personal information besides face photos, FaceApp said it doesn't have access to that unless you sign via the settings page, which most people don't do: "All FaceApp features are available without logging in, and you can log in only from the settings screen. As a result, 99% of users don't log in; therefore, we don't have access to any data that could identify a person." The statement went on to say the company doesn't "sell or share any user data with any third parties."
FaceApp also addressed its ties to Russia, saying, "Even though the core R&D team is located in Russia, the user data is not transferred to Russia."
That's not so say that its Russia connection hasn't worried certain vulnerable parties. On Wednesday, the chief security officer for the Democratic National Committee (DNC) issued an alert to the 2020 presidential campaigns, warning them not to use FaceApp. "Unfortunately, this novelty is not without risk: FaceApp was developed by Russians," he wrote, according to a report from CNN. It may seem like a paranoid overreaction, though considering the DNC and Democratic campaigns were attacked by Russian hackers in 2016, cybersecurity is understandably at top of mind this go around.
So, bottom line, whether or not you trust the app is up to you. If you're uncomfortable with how the app stores your images or don't trust it to stick to its word about hoe it accesses your camera roll, then don't use it. You don't have to run the age filter on your own photos to enjoy the many going around on social media, like these gems:
Sign up here for our daily Thrillist email and subscribe here for our YouTube channel to get your fix of the best in food/drink/fun.