It's Official: Facebook Is Adding A 'Dislike' Button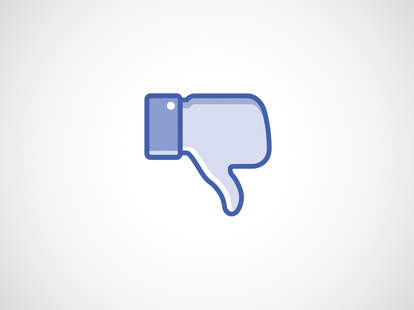 If I had a nickel for everything I've ever disliked on Facebook, well, I'd be packing more dough than the awkward guy who founded Facebook. But currently, there are only two ways to actually voice displeasure over unsavory posts: leave snarky, passive aggressive comments, or write even snarkier, passive articles about it all.
That's about to change.
After years of holding out, Facebook is currently testing a "Dislike" button -- which will no doubt come in the form of an upside-down thumb, and inevitably become a shining symbol of negativity across the globe. Mark Zuckerberg himself revealed the juicy details Tuesday, during a public Q&A session in Menlo Park, California.
"People have asked about the 'Dislike' button for many years ... and today is a special day, because today is the day that I actually get to say we are working on it and are very close to shipping a test of it," he said, according to a report by CNBC. Zuck also called the addition of the new feature "surprisingly complicated" and stressed the need for extensive testing before a full public roll-out. Thus far, there's no set date on when we can expect to see the "Dislike" pop up on our own newsfeeds. Dislike.
Why the sudden change? It seems the minds behind Facebook are finally realizing that "liking" your friend's post about his dead dog maaaaybe isn't the most appropriate way to give moral support. Beyond a means to show your work acquaintances you don't care about their vacation photos, the "dislike" photo is designed to be an outlet for conveying emotional support, without the horrible burden of actually having to write your own words.
We'll see how much Big Z likes it when I start disliking every ad on my feed. Power to the people.

Wil Fulton is a Staff Writer for Thrillist. He would also like to see a Facebook button that expresses extreme thirst. Follow him @WilFulton
Sign up here for our daily Thrillist email, and get your fix of the best in food/drink/fun.