HBO's Wild 'Fahrenheit 451' Is the CliffsNotes Version We've Needed Since High School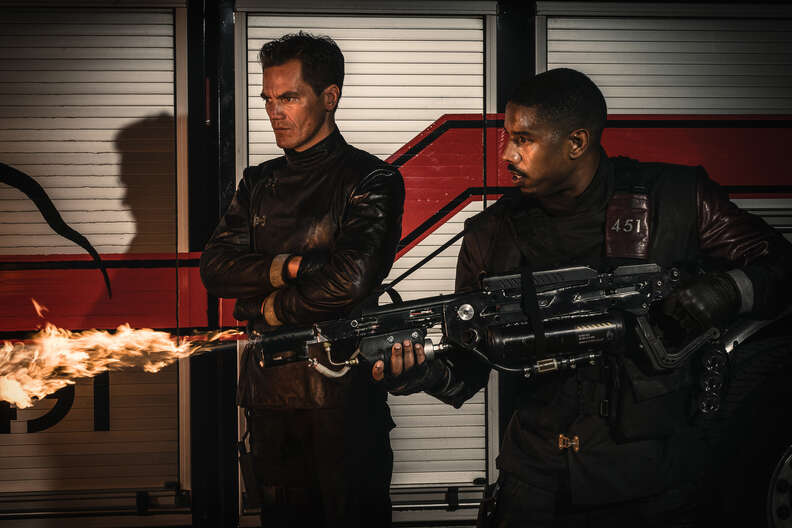 The world that Ramin Bahrani has constructed for HBO's Fahrenheit 451 is horrifically beautiful. It feels both divorced from and intrinsically tied to its source material, the 1953 dystopian novel by Ray Bradbury, which is maybe inevitable when bringing a decades-old work to a contemporary audience. We know what the future is like since we're living in it.
Bahrani's vision feels like a distillation of both Blade Runner and Black Mirror; videos are splashed across buildings and screens are peppered with emojis and messages that ought to be familiar with anyone who's ever caught a glimpse of a livestream with chat features enabled. The firemen are practically Instagram celebrities -- they're influencers, except their popularity comes from their ruthlessness and skill at stamping out original thought by burning books, seeking to destroy every last one. It's a 2-D visual that sits in sharp contrast to just how 3-D Bahrani's sense of the world is. Multiple scenes are shot in panorama, with both sides of a room or hallway visible at once, stretched across the screen in a distorting effect that's impossible to shake.
The same goes for Michael Shannon as Captain Beatty. Bahrani, who also worked with Shannon on 99 Homes, is one of the few directors who seem to understand that Shannon, though terrific at playing terrifying, rigid characters (see: The Shape of Water and Boardwalk Empire), is also an innately charming performer. He's a funny guy -- just take a peek at his talk show interviews -- and it's a personality trait that, when balanced against his popular image, has a near-flooring effect. As Beatty, he's allowed to be amiable and goofy, and it automatically lends him a humanity and depth that makes his implacability all the more frightening.
He's a worthy adversary for Michael B. Jordan, who plays Guy Montag. As the wheel upon which the film turns, Jordan burns bright, managing to play a slow descent into doubt and revelation without seeming to moralize, but the film's script ultimately underserves him. The ending is too plain for a movie that is otherwise so vivid (metaphorically and literally -- the words "stay vivid" are plastered on almost every screen to remind civilians to be vigilant), and the way it's been changed from the original text feels like a cop-out rather than a thoughtful addition.
It doesn't help that the visual style changes drastically as the film enters its last act, a shift that is as clumsily made as some of the film's broader points. While the firemen brutalize their victims, it's difficult not to consider the connotations of casting Michael B. Jordan as one of them. It becomes clear that this was a conscious decision when he comes across the last remaining free thinkers, with mixed results. If there's to be a commentary on race, it can't be so skin-deep; when characters are assigned books, the choices are so obvious it's almost exasperating. The one Asian woman in the cast is Chairman Mao; the black man is James Baldwin.
Still, there are so many striking details in Fahrenheit 451 (including 2001: A Space Odyssey's Keir Dullea in a role that perfectly utilizes his still-otherworldly voice and features) that it's difficult to begrudge it. The first two acts are stunning, like a shared nightmare we've just been lucky enough to witness.
Sign up here for our daily Thrillist email and subscribe here for our YouTube channel to get your fix of the best in food/drink/fun.
Karen Han is a writer based in New York City. Her work appears on Vox.com, The Atlantic, SlashFilm, and New York magazine's Vulture.