Actually Good Movies and TV Shows to Watch With the Family Over Thanksgiving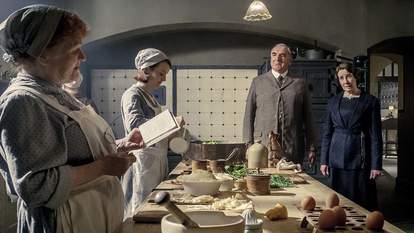 What better way to spend quality time with your loved ones than sitting around a screen, consuming the same content? Once you wash the dishes, resolve political conflicts, and eat dessert, you can settle in for a night of bingeing. But what to watch? No one wants to accidentally expose Grandma to The Deuce, so we compiled a list of the streaming shows and movies that will satisfy the whole family. Now the only thing left to do is decide which one of the following selections to choose. 
Make sure you check out the best movies of 2019 and the best TV shows of 2019. 
Columbia Pictures
Across the Universe (2007)
A Vietnam-era love story set to the soundtrack of The Beatles, Julie Taymor's Across the Universe is a trippy, joyful movie-musical that may provoke spontaneous karaoke. And fret not, Beatles purists: The talented young cast and roster of all-star cameos (Bono, Eddie Izzard, Joe Cocker) do the Fab Four's songs justice, while the young-lovers-during-wartime plot works surprisingly well, even if it's mostly just a backdrop for the music. Plus, I dare you to find anything more sweetly romantic than Jim Sturgess singing "I've Just Seen a Face" about Evan Rachel Wood while bopping through a bowling alley. Seriously, I dare you.
Where to watch it: Netflix
Chef's Table (2015- )
With an explosion of food television comes elevated standards; Netflix's Chef's Table forages for those standards, brings them to the restaurant for dinner service, treats them with respect, turns them into a whimsical play on a dish remembered from childhood, and earns a couple Michelin stars and the admiration of its peers in the process. The point is that Chef's Table, from creator David Gelb (Jiro Dreams of Sushi), is an exceptional food show that manages to make humans the centerpiece.
Where to watch it: Netfix
Comedians in Cars Getting Coffee (2012- )
Jerry Seinfeld has a shitload of expensive cars lying around, so he decided to film himself giving other funny people rides in them. It's pretty entertaining! After a run hosting Crackle's only viable original program, Seinfeld took his talents to the king of the streaming game (for now).
Where to watch it: Netflix
Downton Abbey (2010-2015)
Inside the Downton Abbey estate, a high-society British family jostles against the hired help, but this early-20th-century period piece is no ordinary history lesson. Between arranged betrothals, sabotage among the support staff, an influenza epidemic, cancer scares, risky pregnancies, love triangles in perpetual motion, and even murder, the series is a soapy blast dressed up in 1900s finery. 
Where to watch it: Amazon Prime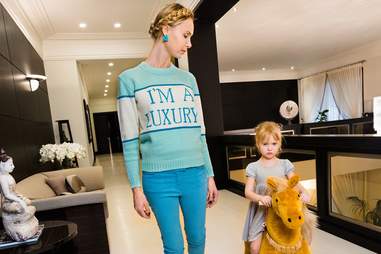 Amazon Studios
Generation Wealth (2018)
Filmmaker and photographer Lauren Greenfield (The Queen of Versailles) took a long and unflattering look at the cultural milieu of the 1%, and those who really wish they were in the 1%. Culled from interviews and photos going back several decades (a middle-school-aged Kate Hudson shows up, as does 12-year-old Kim Kardashian), Generation Wealth paints a seedy, gut-churning portrait of the money-driven Western world, and what lengths people will go to get in on the action. It's heartbreaking and repellant, but it's also one of the sharpest contemporary commentaries on why the wealthy wield so much power and attract so many people to their lifestyle. 
Where to watch it: Amazon Prime
Great British Baking Show (2010- )
If you still haven't indulged in this confectionary U.K. delight, clear enough room for a full-season binge. Hosts Mel Giedroyc and Sue Perkins, along with judges Mary Berry and Paul Hollywood, mix charm and no-holds-barred cooking criticism as they navigate a sea of bakers vying to become the next masters of dough-proving, top-glazing, and edge-icing. There's something absolutely pure about Great British Baking Show, making it one of the nicest -- and we mean that as a plus -- reality shows ever to hit television.
Where to watch it: Netflix
Heavyweights (1995)
This fat-camp comedy has a serious pedigree: Judd Apatow wrote the script; Steven Brill, Adam Sandler's go-to collaborator, directed; and the cast touts Paul Feig, a young Kenan Thompson, Jeffrey Tambor, and Ben Stiller, giving one of his best performances as a psychotic fitness guru. The '90s saw plenty of teenage wish-fulfillment, but none with the bite of Heavyweights.
Mary Poppins (1964)
Grab a spoonful of sugar and stream Mary Poppins on repeat until you decide to become a chimney sweep because they look like they have so much fun! Julie Andrews, Dick Van Dyke, and music from the Sherman brothers makes PL Travers' literary character jump off the screen and into America's collective consciousness. 
Where to watch it: Disney+
Cinema 5
Monty Python and the Holy Grail (1975)
The legendary British comedy troupe took the legend of King Arthur and offered a characteristically irreverent take on it in their second feature film. It's rare for comedy to hold up this well, but the timelessness of lines like, "I fart in your general direction!" "It's just a flesh wound," and "Run away!" makes this a movie worth watching again and again. 
Where to watch it: Netflix
Nailed It! (2018- )
Your favorite bad-cooking competition show is one cooking show you can relate to from your couch, so you can settle in for a whole raft of non-chefs decidedly not nailing it. Dig in!
Where to watch it: Netflix
Okja (2017)
This wild ride, part action heist, part Miyazaki-like travelogue, and part scathing satire, is fueled by fairy tale whimsy -- but the Grimm kind, where there are smiles and spilled blood. Ahn Seo-hyun plays Mija, the young keeper of a "super-pig," bred by a food manufacturer to be the next step in human-consumption evolution. When the corporate overlords come for her roly-poly pal, Mija hightails it from the farm to the big city to break him out, crossing environmental terrorists, a zany Steve Irwin-type (Gyllenhaal), and the icy psychos at the top of the food chain (including Swinton's childlike CEO) along the way. Okja won't pluck your heartstrings like E.T., but there's grandeur in its frenzy, and the film's cross-species friendship will strike up every other emotion with its empathetic, eco-friendly, and eccentric observations.
Where to watch it: Netflix
Planet Earth and Planet Earth 2 (2006; 2017)
It's difficult to convey the splash Planet Earth made when it arrived on American television screens in 2006. Like, holy shit, that great white shark captured in super-slow motion jumping completely out of the ocean as it snapped its jaws down on a seal? No one had seen anything like it before, and each episode felt like a new experience, bringing more attention to the environmental and conservation movements than anything since Silent Spring, no small feat. It's worth a rewatch, because it holds up even after 2017's Planet Earth 2 -- the follow-up features more advanced camera work, but it doesn't quite match the massive scale of the original, because nothing really can.
Where to watch it: Netflix
Pixar
Ratatouille (2007)
There's a tremendous amount of love flowing through the Pixar canon: love for partners, love for family, love for friends, love for cars. But only one movie dares -- and that's the right word, as it continues to catch flack for it -- to explore the existential struggle that is loving oneself. If Remy the Rat is going to survive life on this planet, he has to become the furry mammal he's told he can't be. He has to cook. Director Brad Bird turns the act of defiance into a three-ring circus. Composer Michael Giacchino, a longtime Pixar collaborator, owns half the film with his take on Parisian jazz, and Patton Oswalt adds exhaustion and thrill to Remy's voice with nuance. Ratatouille is fine dining, the result of the best artists in the movie business telling an artist's story.
Where to watch it: Disney+
The Rocky Movies
The gang's all mostly here. Start your Netflix binge off running with Rocky's first five tales, Rocky, Rocky II, Rocky III, Rocky IV, and Rocky V. The only installment missing is Sly Stallone's 2006 outing, Rocky Balboa, and the recent Creed films, which, OK, fine -- but after you finish watching all these other ones, we think you should still be able to jump up and yell, "Yo, Adrian. I did it!"
Where to watch it: Netflix
Spider-Man: Into the Spider-Verse (2018)
In this shrewd twist on the superhero genre, the audience's familiarity with the origin story of your friendly neighborhood web-slinger -- the character has already starred in three different blockbuster franchises, in addition to countless comics and cartoon TV adaptations -- is used as an asset instead of a liability. The relatively straight-forward coming-of-age tale of Miles Morales (Shameik Moore), a Brooklyn teenager who takes on the powers and responsibilities of Spider-Man following the death of Peter Parker, gets a remix built around an increasingly absurd parallel dimension plotline that introduces a cast of other Spider-Heroes like Spider-Woman (Hailee Steinfeld), Spider-Man Noir (Nicolas Cage), Peni Parker (Kimiko Glen), and, most ridiculously, Spider-Ham (John Mulaney), a talking pig in a Spider-Suit. The convoluted set-up is mostly an excuse to cram the movie with rapid-fire jokes, comic book allusions, and dream-like imagery that puts the rubbery CGI of most contemporary animated films to shame.
Where to watch it: Netflix
Terrace House (2012- )
Call it what you will, Terrace House's brand of neo-anti-no-wave-reality TV show from Japan is back for another installation of its third series (Opening New Doors, following Boys and Girls in the City and Aloha State) with Netflix. A rotating cast of six strangers live in an amazing and huge house together, weathering drama levels ranging from nonexistent to low-level tension, while continuing with their daily lives. They talk about their dreams, respectfully date each other, and do group activities, all of which is filmed and recut for a panel to scrutinize. It might seem like the epitome of boring TV you wouldn't think to watch, but trust us: you want to hop on the Terrace House bandwagon ASAP.
Where to watch it: Netflix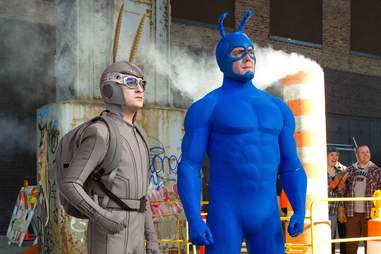 Amazon Studios
The Tick (2016-2019)
When fans heard Ben Edlund's satirical big blue bug of justice was getting the Amazon treatment, many wondered: would anyone really be able to adequately replace original live-action star Patrick Warburton? Would this reboot be able to cut through all the other streaming superhero bullshit? The good news: yes. Peter Serafinowicz nails the bold airheadedness of the The Tick, helping Arthur (Griffin Newman) -- the real star, a poor, broken, obsessive man -- to tap into his potential and uncover a villainous conspiracy. Their story, more importantly, comes packed with legit emotion, action, and tons of weird fun. ("When destiny speaks, she speaks to me. She says, "Hi," by the way!") Watching this thing is like rediscovering your love of an old toy -- one that yells, SPOOOOOOOOON!!!! with an exhilarating sense of reckless abandon.
Where to watch it: Amazon Prime
To All the Boys I've Loved Before (2018)
Of all the entries in the rom-com revival, this one is heavier on the rom than the com. But even though it won't make your sides hurt, it will make your heart flutter. The plot is ripe with high school movie hijinks that arise when the love letters of Lara Jean Covey (the wonderful Lana Condor) accidentally get mailed to her crushes, namely the contractual faux relationship she starts with heartthrob Peter Kavinsky (Noah Centineo). Like its heroine, it's big-hearted but skeptical in all the right places.
Where to watch it: Netflix
Top Chef (2006-present)
In a world where new cooking shows pop up faster than hip molecular gastronomy-based tapas bars, Top Chef is a rare achievement: tasteful, imaginative, and perfectly prepared. What's the secret ingredient? Smart hosts and talented contestants. It's really that simple.
Where to watch it: Hulu
30 Rock (2006-2013)
Fans of Liz Lemon and Co. likely let out a brief gasp when 30 Rock disappeared from Netflix, where it had been a staple of the streaming platform for years. Fortunately, Hulu subscribers can still watch the zany antics of this late-night spoof -- breeze through those seven seasons while you have the chance. 
Where to watch it: Hulu