Why the Hell Aren't These Famous Actors Movie Stars?
We stopped making movie stars. Who needs them when franchise titles and heroic characters do the work? Recent proof: Will Smith -- at one point the most bankable actor on the planet, never experiencing anything less than a $100 million opening weekend -- is now fifth wheel in a superhero movie featuring characters that no one outside the comics world has ever heard of.
During Hollywood's Golden Age, stars were the total package. Studio bosses cultivated their auras to ensure their names could draw crowds to the theater. The modern age has its own great film actors and strong personalities, but that doesn't mean people are going to see their movies. No one believes in the Cary Grant or Tom Cruise mold anymore. Denzel Washington is one of the last marquee names. Today, we think -- or don't -- of movie stardom in vastly different terms.
Could stardom rise once again? We put careers under a microscope to see who could lead a new generation of bankable names. Everyone on this list is famous, but the question remains...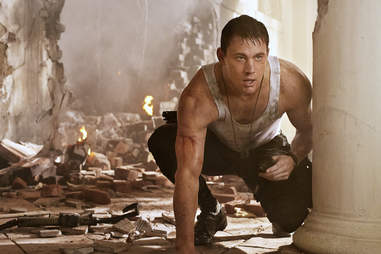 <strong>White House Down |</strong> Sony Pictures
Why the Hell isn't Channing Tatum a movie star?
While studios desperately tried to make Avatar's Sam Worthington happen, Tatum varied his career with studio dramas (Stop-Loss), big-budget action (G.I. Joe), and syrupy romance (Dear John). The fact that he was the head hero in a movie as large as Joe would have cemented stardom in earlier eras. Instead, Tatum has helped redefine what it means to be a movie star in the modern age by swinging between action films, movies where he plays a rollerblading space werewolf, cameo-plus appearances in Tarantino and Coen films, and dressing like Beyonce to lip-sync battle his wife. It's incredible. He's the silver lining of the disappearance of movie stardom: without narrowly defined personalities, actors are now free to take chances on the edgy and totally bizarre.
<strong>Edge of Tomorrow |</strong> Warner Bros. Pictures
Why the hell isn't Emily Blunt a movie star?
In any normal universe, Blunt's name on a marquee would have people running to the theater. She's magnetic, a fierce presence both in costume dramas and in silly comedic roles, and she out-Cruised Tom Cruise in Edge of Tomorrow. Still she doesn't have many hits under her belt -- a second silver lining of a star-less era that sees talented actors able to work regularly without necessarily producing box-office gold. In another alternate universe, Blunt would have played Black Widow in the Marvel movies, and that surely would have turned her into a movie star, right?
<strong>Hail, Caesar! </strong>| Universal Pictures
Why the hell isn't Scarlett Johansson a movie star?
Not so fast. Johansson has had a killer career, marked mostly by Avengers movies where every single character in the 37-person ensemble gets their own poster. She's arguably the closest thing we have to a Golden Era movie star: a more talented Marilyn Monroe, funny and photogenic, who can also carry an original action property like Lucy to relative success. Unfortunately, her recent career ping-pongs between under-seen indie work like Her and Under the Skin, and hanging out with Hulk. The sad truth? If Marvel thought of her as a movie star, we would have gotten a Black Widow standalone film years ago.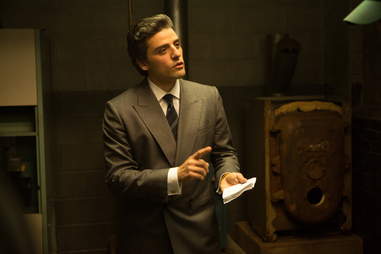 <strong>A Most Violent Year | </strong>A24
Why the hell isn't Oscar Isaac a movie star?
After having a minor role in American Graffiti, Harrison Ford rocketed to stardom in 1977 with Star Wars. He translated that momentum into the Indiana Jones series and enjoyed two decades of leading-man status. Isaac, who broke out for general audiences as the hotshot pilot of a new Star Wars movie (or was it playing the lion's role in an all-human version of Robin Hood?), probably won't get the same career. That's mostly due to the major studios' disinterest in original films, where someone like Isaac would make an even bigger name for himself. It's not like the guy is lacking in the charisma department. See: his movie-star-without-the-movie turn in HBO's Show Me a Hero.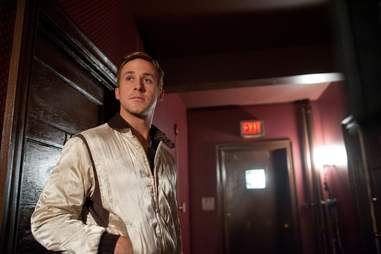 <strong>Drive |</strong> FilmDistrict
Why the hell isn't Ryan Gosling a movie star?
Like Isaac, Gosling proves that meme status is a version of movie stardom in the Internet age. He also proves that someone can be incredibly famous for making movies, even though very few people see those movies (aka\ "The George Clooney Principle"). Still, we should all live in a reality where people go to Drive and this summer's The Nice Guys just because Gosling's involved.
<strong>Trainwreck |</strong> Universal Pictures
Why the hell isn't Brie Larson a movie star?
This one's a bit of a wildcard. Larson hasn't been tested like most of the talent on this list. She's done some great work as a supporting actor and recently won an Oscar for her performance in Room. Now the real climb to movie-star status begins. Fortunately, she already locked the a gritty, '70s-style crime drama, Free Fire, and she's co-starring in the upcoming blockbuster Kong: Skull Island. Still, it'll be tough to break out of the shadow of a gigantic ape we've all known for a hundred years, and Free Fire is destined for arthouse theater love. How long until Larson slips on a superhero suit? Marvel is developing its first female-led movie, Captain Marvel, for 2019...
<strong>Creed |</strong> Warner Bros. Pictures
Why the hell isn't Michael B. Jordan a movie star?
Jordan is another actor like Larson who -- despite being snubbed for an Oscar nomination -- should be taking meetings to become the new Indiana Jones. Or, better: a new character that Jordan can make his own and make audiences fall in love with. As you can see as we dig deeper into this list, big-name actors have trouble climbing all the way to movie-star status these days in part because studios aren't giving them roles that they can define. They're overshadowed by the iconic (often be-spandexed) roles that they take on. We're still a little miffed Sylvester Stallone earned an Oscar nomination instead of Jordan for 2015's Rocky legacy sequel, Creed.
<strong>In the Heart of the Sea |</strong> Warner Bros. Pictures
Why the hell isn't Chris Hemsworth a movie star?
Thor himself. This fantastic film presence sticks to franchises (Star Trek, Avengers) and updated reboots (Snow White and the Huntsman, Red Dawn) because, well, they're safe and successful. The guy should be one of the planet's biggest movie stars, drawing in crowds like crazy, but his last two original(ish) projects -- Blackhat and In the Heart of the Sea -- proved that audiences have difficulty getting in the car when they don't recognize a movie's title from 30 years ago. If he broke out 20 years ago, he'd be the new Matt Damon.
<strong>Mississippi Grind | </strong>A24
Why the hell isn't Ryan Reynolds a movie star?
A few years ago, Reynolds, one of the actors with the greatest shot at modern movie stardom, had a series of awful flops. His animated safe bet, Turbo, underwhelmed. The Men in Black-ish R.I.P.D. was an unmitigated disaster. There was that whole Green Lantern debacle. Afterward, he didn't have any mainstream projects on the horizon. Audiences politely said, "No, thanks," to an actor who juggled romantic comedies and action roles. Luckily, Reynolds has simultaneously emerged from the slump, and upended that new status quo, with the surprise superhero success, Deadpool. Reynolds exploited a pre-existing character (who he happens to be perfect for), and put his own spin on it. By obscuring his face, putting a character ahead of his own stardom, the actor finally found success. Go figure.
<strong>The Gunman |</strong> Open Road Films
Why the hell isn't Idris Elba a movie star?
The only reason Elba isn't a household name, a guy who gets films made with a snap of his finger, is because audiences aren't nostalgic for him. Otherwise, I just don't get it. He's earned an elite status that accommodates award-worthy roles (Beasts of No Nation, Mandela) and pushes him into contention for huge blockbusters (see: every James Bond rumor from the past five years). While "Netflix stardom" can look minor, he'll one day be seen as a pioneer legitimizing an emergent studio model. With his inevitable dominance as Stephen King's weather-beaten cowboy in 2017's The Dark Tower, he has a new best chance to prove why the world needs movie stars again. Hopefully studios can meet him halfway.
Sign up here for our daily Thrillist email, and get your fix of the best in food/drink/fun.
Scott Beggs is a 10-year veteran of film writing whose work has appeared at Vanity Fair, Indiewire, Flavorwire, and more. His house has never been featured on Lifestyles of the Rich and Famous. Tear up the dance floor with him: @scottmbeggs.