7 Famous Musicians Who Got Their Start in College Bands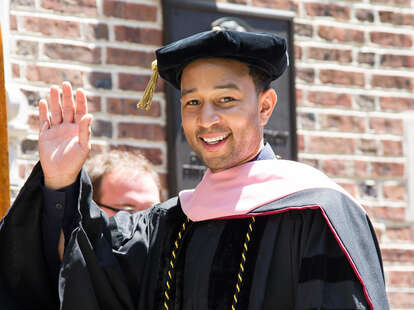 Gilbert Carrasquillo/Getty Images
Good news for musical hopefuls pursuing a degree: attending a conservatory isn't the only way to break into the industry. As it turns out, plenty of super-famous bands and performers kicked off their careers with the connections they made in college.
Aside from all that drinking and ramen-eating and sleeping till noon -- oh, and going to class every once in a while -- campus life provides plenty of opportunities for musical experimentation. (Hey, someone's gotta soundtrack all those parties.) We rounded up seven examples you might not have realized honed their chops on the quad. Most of their pre-fame names are just as embarrassing as everything we thought was cool in college, too.
Thom Yorke
It's hard to imagine Thom Yorke pre-Radiohead, but rockstars are made, not born. Long before Yorke was challenging the limitations of guitar rock to create something as experiential as it is beloved, he met Ed O'Brien, Phil Selway, and Colin and Jonny Greenwood at the Abingdon School, and the musical teens soon formed On a Friday, a band named for the only day they could practice together.
A few grades and a gap year later, Yorke headed to the University of Exeter, where he spent his free time working with music of all kinds. He was in a classical ensemble, worked as a DJ, and, most importantly, tested out what would later become Radiohead songs with a band called the Headless Chickens. In 1991, Yorke reunited with his Friday friends, and they started playing Headless Chickens songs under the name Radiohead. Seems like a missed opportunity for a supergroup called the Radioheadless Chickens if you ask us.
Vampire Weekend
Before founding Vampire Weekend in 2006, frontman Ezra Koenig and drummer Chris Tomson were the masterminds behind what Koenig dubbed "an experimental rap collaboration" called L'Homme Run (get it?). The short-lived project began when Koenig and Tomson met at Columbia University, where they'd eventually befriend VW bassist Chris Baio and former member/multi-instrumentalist Rostam Batmanglij.
In the video above, Koenig and Tomson point out where on campus they wrote their first album, recorded early tracks, and procured giant burritos. If anything, this should serve as a telling reminder: your crappy college joke project could lead to a promising career.
Lana Del Rey
LDR studied philosophy at New York's Fordham University and developed a music career on the side, recording under her birth name, Lizzy Grant. In 2005, she paid tribute to her school's Bronx surroundings with the song "Fordham Road," which references several campus streets. Grant signed a record deal during her senior year in 2008. It wasn't until she relocated to Brooklyn and adopted the Lana moniker that her career began to take off. Sometimes it's all in the rebrand!
Coldplay
Remember orientation, when you make all those friendships you think will last forever but barely survive through midterms? Coldplay frontman Chris Martin and guitarist Jonny Buckland had slightly better luck, meeting during freshman orientation week at University College London.
They also crossed paths with eventual bandmates Will Champion and Guy Berryman. "We met each other because we were living in the halls of residence," Berryman told his alma mater in 2005. "It was like this block of rooms, everyone has their own room and downstairs was the bar and the pool table so everyone met in and around that area and people would introduce themselves to each other. I can remember meeting them all over a pint."
Champion recalled: "I remember in the first week or so people sitting around and playing music and I remember specifically jamming with Chris, there was amazing acoustics on this big stairwell and we just sat and played guitars and I remember one jam where I was on the very bottom floor lying down at the bottom of the stairs, and he was on the fifth floor -- sort of like a five-floor musical experience."
Martin and Buckland spent that crucial freshman year trying to start a band, which they called Pectoralz and, later, Starfish. It wasn't until they fleshed the act out as a foursome and stuck to a more sophisticated name that things really took off.
Queen
Queen's story actually begins pre-Freddie Mercury. Guitarist Brian May and his friend Tim Staffell started a band called Smile while attending London's Imperial College; the pair added drummer Roger Taylor, who was surely attracted to the act because he was studying dentistry, and Smile became a full band. Their first gig was at the Imperial College Student Union in 1970, which was a progressive performance space, even then: Jimi Hendrix had played the same stage earlier.
Tim later left the group and a young student named Farrokh "Freddie" Bulsara joined in his absence, renaming himself Mercury and the group itself Queen. Their eventual success took them far away from campus, but apparently, even international rock gods can recognize the power of higher education: May re-enrolled some 30 years later, finally earning an astronomy PhD. in 2007.
John Legend
Before John Legend was making the whole dang world swoon, he was John Roger Stephens, a University of Pennsylvania English student focusing on African-American literature. Smart guy, right? When he wasn't busy knocking back books, Stephens was already learning to belt, fronting the legendary Penn a cappella group the Counterparts. The track above, from their 1997 album Housekeeping, might not be the coolest thing in the world, but it certainly proves that Legend has had those chops for a long time.
Muse
This English rock band got their start at Teignmouth Community School. All its members were playing in different acts before Muse was born, and their many, many moves can be a bit confusing, so bear with us: frontman Matt Bellamy joined drummer Dominic Howard's Carnage Mayhem... before they changed their name to Gothic Plague, two decidedly darker titles. Their pal Chris Wolstenholme was playing the drums in another band until they forced the poor dude to pick up the bass, and the trio formed the group Rocket Baby Dolls. Once people started liking them they realized just how silly their name was, and changed it to Muse in 1994. That's much more inspirational, right?
Sign up here for our daily Thrillist email, and get your fix of the best in food/drink/fun.