How 'Fantastic Beasts' Snuck Johnny Depp Into the 'Harry Potter' Series
Warner Bros. Pictures
Warner Bros. Pictures
This post contains massive spoilers for Fantastic Beasts and Where to Find Them. Beware, unwise wizards.
The opening sequence of J.K. Rowling's Fantastic Beasts and Where to Find Them -- a sweeping shot of newspapers reporting on the terrorist activity of rogue wizard Gellert Grindelwald -- only makes sense if you just read the final tome of the saga or spent the last four years minoring in Harry Potter Studies at one of those "cool" liberal arts colleges.
To refresh for those of us who didn't: Grindelwald was a peripheral character in Rowling's Potter books and had an offhand cameo in the Deathly Hallows - Part 1 movie (Voldemort interrogates the imprisoned bad seed on the subject of the "Elder Wand"). Grindelwald's connections to Potter's mentor Albus Dumbledore run deep, but his backstory barely shows up on Hogwarts' Wikia. But by the time Fantastic Beasts reveals its big twist ending and sets a franchise arc in motion, Rowling's seeds are sown: not only is Grindelwald the Big Bad of this series, he's played by none other than Johnny Depp.
News that Depp would pop up in future Fantastic Beasts sequels began circulating a few weeks out from the release, but Rowling and director David Yates had a trick up their wizard robes, working a last-minute appearance into the scene with the help of -- what else? -- magic. There's no telling if Grindelwald was sniffing some potent polyjuice potion, if he possessed a human-morphing form of animagus, or if a complex enchantment allowed him to live under the veil of Colin Farrell's hunky façade, but when Newt Scamander (Eddie Redmayne) and his auror friend Tina (Katherine Waterston) finally take Grindelwald down in the tunnels of old-timey New York, he's revealed as a bleach-blonde Depp, sinister and slithering. If an albino snake and Alice Cooper had a baby, it would be our screen version of Gellert Grindelwald.
The flip from Farrell's Percival Graves, the dashing turncoat who wielded a repressed wizard's violent "obscurus" to kill hundreds and hunt down a prophesied child, to Gellert Grindelwald, a sunbaked Mortdecai, is a needed jolt for a franchise expected to carry four more films. As Depp never shares the screen with Redmayne or Waterston -- he is hauled away by authorities in front of them, and even shouts "Do you really think you can hold me?" in Newt's face, but it's edited very deliberately -- I had to ask director David Yates: Was Grindelwald always the nefarious through line for the series?
"Grindelwald was always present," Yates insists. "Right at the beginning, right to the very end." The director says the possibility of telling Newt and Grindelwald's stories sucked Rowling back into Potter's world. "Jo's appetite for expanding the narrative came out purely from writing the screenplays. She was writing the first screenplays and said, 'You know what? I know it's a trilogy, but for films two and three, I'm going to just arc out the story and someone else can write them.' But then, two-thirds of the way through writing the first screenplay, she said, 'I'm really enjoying this. I'm going to write the second one. And probably the third one.' Now we're on the second screenplay at the moment, and halfway through that screenplay now, she said, 'You know what, guys, as I'm writing this, I can see this story moving through to five. I can just feel it. This is how it works.' So the process of making the movies is inspiring her to sort of develop a longer narrative arc, and to be fully involved with developing and creating that."
Where does Fantastic Beasts go from here? This books have already shed some light. In events set before the new movie, Gellert Grindelwald befriends Albus Dumbledore in his hometown of Godric's Hollow, the same place Harry and his parents were later attacked by Voldemort. Grindelwald and Dumbledore were close -- years after publishing her final book, J.K. Rowling said she believed Dumbledore was gay and fell in love with Grindelwald. Their love was deep enough that, Dumbledore joined Grindelwald in hatching a plan to retrieve the Deathly Hallows and lead a revolution to bring down the "International Statute of Secrecy," a strict law that banned American magical folk from interacting with "No-Majs." Or planned to: Before Albus could take off, his brother Aberforth begged him to reconsider. An ensuing three-way duel ends with the death of Dumbledore's sister, Ariana. Grindelwald takes off, Dumbledore mulls over the events for 46 years, and, after climbing the ladder at Hogwarts, eventually hunts down his old flame and defeats him in a second duel.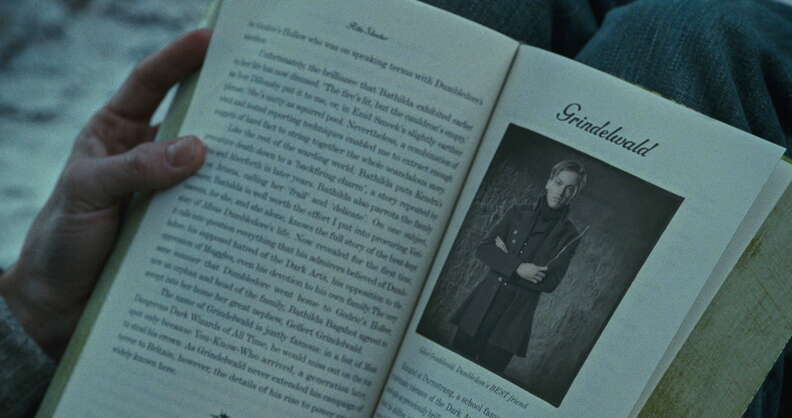 This puts Fantastic Beasts squarely between Dumbledore and Grindelwald's first and final encounters, finally allowing Rowling to explore the meaty backstory teased through her original novels. Yates's film goes far enough to name-drop Dumbledore, and his producers have been vocal in their hunt for an actor to play the young wizard. The Grindelwald cameo is just the beginning of... something.
Why does Depp, more controversial than ever after a string of movie misfires and alleged domestic abuse of his now-ex-wife Amber Heard, bring to Grindelwald? Yates says he and his producers cast the Pirates of the Caribbean actor quite late, but that being brilliant had everything to do with it.
"For me, he's a supremely talented actor," Yates says. "He surprises and takes risks and sort of does things that shouldn't work but do work sometimes. If you look at some of the characters he's created for cinema, they resonate still, those stayed with us, that become part of the cultural landscape. That's his special gift... to offer vivid, interesting characters that stay within the landscape, and that's what we needed for this. Personally, I think he's a really special, special actor who, regardless of where he is on his career path, will always be special."
OK, sure, but the hair?
"Flock of Seagulls, 1980." This is a truly magical series.
Sign up here for our daily Thrillist email, and get your fix of the best in food/drink/fun.
Matt Patches is Thrillist's Entertainment Editor. He previously wrote for Grantland, Esquire.com, and Vulture. Find him on Twitter @misterpatches.