What That Shocking Ending of 'Fantastic Beasts: The Crimes of Grindelwald' Means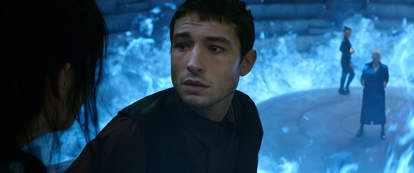 This post contains spoilers for Fantastic Beasts: The Crimes of Grindelwald. 
The Fantastic Beasts franchise has been full of red herrings. The first prequel to the Harry Potter saga, Fantastic Beasts and Where to Find Them, began, ostensibly, as a tale of Newt Scamander (Eddie Redmayne), an oddball wizard with an affinity for creatures. By its end, it transformed into a narrative about the rise of a historical magical villain, Gellert Grindelwald. Even his visage was a fake-out. He was disguised as an Auror named Graves, played by Colin Farrell. And then, whoosh, Farrell is gone and the controversial Johnny Depp is in his place.
If you were frustrated by these developments in that film, you might be even more exhausted by its sequel, Fantastic Beasts: The Crimes of Grindelwald. Sure, it's now very clear that this is a saga explicitly about Voldemort's predecessor, but J.K. Rowling's script still leads audiences down paths that end up being completely irrelevant as the movie comes to a close. By the time the credits roll, the audience is left with a new mystery that's completely unmoored from what came before it.
Grindelwald, looking rough.

| Warner Bros. Pictures
Once again, the human MacGuffin is Ezra Miller's Credence Barebone, a lonely wizard who has powers that deem him an Obscurial, meaning he can basically blow up buildings with his body. Grindelwald escapes from captivity in the U.S. and heads to Paris to find Credence now working in a cruel traveling circus alongside Nagini (Claudia Kim), the woman that will become He Who Shall Not Be Named's snake. Eventually, Newt is lured there too by Hunky Dumbledore (Jude Law) and the fact that his love interest Tina Goldstein (Katherine Waterston) is also in the City of Lights.
Credence, meanwhile, is on a personal hunt for his own identity. Rumors have pegged him as a Lestrange, making him part of the lineage of the infamous Bellatrix. It would also make him a sister of Leta Lestrange (Zoë Kravitz), who got a passing mention in the initial Fantastic Beasts outing.
If this all sounds relatively complicated: It is. Sometimes The Crimes of Grindelwald feels like a long encyclopedia entry -- or rather, Pottermore -- translated into movie form. That also means no one is afforded that much screen time (yes, even Depp). Depp's appearance in this major role has been a source of consternation. Despite the fact that he was accused of abuse by ex-wife Amber Heard, Rowling has defended his casting. Even so, while the movie begins on Grindelwald, he flits in and out of the action, only becoming a big presence by its end. 
Dumbledore, looking fierce.

| Warner Bros. Pictures
When the reveals do come, they are mostly delivered in exposition. Kravitz is tasked with explaining how Credence is not her brother because she -- on a sea journey to America -- swapped her actual baby sibling out with another baby, Credence. Her true kin then drowned. So ultimately, all of the Lestrange lore was just another information pit, largely irrelevant to Credence's actual journey.
Instead, Credence's true identity is revealed at the last minute after he aligns himself with Grindelwald. The bleach blonde dark wizard tells Credence that his family is associated with the Phoenix and deems him Aurelius Dumbledore. It's a namedrop that's both shocking and confusing because this is not a Dumbledore even the most intense of Potter-fans should know. The soon-to-be Hogwarts headmaster Albus has two siblings that Rowling has documented: Aberforth and Ariana. The former loves goats and the latter was accidentally killed during a battle between Albus, Aberforth, and Grindelwald, essentially a fight over Albus' soul. So who the hell is Aurelius? And is Grindelwald even telling the truth?
After over two hours, The Crimes of Grindelwald ends with more questions than answers. It does, however, inch the franchise along to a showdown between Dumbledore and Grindelwald. The good wizard is sidelined here because he had made a blood pact with the fascist villain. Newt's trusty niffler snags the bauble containing that, meaning that now it can be destroyed. There are five whole films planned under the Fantastic Beasts name, and now that we're two down, it feels like there's been an awful lot of wheel spinning. Meanwhile, the original premise -- Newt and his furry, slimy, and twiggy pals -- has started to recede into the background. The Aurelius drop is a tempting tease, but at this point it's quite unclear what we should be expecting out of these stories.
Sign up here for our daily Thrillist email and subscribe here for our YouTube channel to get your fix of the best in food/drink/fun.