How to Crush Fantastic Fest, America's Craziest Film Festival
Twelve years after emerging from the hellfire of an alternate dimension, Alamo Drafthouse's "Fantastic Fest" remains as riotous, raucous, and proudly bizarre as ever. This year, the Austin, TX-based celebration has once again culled genre movies from around the world and programmed psychotropic events that would leave Quentin Tarantino frothing at the mouth. If you're in the area, you want to make your way to this year's festival. If you're 5,000 miles away, you'll want to watch from afar while buying tickets for next year.
Below, find everything that's going down at this year's Fantastic Fest, which kicks off on Thursday, September 22nd. For more info on badges, tickets, and a full schedule (with every additional screening), head to the official festival site.
How would mankind deal with its first encounter with alien life? In Arrival, Denis Villeneuve, the algebraic director of Sicario and Prisoners, teams with Oscar-winner Amy Adams to figure it out.
This erotic thriller from acclaimed blood-splatterist Park Chan-wook (Oldboy) takes place in 1930s Korea, but the drama -- and the... fleshy encounters -- is undeniably modern.
From micropenis jokes to bizarre wordplay and gallons of greeeease,
The Greasy Strangler
is a laugh-through-shrieks comedy with the snarling soul of a
Night of the Living Dead
zombie. At Sundance, this one
blew our minds
.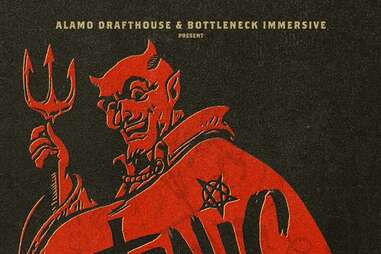 Jumping on the "escape room" bandwagon, Drafthouse has tricked out the satanic karaoke room at The Highball with puzzles and song-themed solutions. Sing your way out of hell, as any metal hero would.
Studio Ghibli, the animation studio behind modern masterpieces like Spirited Away, Princess Mononoke, and The Wind Rises, produced this silent-but-striking fable, about a man trying to fight his way off a deserted island.
Brian Cox (Super Troopers) and Emile Hirsch (Into the Wild) play father and son slicing into a mysterious cadaver in the new movie from the director of Trollhunter, the nutty monster comedy and Netflix streaming mainstay.
Ana Lily Amirpour broke out with the Tarantino-esque Iranian vampire western A Girl Walks Home at Night. She storms into Fantastic Fest with this post-apocalyptic gorefest that many liken to an indie Mad Max: Fury Road. And, hey, Khal Drogo's in it!
Two warring debaters. One pop culture debate. A boxing ring. Fantastic Fest's legendary brawl settles long-lasting Hollywood feuds with brains and brawn. The guaranteed winner? You.
In this cartoonish horror-comedy, a Thai village of little people is attacked by diabolical, fart-tracking floating heads. According to Drafthouse's description, the slide-whistle is used on multiple occasions. This could be the wackiest movie you'll see in theaters all year.
Investigating the true story behind the "The Wainuiomata Exorcism," this documentary finds a blurry limbo between faith and logic, and reminds viewers why they should never drive the devil out of a person's soul without the help of a seasoned exorcist.
Here are the words Drafthouse uses to describe this movie, about two kids who agree to build a house for a hermit: weird, aggressive, violent, over-explicit, funny, "an all-out assault on the senses." Warnings in the film guide promise "Jungian concepts" and "semen." We have no idea what to expect from We Are the Flesh, but that's exactly what you want during Fantastic Fest.
J.J. Abrams loved Don Coscarelli's 1979 sci-fi horror film so much, he commissioned the 4K restoration himself. See what inspired The Force Awakens' "Captain Phasma" yourself when Remastered finally screens.
Imagine if your high school marching band rocked out with taiko drums, theremins, vocoders, and strobe lighting that would make the CIA interrogators balk and you can imagine Itchy-O, a concert experience you'll never forget (unless that strobe completely erodes your senses).
Assembled from hours of YouTube clips, this "meta-fiction" documentary follows a family as they stage a cross-country crime spree. Dean Fleischer-Camp, whose previous work includes the Marcel the Shell shorts, is the eye behind this web-video experiment.
If the X-Men were a team of super-powered goth kids who ran around early-20th-century England, they'd be the "children" of this blockbuster, adapted from Ransom Riggs' best-selling novel. It's a dream premise for Burton, whose eyeliner-and-fantasy style clicks with this grand adventure.
Total Recall and RoboCop director Paul Verhoeven directs the illustrious Isabelle Huppert in this darkly comedic revenge movie, about a sexual assault victim who hunts down the perpetrator. Guaranteed to ruffle a few feathers.
Drafthouse promotes this scarf-tacular event with the photo from Monty Python and the Meaning of Life's legendary vomit scene, just to understand the thinking behind this new event.
"Sadako" is the damp cackling girl from The Ring. "Kayako" is the twisted wide-eyed terror from The Grudge. Now they have their own Freddy vs. Jason (but better).
Bruce Campbell will be on hand for the premiere of Starz's second Evil Dead season. If you've been pining for a fourth movie installment, watching this on the big screen may satiate you.
The premiere VHS archeologists descend upon Austin to showcase a series of videos that's said to include everything from cat massages to tap-dancing computers and satanic rituals. Hold on to your butt.
Fantastic Fest's take on trivia rounds up horror movie nuts to compete in a game show where having a brain and knowledge of eating brains go hand-in-hand.
The host of the popular podcast Doug Loves Movies does his own Mystery Science Theater 3000 for the kitschy horror comedy The Monster Squad.
The kung fu movie-obsessed Wu-Tang founder wrote new music for the martial arts classic, The 36th Chamber of Shaolin. He'll be on site to perform the tracks live.
HBO's long-gestating existential robot series debuts the premiere. With shootouts and unsettling technological paranoia, you'll want to see this western-sci-fi hybrid on the big screen.
Anne Hathaway stars as a post-break-up alcoholic who discovers a telepathic connection to a Godzilla-like beast attacking South Korea.
Fantastic Fest's "Arcade" section dives into the great unknown of fake 8-bit experiences in this psychedelic interactive experience.
Sign up here for our daily Thrillist email, and get your fix of the best in food/drink/fun.
Matt Patches is a Senior Editor at Thrillist. He previously wrote for Grantland, Esquire.com, and Vulture. Find him on Twitter @misterpatches.