Recommended Video
Debatable: Is Shake Shack Really Fast Food?!?
The family is safe: The Fate of the Furious, the eighth film in the ever-expanding Fast franchise, raced into theaters all over the globe this weekend, scoring over $500 million in its debut. While the movie was less of a critical success than the more warmly received Furious 7 -- Fate currently sits at 68% on Rotten Tomatoes -- its record-breaking opening means this won't be the last chapter. There's always more shit to blow up. 
So the real questions are: How many Fast sequels can we expect, how quickly will they be released, and how spinoff-ey will the series become in the next decade? Universal, the studio behind the films, clearly has a vested interest in keeping the chrome-covered wheels turning: There's no reason these car-junkie movies can't become a tentpole in the same way Star Wars and Marvel have become for Disney. No one wants to retire and drive off into the sunset -- not when there's billions of dollars on the table.
But as stories continue to trickle out about the tension between the franchise's biggest stars, the future of the series looks murkier than ever. To help you read the signals on the road ahead, we've broken down some of the rumors, quotes, and clues from the last film in this incredibly dumb but lucrative saga.
There's trouble in Fast and Furious land...
You may or may not have noticed this, but The Rock and Vin Diesel do not spend much time together on screen in The Fate of the Furious. In fact, if you pay close attention to the movie, particularly the few scenes in which they share the same space -- the part where Hobbs gets run off the road by Dom, Dom's violent interruption of the team's meeting with Kurt Russell, and the BBQ at the end of the movie -- it's possible the actors never stood face to face during any of F8's shoot. This feud seems legit.
Whatever the case, the lack of interaction is doing real damage to the already-fragile narrative universe. With the absence of Paul Walker, Fate of the Furious is missing that central friendship between its leads that made the other entries hum in spite of their flaws. Fate should have a moment where Hobbs and Dom bury the hatchet -- or at least share a meaningful fist-bump -- but the egos of the two performers delay this catharsis. If the family can't break bread together, are they really family?
This speculation was given even more firepower over the weekend when The Wrap reported that, according to insiders, Diesel used his muscle as a producer on the series to squash a post-credits "tag" scene that focused on The Rock and Jason Statham's characters, who share some of the movie's strongest scenes. "They had early screenings where Johnson and Statham popped so much on-screen together that they were looking at doing a spinoff," says the unnamed source in the article. But apparently they filmed the scene without Diesel's knowledge, and the XXX star was not pleased. So, instead of a post-credits scene that sets up future sequels -- or a spinoff -- the movie ends on a slightly muted, confused note.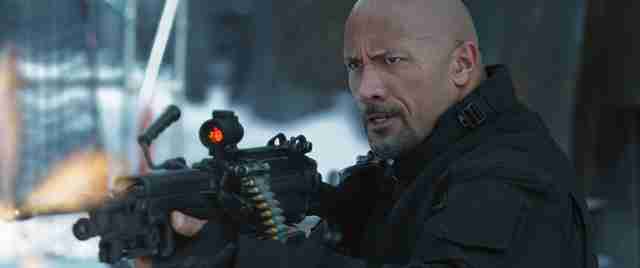 The Rock could get his own spinoff
The most obvious solution to this problem is that Hobbs, a muscle-bound fan favorite since he blasted his way into the series in Fast Five, deserves his own spinoff series. The ending of Fate finds him retiring from active duty to spend more time with his daughter, but it's unlikely that his solo movie would be about his adventures as a youth soccer coach (unless they remake Ladybugs). So pair him with Tyrese. Bring back Sung Kang as Han's even chiller twin brother. Shit, get Stone Cold Steve Austin or John Cena to star in this thing with him. The Fast and Furious series needs more wrestlers.
The Rock has hinted at the possibility of his own solo movie in the past, and he echoed those sentiments throughout his Diesel-less press tour. "It is the studio's intention to do that," he told MTV News when asked about a Hobbs stand-alone feature. "I'm not one to say 'Great, we're going to make 9 and 10 and 22 and then 109.' I'm one to just say let's do one-at-a-time."
His reference to pie-in-the-sky prognostication could be a subtle dig at Diesel, who famously announced release dates for 8, 9, and 10 on his Instagram back in 2016. Here's the thing though: The Rock is an absurdly busy man. One look at his IMDb reveals that he's got multiple projects in production and even more in development, like his Doc Savage movie, DC's Black Adam film, the recently announced Skyscraper, and a sequel to San Andreas. Will he even have time for a Fast spinoff, in addition to his commitment to Fast 9 and Fast 10? (I'm almost embarrassed to say this, but what about Ballers too?)
Cipher still walks among us
The Fate of the Furious introduces a handful of new characters who fans will likely see more of: Charlize Theron's blonde dreadlocks-sporting hacker Cipher, Scott Eastwoods's hunk-ish special agent Eric Reisner, and Helen Mirren's no-nonsense matriarch Magdalene Shaw, the mother of Statham and Luke Evans' characters. Of the three, Theron seems most likely to play a bigger role in future sequels. (Eastwood's character is a bland dud and while Mirren is fun, it would be surprising for her to become a permanent family member.)
The movie's ending goes to great lengths to establish Cipher's villainous bona fides, suggesting that she was the one responsible for sending the Shaw brothers after Diesel and his crew in past movies. She's the closest thing this series has to Bond's arch-nemesis Blofeld, and think about how her storyline in Fate wraps up: Her nukes destroyed and her bearded henchman murdered, she jumps from her expensive plane with a parachute, denying viewers a climactic death-scene and evading capture. She's still out there. Typing really hard on her computer. Scowling. Hacking.
In some ways, the Fate of the Furious squanders Theron's appeal as an action star. She doesn't get to climb behind the wheel of a car like she did in Mad Max: Fury Road and she doesn't get to show off her fighting skills like she does in the Atomic Blonde trailer. Hopefully, the producers of the series have a plan for her beyond watching her stare at screens. 
And there's always outer space…
Despite some arguments that the Fast and Furious series should end soon, that feels like wishful -- possibly delusional -- thinking. As one of the few mega-franchises that's not based on a piece of pre-existing intellectual property (a la James Bond, Marvel, DC, or Star Wars), there's simply too much money to be made from these movies. Fate of the Furious ends with Dom naming his son Brian, effectively setting the stage for Fast and Furious: The Next Generation or Fast and Furious Babies. Both would probably test well.
As the stunts in the series have gotten more elaborate and surreal, the discourse online surrounding the movies has also gotten sillier. During the most recent press tour, nearly every cast and crew member has been asked about the possibility of a Fast and Furious film in space, a rumor that started as a joke but looks like it could become a fan-service reality. "The only way I'd go to space is if I had something so good," said writer Chris Morgan in a recent interview with Uproxx. It's clearly on his mind. 
This all sounds fun in theory, but a trip to space would likely only heighten the problems that exist in Fate of the Furious: the over-reliance on spectacle, the increasingly byzantine plotting, and the action sequences that don't require the stars to be in the same room together. My possibly naive hope is that in the next 10 -- hell, maybe even 20 -- years there will be an effort to scale back the franchise to its original Point Break rip-off roots. Think of what Casino Royale did for the Bond series. Or, probably even more likely, imagine a Creed-like movie where a young racer, possibly Tyrese's son, seeks out an old grizzled Dom for one last job.
Space might be the future, but at some point this series has to come crashing back to Earth.
Sign up here for our daily Thrillist email, and get your fix of the best in food/drink/fun.