Kevin Hart Gives It His All as a Single Dad in Netflix's 'Fatherhood'
The comedian gets serious in Netflix's heart-wrenching father-daughter drama.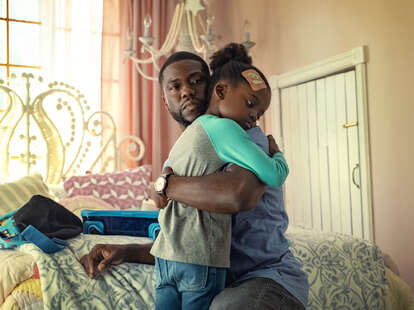 Having arrived right in time for Father's Day, the Netflix original movieFatherhood is the heartwarming movie that you would probably be expecting going into it. Based on Matthew Logelin's best-selling book, Two Kisses for Maddy: A Memoir of Loss and Love, it follows Logelin's (portrayed by Kevin Hart) journey as a single father after his wife unexpectedly passes away following the birth of their child Maddy (Melody Hurd). His family, friends, and in-laws don't think that Matt will be able to be a great parent to Maddy, and quite frankly, he doesn't really believe in himself either.
It's unfamiliar territory for Hart—who has made a name for himself over the past decade as one of the most prolific comedians in the world—but it's undeniably refreshing. In a movie that requires a significant amount of emotional depth from its lead, Hart surprisingly doesn't feel out of his element. More often than not, watching his character's grief and agony is gut-wrenching—a necessary show of emotional force because Fatherhood comes swinging out the gate.
Within the first 10 minutes, viewers must endure the tragic death of Matt's wife Liz, and although it's no secret that her passing is the catalyst of Fatherhood, Netflix's new drama still makes the moment as distressing as possible. With no real character development and not nearly enough time for the viewer to grow attached to Matt or Liz, the unthinkable happens, and it's genuinely tear-jerking. For a film that shines a huge—and deserving—spotlight on single fatherhood, its emphasis on the impact that a mother can have on her children doesn't go unnoticed, from the side story about Maddy's struggles with her own femininity as she starts to grow up and sense the prevailing conflict between Matt and his mother-in-law (Alfre Woodard).
Heavy themes are explored throughout Fatherhood, but instead of really digging deep and creating a father-daughter drama around topics like the ones already mentioned, the Paul Weitz-directed film settles for syruppy cliché moments and predictable feel-good plot points, especially in the latter half of the movie.
Hart sells the struggling but "desperate to improve" single father act so well during the first 45 minutes of Fatherhood that it's utterly disappointing to see the film flail so much in its second stretch. Where there was initially a palatable amount of well-timed humor to keep Netflix's new movie from being downright depressing, there's far too many good-time montages and forced laughs after the mid-movie time jump to bring Fatherhood back to Earth. Hence, Matt's quest for love with Liz Swan (She's Gotta Have It's DeWanda Wise) feels rushed and unnecessary, and his best friend Jordan (Lil Rel Howery) is more bothersome than amusing as the film's source of comedic relief.
Eventually, the veneer of happiness fades away as Fatherhood finally decides to show that the struggles of raising a child on one's own don't magically disappear once they grow out of their infancy. Unfortunately, by the time things get "serious" again, that perfect balance between authentic acting and meaningful humor is lost, and that's what seals Fatherhood's fate as just another entry in the criminally long list of surface-level dramas.
To the writers' (Weitz and Dana Stevens) credit, they actually do an excellent job of inserting humor into such a heartbreaking storyline, but the overly emotional performances and unrealistically overblown conflicts that pollute the second half of Fatherhood are simply unbelievable. By the time you arrive at the end, it's almost as if you've seen two completely different movies.
Netflix's lopsided new father-daughter drama could have been a moving, The Pursuit of Happyness-esque tale of a parent and child's trying journey together, but Fatherhood unfortunately settled for being a enjoyable, yet predictable, film that wastes an exceptional performance from Kevin Hart and reduces itself to just a middling feel-good movie.
Joshua Robinson is an Atlanta-based contributor to Thrillist.