Our Favorite Movies of 2016
How do you whittle down 365 days of movies into a small set of recommendations? By watching way, way, way too many movies.
All year long, our movie critic Matt Patches has been cataloging and ranking the best movies of 2016 -- acting as your weekly guide through the confusing maze of choices so that you will always have something new to see. For that still-growing list of absolute winners, he found gems big and small, dramatic and comedic, action-filled and introspective, American-made and imported -- and he had to be picky, which led to loss of sleep over whether X comic-book movie or Y biopic was good enough for the list.
Now we want to narrow the count by focusing only on major releases -- the movies that played on at least 2,000 theaters across the country. While this means you won't find Thrillist-approved treasures like Hell or High Water, Swiss Army Man, Green Room, Manchester by the Sea, Moonlight, or Everybody Wants Some!! here, you will find the 11 big releases that made going to the local megaplex worthwhile.
Walt Disney Pictures
11. Doctor Strange
Despite what box-office receipts might indicate, not all of us are Marvel Movie People™. For those of us blissfully unconcerned with mythology but still hoping to keep up, Doctor Strange offered captivating, surreal visuals, with expanding and contracting corridors folding in on Benedict Cumberbatch's dashing hero (though the real hero was definitely his cape). Tilda Swinton's wise master the Ancient One made us feel enlightened by association, but if you're more of a Marvel Movie Purist, no fear -- all that Infinity Stones stuff still checks out. -- Lauren Leibowitz
Lionsgate
10. Nerve
Before they terrified you with Paranormal Activity 3 and 4, directors Henry Joost and Ariel Schulman made the social media paranoia doc Catfish, an essential document of pre-Tinder online dating. Their latest movie, Nerve, a techno-thriller starring Emma Roberts and Dave Franco about a deadly mobile-gaming app, splits the difference between visceral scares and sly social commentary. It's the rare movie that attempts to mimic the aesthetics of the internet -- emojis, text messages, Skype -- and mostly gets the details of the Pokémon GO era right while still providing old-fashioned scares. -- Dan Jackson
Sony Pictures
9. The Shallows
On the surface, this oceanic tale of a young medical school dropout (Blake Lively) fighting a relentless and very hungry shark off the shore of a Mexican beach looks a little silly. And it is often ridiculous -- Lively even befriends a seagull she dubs "Steven Seagull" -- but director Jaume Collet-Serra (Non-Stop) knows how to wring tension out of confined spaces with expert precision, and Lively brings DiCaprio-in-Revenant-level pathos to her unlucky surfer character. In a summer filled with bloated blockbusters, it's the rare studio movie that flies by like a frantic beach read. -- Dan Jackson
Walt Disney Pictures
8. Rogue One: A Star Wars Story
A world that's given us seven Police Academy and 12 Friday the 13th movies can probably accommodate a few more Star Wars installments -- maybe even hundreds of them. While some might groan about on-the-nose references and unfortunate CGI choices, we were happy just to watch the mission to steal the Death Star plans play out on the big screen nearly 40 years after we first heard about it. -- John Sellers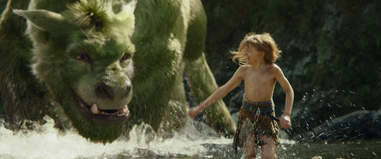 Walt Disney Pictures
7. Pete's Dragon
Reverence for the 1977 original (or a clue that an original exists) is not required to fall hard for this adventure movie. Like in King Kong and E.T., director David Lowery imagines a human-animal connection as a monstrous manhunt punctured by friendship. When we meet the 10-year-old main character, Pete, he's feral and afraid. So are those wandering the "sophisticated" world, as we learn when outsiders get a look at his dragon pal, Elliot. Channeling Steven Spielberg's down-to-earth intrepidity, then soaring even higher, Pete's Dragon is a nostalgic movie that doesn't pander to nostalgia for a second. -- Matt Patches
Paramount Pictures
6. Hail, Caesar!
Possibly the Coen brothers' zaniest work -- and these are the guys who brought us Raising Arizona, Burn After Reading, and O Brother, Where Art Thou? -- Hail, Caesar! throws back to the golden age of Hollywood for a droll, screwball mystery. A Communist kidnapping plot plays in the background as the Coens swing between a down-on-his-luck singing cowboy, a pair of gossip reporters, a starlet keeping her pregnancy hush-hush, a frustrated auteur, and a studio fixer who can't help but wonder if Hollywood's all it's cracked up to be. Musical numbers elevate it to greatness. Tap-dancing Channing Tatum rules the world. -- Matt Patches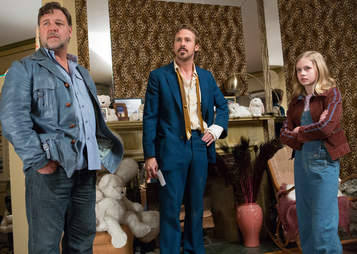 5. The Nice Guys
Sure, everyone's raving about La La Land, but Ryan Gosling's most electric chemistry of 2016 is shared with fellow "nice guy" Russell Crowe. In Shane Black's laugh riot of a 1970s noir, the duo tries -- and often fails -- to unravel a bonkers mystery plaguing LA's seedy porn industry. While Gosling shares his gift for physical comedy as a stumbling, accidental-napping alcoholic of a PI, the best surprise is his spunky onscreen teen daughter (newcomer Angourie Rice) standing up to the Big Bads and helping to take them down. -- Lauren Leibowitz
A24
4. The Witch
This taut horror flick thrust us into a time machine, then into an inescapable nightmare. The 1600s-set New England folktale, following Thomasin (Anya Taylor-Joy), the eldest daughter of a doomed Puritan, disoriented and captivated us by leaning hard into the period details, from old English dialogue to isolated backwoods cabin-living. With black magic, strange goats, and family members who turn on each other all in the mix, this unsettling story was this year's It Follows, low-key, super-creative, and fun-to-watch terror. -- Sean Fitz-Gerald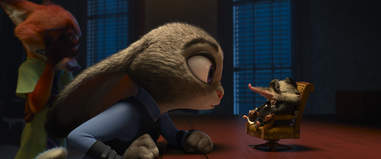 Walt Disney Pictures
3. Zootopia
Moviegoers who went into Zootopia expecting kid-friendly time-wasting came out surprised. Disney's anthropomorphic take on "law and order" managed to imbue an animated comedy with vital social parallels to stereotypes, police brutality, and wish fulfillment that viewers of all ages could appreciate. It's that rare 100-minute movie that's somehow got it all -- a true godsend for sloth lovers -- one that looks poised to stay relevant and treasured for years to come. -- Sean Fitz-Gerald
Paramount Pictures
2. 10 Cloverfield Lane
Ignore the fact that J.J. Abrams' latest Cloverfield movie isn't a straight sequel to the 2008 original, and you'll stumble into one of the eeriest thrillers in ages. 10 Cloverfield Lane, the story of three fated companions averting (theoretical) apocalypse in a subterranean bunker, runs like clockwork. Every 10 minutes Trachtenberg offers a new reveal, a new exacerbation of paranoia. Unnerving performances -- Winstead's troubled captive, Goodman's off-kilter parental figure, and Gallagher Jr. as a squeaky third wheel -- and a delight in madness prevent 10 Cloverfield Lane from settling on just one answer. It's a have-your-cake-and-eat-it-too horror movie, where the sights and sounds crescendo to the very last beat. -- Matt Patches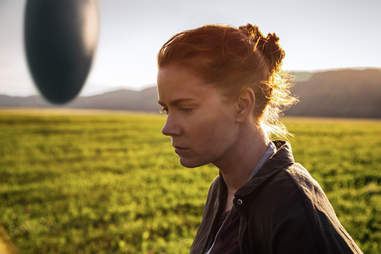 Paramount Pictures
1. Arrival
Punster critics itching to publish the first "Dead on Arrival" review were disappointed to learn that Denis Villeneuve's follow-up to Sicario stymied headline snark. Such is the power of this sci-fi gem -- more Close Encounters of the Third Kind than Independence Day, and as lyrical and life-affirming as any released in 2016 -- thanks to a transcendent, meme-launching performance by Amy Adams and the movie's refreshing refusal to spell out the mysteries hidden in its intricate plot. -- John Sellers
Sign up here for our daily Thrillist email, and get your fix of the best in food/drink/fun.
Follow the Thrillist Entertainment editors on Twitter @ThrillistEnt.