The Best Woman-Directed Films You Can Watch Right Now
Greta Gerwig is making waves with her first solo directorial feature, Lady Bird, igniting a discussion that's long needed to happen: Female directors' many contributions to film canon. And she's not the only woman to bring the matter to the forefront over the past year. Patty Jenkins also lead headlines when her adaptation of Wonder Woman -- the first-ever live-action depiction of the famed superhero -- became the third highest-grossing film of 2017, earning critical success on top of its box office receipts. Stories about women are not only desired, but we desperately need more of them. That need extends beyond just onscreen narratives, and to the people actually telling the stories.
Gerwig and Jenkins are only a few of the women leading the charge. There are plenty out there, telling their stories, putting their truth to film. Here's a sampling of some of the best woman-directed films currently available on streaming services.
A24
American Honey (2016)
Director: Andrea Arnold
Arnold's 163-minute story of one young woman's American travails sprawls out broadly across genres and the country. It's part road movie, part coming-of-age story; its length may be distracting, but what lurks inside that runtime is a truly deft and scathing look at rebellious American youth. Arnold is British, but her grasp on Midwest Americana is impressive. It's hard to shake American Honey.
Where to watch it: Stream on Amazon Prime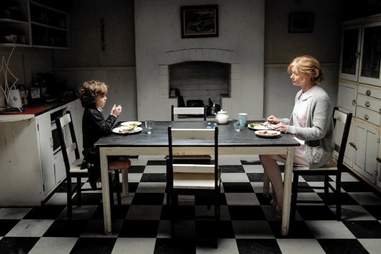 Umbrella Entertainment
The Babadook (2014)
Director: Jennifer Kent
This 2014 Australian horror film was an instant classic, and it's not hard to see why. Adapted from Kent's short film, Monster, the story -- about a mother come undone by a difficult past that complicates her relationship with her young son, and a storybook that comes alive to illustrate that terseness -- is immediate and painfully realized. It puts a grisly face to a feeling so many mothers are loathe to admit they feel. Kent has a firm grasp on such a taboo topic.
Where to watch it: Stream on Netflix
Oscillope Laboratories
The Love Witch (2016)
Director: Anna Biller
The Love Witch is so confident, so transfixing, that it'll leave you wanting so much more; it's a pity Biller doesn't have 20 other films to immediately explore. The story feels more potent now than ever: a beautiful woman named Elaine uses magic to get men to fall in love with her, but each proves unworthy of her desires, and problematic in their own way. Biller shot the film to evoke 1960s Technicolor pictures, and the costumes, makeup, and potent imagery really sell that nostalgic aesthetic. It's the kind of movie you want to leap inside of and know intimately.
Where to watch it: Stream on Amazon Prime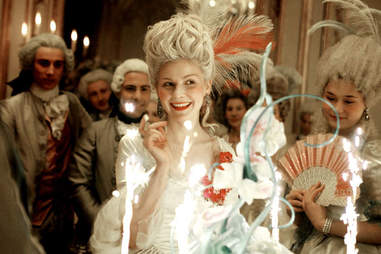 Columbia Pictures
Marie Antoinette (2006)
Director: Sofia Coppola
Coppola's beautiful and anachronistic take on the infamous French queen was underappreciated upon release in 2006, but has thankfully the years since have bolstered its reputation. Kirsten Dunst is miraculous as the titular character: innocent, peculiar, sexy. Coppola uses her own youthful daringness to weave the story of such a complicated figure. If you didn't love it on the first try, do yourself a favor and revisit it -- it was truly ahead of its time. The soundtrack -- full of New Wave tracks from bands like The Cure and Siouxsie and the Banshees -- is especially fabulous.
Where to watch it: Stream on Netflix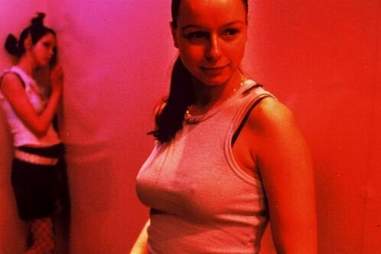 BBC Films
Morvern Callar (2002)
Director: Lynne Ramsay
Ramsay is one of the most underrated filmmakers of her generation, plain and simple. Her newest film -- the Joaquin Phoenix-starring We Were Never Really Here -- opens in April, but do yourself a favor and prepare for it with a viewing of Morvern Callar, her second major feature after 1999's Ratcatcher. The story -- about a woman who puts her own name on her dead boyfriend's manuscript and reaps the benefits -- is ugly, brutal, and beautiful in its unforgivingness. Ramsay really nails the complicated female POV in a way no man ever could. If you love her artistry, follow up Morvern Callar with We Need to Talk About Kevin, another movie about a woman who's hard to love but all the better for it.
Where to watch it: Stream on Amazon Prime
Ad Vitam
Mustang (2015)
Director: Deniz Gamze Ergüven
This Turkish-French film took the festival scene by storm in 2015, recalling Sofia Coppola's The Virgin Suicides in its feminine sincerity. Ergüven imbues the film with a proximity and dreaminess that's unique in a more brash and distant cinematic landscape, and the conservatism of the main family further illustrates the specialness of the bond between these hauntingly beautiful sisters. It's intimate in a way that films made by men rarely are.
Where to watch it: Stream on Netflix
Focus Features
Pariah (2011)
Director: Dee Rees
This one is somewhat of a twofer, as Rees' current big movie -- Mudbound -- could just as easily have made this list. We won't discourage you from checking out that Netflix masterpiece, but we'll give the edge to Pariah, as it announces the arrival of an American storyteller whose dramatic force demands attention. Rees' 2011 film, about a young black woman coming to terms with her lesbianism, is seething, terse, and operatic. It'll leave you breathless, and there's really no higher compliment to be paid to a debut film.
Where to watch it: Stream on Netflix
Focus World
Raw (2017)
Director: Julia Ducournau
Duocournau's French-Belgian horror movie is a spectacle of gore, and one of the most audacious flicks of the last few years. Coming-of-age stories are rare enough for young women, but Raw makes the transgressive literal. Garance Marillier is wonderful as a college student who learns her lifelong vegetarianism is cover for an inherited thirst for human flesh. It's rare to see a major film this confident, and Ducournau makes an enormous impression as a forceful voice in the horror scene. Raw is the kind of film that makes you thirsty for what its director will do next.
Where to watch it: Stream on Netflix
Roadside Attractions
Stories We Tell (2012)
Director: Sarah Polley
Polley is perhaps best-known as an actress, but do not underestimate this multi-talented Canadian. Despite her turns in major features like the Dawn of the Dead remake and Go, she's even more prolific as a director. This 2012 documentary attempts to explore the hidden secrets of Polley's family, including her mother's infidelity, her relationship with her older siblings, and the unknown identity of her father. It's a universal tale about complicated families, and Polley tells it with the confidence of someone twice her young age. (She was only 33 when Stories We Tell was released.) In 2015, the film was added to the Toronto International Film Festival's list of the top 10 Canadian films of all time.
Where to watch it: Stream on Amazon Prime
Newmarket Films
Whale Rider (2002)
Director: Niki Caro
Caro's 2002 film was a major awards contender for its lead actress, Keisha Castle-Hughes, who became the youngest-ever woman nominated for a Best Actress award at the Oscars when it debuted. It's hard to get wrapped up in that designation, but don't let the fancy stuff distract you: Whale Rider is one of those rare films that deserves every accolade. The story of a young Maori woman who wishes to become the head of her tribe, it's audacious, lovely, intimate -- exactly what a film of this ilk needs to be.
Where to watch it: Stream on Netflix
Roadside Attractions
Winter's Bone (2010)
Director: Debra Granik
Jennifer Lawrence is better known at this stage for her work in the Hunger Games and X-Men flicks, but she first burst onto the scene in this Sundance debut from Granik. As a caretaker for her mentally ill mother and younger siblings, Lawrence's Ree is one of those heroines you immediately feel magnetically drawn to, and Ree's plight -- to find her missing father -- is a cinematic MacGuffin of the finest ilk, a diversion and an insular pull that makes Winter's Bone so special. Granik's deft cinematic hand is perfectly suited to the film's blue-hued Ozark setting.
Where to watch it: Stream on Hulu
Sign up here for our daily Thrillist email and subscribe here for our YouTube channel to get your fix of the best in food/drink/fun.