Wanna see five sports broadcasting girls get unexpectedly smooched?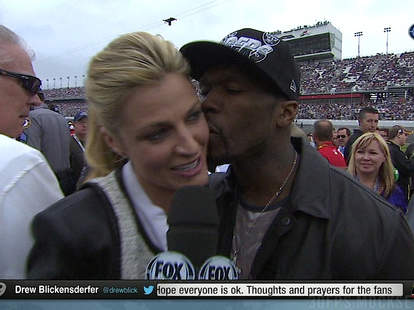 Remember that time you went to a Jets game, and had a bunch of beers, and then had a bunch more beers, and then took shots of Jager, and then did a couple car bombs, and then told Suzy Kolber how much you wanted to kiss her during a nationally televised interview? Well, believe it or not, you aren't the only one! In honor of 50 Cent's recent attempt at face-groping Erin Andrews at the Daytona 500, here's a look at five of the all-time great awkward sideline reporter kisses
The man, the myth, the guy who cheek kisses way too long: 50 Cent
Classic Shaquille O'Neal: says something totally inaudible, kisses middle-aged blond sideline reporter
No roundup of sideline reporters getting awkwardly kissed would be complete without at least one getting dry-humped by Rampage Jackson
While technically Joe Namath doesn't actually kiss anyone in this clip, he reeeeeeeeeeeeeally wants to
Who said World Cup-winning goalkeepers can't score?