9 Tips to Fix up Your Crappy Apartment
Admit it, your apartment is like a prison cell: it's sparsely decorated, you share it with a creepy person you barely know, and no one wants to visit you there. But it just takes a few easy projects to make it slightly more livable. We talked to Simone Chavoor, the design guru behind TinyAssApartment.com, to get nine easy projects you can tackle in a day or less. We think figuring out your weird roommate will be much more appealing once you have a nice refurbished lamp.
Buy pieces of furniture that double as storage
What you'll need:
A steamer trunk
Total time it takes:
As long as you want to hunt for one
Flea markets aren't just for people looking to haggle over the price of a Precious Moments figurine; they're also where you can find an old-timey trunk. Chavoor loves those because you can use one as a coffee table and also for its ample storage space inside. If you're lazy, Overstock and Craigslist occasionally have them too.
Here's a bonus tip: if you're looking for a certain piece of furniture online, "put a notification alert on Craigslist, and then when someone lists that [item] in your city and uses that keyword," you get an alert. There won't be any missed connections between you and the steamer trunk of your dreams.
Disgusting furniture makes a disgusting apartment -- so lose it
What you'll need:
"A dumpster and Craigslist"
Total time it takes:
How fast can you type?
The quickest way to make your apartment not look shitty is to not have shitty things in it. That futon that made its way from your college apartment? You don't need it. Seriously. "If you have broken or disgusting furniture, get rid of it," points out Chavoor. "And if you're an adult, it's time you invested in some nicer pieces. Have your apartment reflect that you're a grownup in this world."
Post a free-pickup ad on Craigslist (or, hey, see if someone else wants to pay for your gross furniture), drag it to the street, and move on.

If you organize your random stuff, it won't look like junk
What you'll need:
An Allen wrench, IKEA, patience
Total time it takes:
A few hours for simple assembly
You don't need to get rid of all your random stuff. You just need to organize it. Basically: it's fine if you're a hoarder, just be a
neat
one.
Here's what to do: buy a tray at a thrift shop for those remote controls on your coffee table. Buy a laundry basket for your dirty clothes. And for your sneakers? Shoe racks and shelves are wonderful inventions.
You can ditch "rental white" walls without professional painters
What you'll need:
Permission from your landlord to paint, dropcloths/tarps/plastic sheeting (to protect floor/furniture), sandpaper (to sand walls to prep them), painter's tape (to protect baseboard/ceiling/windowsills), rollers, trays, brushes, a separate bucket to pour paint into
Total time it takes:
Weekend day (with friends)
While paying someone to paint can be worth it, Chavoor says it's not that hard to do on your own, either: "Slap on your coat of primer and two coats of paint. Go around and check to make sure you didn't miss anything, and clean up." She recommends recruiting friends to help you paint and get it done quickly (especially if your friends already have the painting equipment). We recommend bribing those friends with beer and the promise of an HBO GO password.
Use Command Strips to hang framed photos & not make holes in your walls
What you'll need:
Any
site that prints Instagram photos/photos
from your phone, "cheap frames from a thrift store/Goodwill or a discount store like T.J.Maxx" (or get a framer to do it if you have expensive artwork/posters), a level,
3M Command Strips
Total time it takes:
Five to
10 minutes per photo
While you can hammer and nail your photos to the wall, Chavoor recommends an even easier way to get them hanging -- 3M Command Strips. Plus you won't damage your walls, so there's no risk to your rental deposit.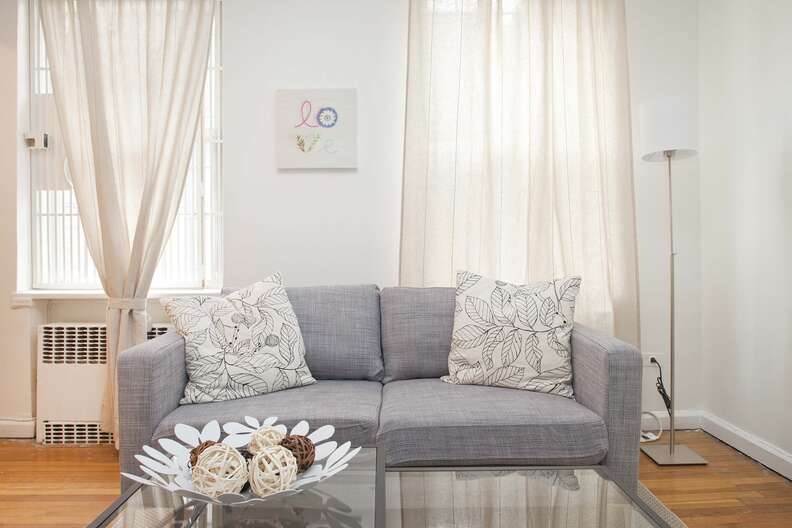 Curtains let you utilize light, which transforms your apartment
What you'll need:
Curtains from IKEA/Target, curtain rod, several brackets (minimum two if you have a big window/sliding door), screws, screwdriver, drywall anchors (so you don't strip out the hole you're making in the wall)
Total time it takes:
20 minutes to an hour for one curtain (if you have a friend to help hoist it)
Those vertical or horizontal blinds on every window in your house? Chavoor says they're terrible. But curtains? Those can transform rooms, and they're not hard to put up. "Figure out where the brackets go in and screw them in. Put the curtains on the rod. Put the rod in and you're done."
Add a pegboard to your kitchen/workspace to add hanging storage
What you'll need:
At least two pieces of wood (not a 2x4, just a little scrap wood), pegboard, power drill, screws, little hooks
Total time it takes:
One to two hours (depending on size)
That scrap wood is important because you need to create space between the pegboard and the wall so you have room for those hooks where all your junk is going to hang. Chavoor says to use the scrap wood to "create a top and bottom where you screw the pieces of [scrap] directly into the wall. Then you put the pegboard on top."
So what do you put on those zillions of hooks that can go in the pegboard? It can be kitchen stuff (a spice rack, a pizza cutter, a serving spoon) or, if you put the pegboard in a workspace, other tools you need to do your work with. Look, we don't know your hobbies.
A rug adds personality -- even if it's on top of your apartment's old carpet
What you'll need:
A rug (she recommends Overstock for online shopping or discount home stores like T.J.Maxx, Home Goods, or Cost Plus World Market), rug pad
Total time it takes:
An afternoon of shopping
"I already have carpet on my floors," you might be saying. This still applies to you, hombre. "Having a rug adds more color and interest [to the room], and makes it look fancier than just a rental carpet," Chavoor says. "And then that rug will also protect the carpet underneath it, which could save you some money when you move." If you have hardwood floors, it both protects your floors and makes sure your downstairs neighbor won't try to have you murdered for making so much noise when you walk.
When you get a rug, don't skimp on the rug pad. "Lay it down first -- it should be almost as big as your rug." And it keeps your rug from sliding.

You can score a cheap new lamp with spray paint & a thrift store run
What you'll need:
Spray paint, lampshades (Target/IKEA have good options), newspapers (to put the lamp on when you spray paint outside), and an old lamp
Total time it takes:
An afternoon plus "as long as it takes the paint to dry"
This might be our favorite tip because it costs very little money, takes almost no effort, and makes you look like a creative genius. Just go to a thrift store and buy an old lamp -- but ditch the lampshade -- spray paint the lamp whatever color you want, and buy a new lampshade.
Here's how Chavoor says to spray paint a lamp with as little hassle as possible: "Put some newspapers down outside. Put the cord into a plastic baggie and tape it shut so you're not spraying your cord. Go nuts with the can of spray paint. Hit it with a coat. Wait for it to dry (about an hour), and check for any patches. Hit it with a second coat, and you're good." Congrats on becoming a poor man's Martha Stewart!
Lee Breslouer is a senior writer for Thrillist and knows about living in tiny-ass apartments. Follow him to extra storage space: @LeeBreslouer.