If you're like me, being up to date on all of my favorite TV shows is as remote as being caught up on all my email -- it's seems like a distant dream. There are too many good shows on to possibly keep up. To the rescue: Stream TV, which allows you to watch live TV, on-demand, or recorded shows from a host of premium and regular networks on any of your million devices. Perfect for the thoroughly dedicated yet semi-lazy TV addict (me!). I watched Stream TV for two days straight, and even after having been out of town for a week previous, I managed to get through all of my regularly recorded shows -- and even had extra time to find a few new favorite shows to actually watch live. As if I needed anymore.
Writer received free use of products and services for evaluation.
DAY 1
9am: I always watch the morning shows to see what's going on in the world as interpreted by network personalities with unimaginably white teeth, and today is no exception. It's easy to pull up the live-TV schedule grid and pick whatever I want to watch that's on right this second. So as I have my English muffin and tea for breakfast, I watch the Today Show freak out over "Back to the Future Day," which is the day McFly and Doc travel in Back to the Future 2. I don't have a hoverboard yet so this upsets me.
After that and some weather reports, I switch over to the on-demand menu to catch up on some Nashville. Don't you judge me. The music really is good and Connie Britton has the hair of an auburn angel. 
10am: I have to run to a quick meeting about a 15-minute drive from where I live, so I switch from watching Nashville on my laptop at home to watching on my iPhone in the car (it's an Uber... because in addition to not having a hoverboard I don't have a self-driving car). Once I sign in, it knows where I left off in Nashville on my computer down to the Connie Britton hair flip, which is pretty darn awesome.
11am: Waiting for my meeting in the lobby of a hotel, I don't need to wonder what I should do to pass the time: Nashville's Claire and Deacon are fighting over Claire's decision to pull the plug on Beverly. Deacon is somehow even mopeyer and angrier than usual. And I don't have to miss a minute of the mope, thanks to my phone-turned-TV. Don't know the characters? Just imagine a My Little Pony arguing with a human mop.
12:30pm: Back home I finish Nashville. Once again, when I switch devices, it remembers that I'd just been caught up in Juliette Barnes singing a tipsy party-time version of Joan Jett's "Bad Reputation." If you want to know why I keep watching this show, it's all right there.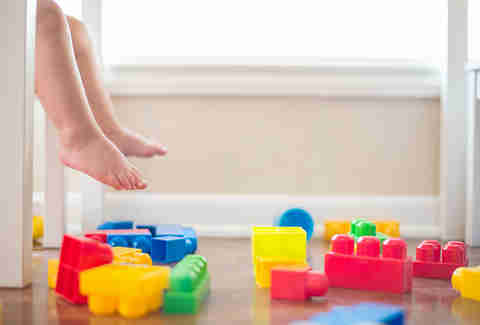 1pm: I dig into Grandfathered, Fox's new John Stamos show, while I dig into a little lunch. It's something about how he's late for his granddaughter's second birthday because he's too busy being fabulous. I don't really care what he's doing as long as he's Stamos-ing at maximum levels.
2pm: HBO's Last Week Tonight tells me that Danish zoos are killing giraffes and Canada is having an election. I like having HBO on the same interface as the other on-demand shows instead of having to go to a separate channel or app. Look how internationally aware it's made me!
2:30pm: I decide to get a workout in with a little help of Stream TV (definitely cheaper than a gym membership): There are a bunch of workout videos available on demand. I do some Fit Body Yoga, Core Centered Yoga, and CorePower Calorie Blast Yoga. For the record, my favorite is CorePower Calorie Blast. I've never felt my calories get blasted harder.
3:30pm: I start catching up on Jane the Virgin -- it's my favorite new show from last fall, but I haven't had a chance to watch any of the new season yet. I'm dying to know if Jane will be safely reunited with her kidnapped newborn baby. (Yes, in case you didn't know, she's a virgin who was accidentally inseminated with the sperm of Rafael, a wealthy hotelier on whom she had a longstanding crush. Happens to the best of us, girl!)
5pm: Rafael's ex-wife, Petra, steals his other, uh, man sample. Yes, there's a lot that in this show. I guess that's the downside of this premise. But it's really good, I swear!
6pm: Now Jane is trying to decide whether to date her ex, Michael, or Rafael. I used to be Team Rafael, because he is very attractive, but now I'm Team Michael, because he is a very sensitive police officer. The fact is that they're both hot, so I switch teams often.

7pm: I watch Liv, the main character on iZombie, eat the brains of murdered trophy wife. OK.
9pm: Caught up on iZombie and brain eating, I tune in to catch some of the Cubs-Mets baseball playoff. If the Mets win, they'll go to the World Series for the first time in 15 years. I'm totally pro-Mets. There are a lot of intense feelings on both sides of my Facebook stream. Three innings of total nothingness go by, and I start to take this boringness personally.
I switch over to this week's Empire instead. I am OFFICIALLY CAUGHT UP. I actually need to seek out some new shows now. But first, a sports report: Oh, look, both teams scored 2 runs in the 8th, which is more exciting than zero but less exciting than anything else in the world. One more scoreless inning and it's official: The Mets are going to the World Series! Boy I hope this ends up well and not hilariously catastrophic for them.
11:45pm: I've resisted The Voice out of some weird loyalty to American Idol, but I need something else to watch now, and I really like Gwen Stefani (especially now knowing that she had some romantic drama brewing with fellow judge Blake Shelton -- it's like a competition and soap all in one). So The Voice it is.
There's a contestant who actually goes by the official name "Blind Joe," because he is blind and his name is Joe and he plays some sick guitar. Clever! He's amazing, and I'm hooked. Good news: There's seriously, like, hours and hours of The Voice here that I haven't seen. I am going to watch them all tomorrow.
DAY 2
9am: Forget the news this morning, I'm starting on more Voice first thing.
10am: A guy is auditioning with a croony version of the 1980s hit "Word Up," and somehow this does not persuade the judges to turn their chairs for him.
1pm: Yes, I am still watching The Voice. I mean, there's this kid who flipped his car over but still lived, obviously because this is his destiny. Sadly his nickname is not "Car McFlipper Ralph."
2pm: Just when you build up a little resistance to the fun of watching the judges' chairs spin around in the audition round of The Voice, the battle rounds start -- where two members of each coach's team do a duet that's also a contest to eliminate one of them. One of my favorites, a 50-year-old backup singer named Regina Love, is eliminated by a church singer named Jordan… but the coaches also have a chance to steal, and Gwen Stefani lives up to my love for her by stealing Regina. Which is all to say I can't stop watching The Voice.
3pm: I'm not at all proud of this anymore, I can assure you. I watch two folksy, indie kids sing at each other.
4pm: So this battle with "Baba O'Reilly" is pretty unbelievable. As is this version of "Keep Me Hangin' On" by two little girls wearing braces. Phew, both braces girls get to stay, once again thanks to Gwen stealing the non-winner.
4:30pm: Thank goodness, Blind Joe wins his battle against a former baseball player who has vision. Bastard.
6pm: I'm really done. Not by choice or anything, but because I watched every minute of The Voice currently available. Now I'll be able to watch weekly like a normal person, which seems like a more sane approach. For the moment, I switch to Modern Family, which I quit watching a few years ago. It's right where I left it: reasonably funny. I have some reasonable laughs. Everything feels very reasonable.
7pm: My boyfriend and I watch Amy Schumer's comedy special on HBO. He turns into an instant Amy Schumer fan, and I'm super-psyched to have easy access to HBO to facilitate this relationship milestone.
9pm: I swear I've watched everything I possibly can. I start trying all the new fall shows I saw advertised but resisted. I mean, they certainly look expertly made. These are all shows that ten years ago would have blown our minds; now that we're at Peak Quality TV, Blindspot just looks like an Alias/Prison Break hybrid/knockoff. I try a few minutes of it, and though it's cool that the opening features shots of an improbably empty Times Square, I can't get into it.
Limitless? I love the lead actor, Jake McDorman, who starred on one of my favorite shows, Greek. But I can't deal with the whole false premise that we "don't use 100-percent of our brains," and therefore make movies and TV shows about fictional people who figure out ways to use ALL THE PERCENTS.
Scream Queens? Just too much screaming, seriously. Quantico? Somehow this feels like Blindspot meets Limitless meets Alias meets Scandal meets that show FlashForward from a few years ago that I loved but was one of about five people watching. Not feeling it.
Perhaps it's simply that I've reached my TV threshold the past two days?
9:30pm: Nope! It turns out there was something left to watch, and I could still fall in love with a new TV show. I come across The CW's Crazy Ex-Girlfriend and remember that I saw reviews claiming it was great and fresh, the star was the breakout of the season, etc. I was skeptical, but it's paired with Jane the Virgin on Monday nights, and that's probably my favorite show right now. I figure maybe there could be something to Crazy Ex-Girlfriend.
As soon as it starts, I'm hooked: A harried New York lawyer, at a moment of professional and personal crisis, runs into a guy on the street. It feels magical, like the stuff rom-coms are made of: improbably whimsical doings!
Plus, there's a musical numbers and a moment which features a rapper so appalled to learn what women go through to get ready every day that he starts making amends to all the ladies out there he has objectified in his videos. I am in. Stream TV rules.