Every 'Fosse/Verdon' Musical Number, Explained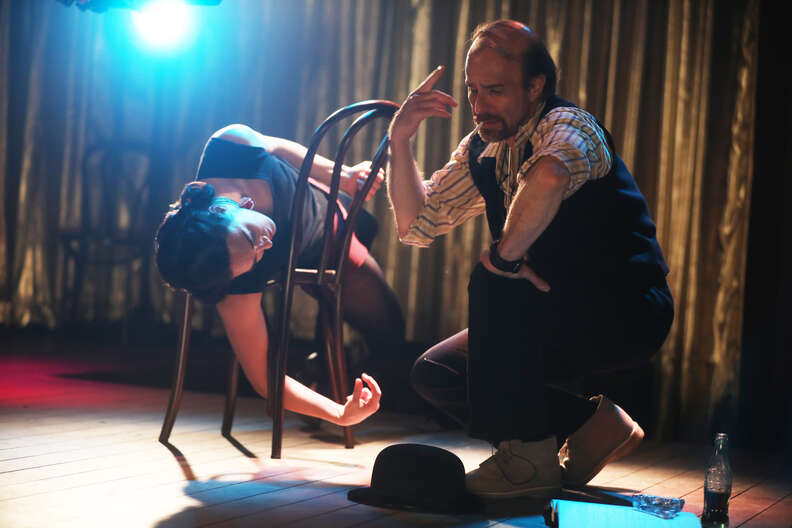 For better or worse, FX's new series Fosse/Verdon doesn't really do any hand-holding for the musical theater neophytes who might be tuning in just to see the latest prestige limited series populated with movie stars. The show -- executive produced by Lin-Manuel Miranda (Hamilton), among others -- drops the viewer into the world of theater legends Bob Fosse and Gwen Verdon, without much context. If you're an obsessive, you'll know that those blaring horns are from Sweet Charity's first act number, "Big Spender," written by Cy Coleman and Dorothy Fields. If you're not, you might be a bit lost.
In fact, almost all of the song and dance sequences in Fosse/Verdon are enhanced by a knowledge of the source material. The show's recreations are spot on -- enhanced by the wonderful work of Michelle Williams and Sam Rockwell as the title characters -- but little can compare to watching Verdon herself hoof it or Liza Minnelli sing "Mein Herr" from Cabaret.
But first, even more background. Based on Sam Wasson's biography of Fosse, the series aims to tell the story of the creative partnership and fractured romance between two greats of the American theater. He was the dancer, director and choreographer most famous for winning three parts of the EGOT (Emmy, Oscar, and Tony) in the same year for his work on the film Cabaret, the Broadway musical Pippin, and the television special Liza with a Z. She was a four-time Tony winner herself, who collaborated with her husband on shows like Damn Yankees and Chicago. Together, their work flourished, but Fosse was a notoriously bad partner on a personal level, cheating incessantly. They never divorced and continued working together, even as he embarked on a long relationship with dancer Ann Reinking.
Fosse famously performed a public exorcism of his personal demons in the 1979 film All That Jazz, in which Roy Scheider played a thinly veiled version of the director. Fosse/Verdon covers some of the same territory, but from a historical perspective, one that allows Verdon to be seen on her own terms rather than those dictated by her spouse.
Throughout the season, we'll be offering a primer for all the musical numbers you need to know to get the most out of the series. We'll be updating as long as the show is on the air. Here we go: Five, six, seven, eight...
Episode 1, "Big Spender," Sweet Charity
The first real glimpse Fosse/Verdon gives us of Bob and Gwen's working relationship is on the set of the movie version of Sweet Charity, during the filming of the number "Big Spender." The song is seductive, but also haunted: A row of dance hall employees address the male patrons of their rundown establishment, half-heartedly promising "fun, laughs, good time." Sweet Charity is a spin on the old "hooker with a heart of gold" narrative, adapted from Fellini's Nights of Cabiria by prolific playwright Neil Simon (played by Nate Corddry in Fosse/Verdon). It's named for the character Charity Hope Valentine, an optimistic taxi dancer who has a history of being treated poorly by men. The musical is episodic in nature, following Charity as she befriends a movie star and starts to fall for a nervous tax accountant, Oscar, who ultimately ditches her in the end.
Fosse/Verdon opens with Gwen coaching the dancers (among them Chita Rivera, played by Bianca Marroquin) on the moves. It's a bittersweet role for her to occupy on the set. Verdon originated the role of Charity on Broadway, but for the film version she was passed over for Shirley MacLaine by Universal Pictures head Lew Wasserman. (MacLaine, in a reversal, is portrayed by Broadway star Laura Osnes, while Verdon is Oscar nominee Williams.) In Wasson's biography, John McMartin, who played Oscar in stage and screen, said, "Her heart had to be broken that Shirley got the part. These were her movies. But you'd never know with Gwen. She was stoic."
"Big Spender" isn't the only Sweet Charity music cue in the episode: Later, "If My Friends Could See Me Now" scores a party scene.
Episode 1, "Mein Herr," Cabaret
The second half of the premiere finds Fosse in Munich working on Cabaret. Unlike Charity, Fosse did not direct the Broadway version of the musical about nightclub denizens in the Weimar Republic, and the film differs greatly from the initial stage production. For one, Minnelli's Sally was American, not British, and nearly all the songs that don't take place on the Kit Kat stage are excised and along with them an entire subplot that was ultimately replaced. "Mein Herr," one of the songs Sally Bowles performs at the Kit Kat Klub, was written by composer John Kander and lyricist Fred Ebb solely for the movie. As for the choreography, Fosse reportedly said, "I tried to make the dances look like the period, not as if they were done by me, Bob Fosse, but by some guy who is down and out." According to Wasson, the vest Minnelli wore -- sans bra -- during the sequence belonged to Fosse himself.
Episode 1, "If You Could See Her," Cabaret
While we don't actually see this number performed in Fosse/Verdon, the gorilla costume used in it is a crucial part of the show. It comes from "If You Could See Her," in which Joel Grey's Emcee romances a gorilla in a dress. It appears to be a sight gag, until the last lyric hits and you realize you've been watching an allegory for the rise of Hitler and anti-Semitism. He whispers, "If you could see her through my eyes/ She wouldn't look Jewish at all." As the show documents, Verdon flew all the way back to New York to get the perfect costume from Brooks Costume, only to return to Germany and find her husband in the midst of an affair. (On screen, it's with one woman; according to Wasson, he was with "a couple German girls.")
Episode 1, "Cabaret," Cabaret
The episode ends with Kelli Barrett as Minnelli singing the titular song from Cabaret as Verdon returns to Munich with the gorilla costume, where she finds Fosse sleeping around. It's a discordant image, but "Cabaret" has always been a discordantly upbeat song. It's appears at different points in the movie and the play, but it always comes as a response to Sally getting an abortion.
Episode 2, "Whatever Lola Wants," Damn Yankees
During the second episode, we finally get to see the inception of Bob and Gwen's romance as they work together on the Broadway musical Damn Yankees, which he choreographs. The show is Faust with baseball. A man makes a deal with the devil -- Mr. Applegate -- to transform into a handsome ball player, Joe Hardy, and help his favorite team, the Washington Senators win the pennant. But there's a hook, as there always is with the devil: If he stays Joe Hardy through the championship game, he'll remain that way forever, leaving his beloved wife behind. Mr. Applegate needs a ringer to lure Joe into giving up his normal life so he sends in the temptress Lola. Enter, Gwen. Lola's big number is the seductive, "Whatever Lola Wants," sung as "Lolita" in a now-offensive facsimile of a Latina accent. In the show, Bob's audition for Gwen is showing her his idea for the the number. That's where we see them first interact. As Wasson wrote, Fosse conceived the number as a burlesque, doing "moves [Verdon] recognized from her early days… playing clubs on Hollywood Boulevard at the age of fifteen." Verdon retained the role in its transition from stage to film so you can see her slinky movements for yourself. She's, brilliantly, like a cartoon come to life, her body contorting in ways that feel almost inhuman.
Episode 2, "Who's Got The Pain?" Damn Yankees
The last minute addition of this number to Damn Yankees is essentially the climax of the episode, but there's an added bonus to watching the movie version. While on Broadway Verdon was accompanied by Eddie Phillips, on screen she was partnered by Fosse himself. Even though Stanley Donen directed the film, Fosse he apparently had a lot to say about it should be shot, wanting it, per Wasson, "in as much blackness as possible." Fosse described dancing "Who's Got The Pain?" as "the happiest times I ever had with Gwen."
Episode 3, "Wilkommen," Cabaret
As Fosse heads into the editing bay, Fosse/Verdon refashions the iconic opening number from Cabaret for the context of the story its telling. Here the Kit Kat dancers are now employees of the facility where he's working on the project.
Episode 3, "Two Ladies," Cabaret
We see a clip of this cheeky, provocative number as Fosse works on putting together the movie. Ethan Slater -- recently of the SpongeBob Broadway musical -- plays Joel Grey, who won an Oscar as the Emcee. The song -- an extended joke about threesomes -- obviously has dual meaning as Fosse's infidelities mount.
Episode 3, "The Apaches," Can-Can
In all honesty we don't actually see Michelle Williams do the number that purportedly stopped the show opening night of this Cole Porter musical that helped Verdon rise to fame 1953. (It also isn't easy to watch on YouTube.) As the story goes the rapturous reception came after she did what the New York Times called "a fiery Apache dance" choreographed by Michael Kidd. Can-Can takes place in 19th Century Paris, and centers on the performers at a dance hall being persecuted for its sexy ways. Verdon played Claudine, one of the dancers, who is caught in love triangle.
Episode 4, "Corner of the Sky," Pippin
In "Glory" Fosse/Verdon charts Fosse's insane 1973, in which he won the Oscar for Cabaret, multiple Emmys for Liza with a Z, and two Tonys for Pippin before checking into a psychiatric clinic. But of those projects, the episode chooses motifs from that last project, Stephen Schwartz's fantastical musical about Charlemagne's son's search for meaning in this world. As depicted in the series, Fosse overhauled the production exposing the darker themes in the fable. One of the running strains is "Corner of the Sky," Pippin's "I want" song, in which the title character sings about his desire to be "where [his] spirit can run free."
Episode 4, "Simple Joys," Pippin
As Fosse engages in a series of trysts with the dancers in the Pippin company, we hear "Simple Joys." Pippin is narrated by a Leading Player, originally played by Ben Vereen, who both describes the hero's journey to the audience and interacts with the plot, specifically, goading Pippin during his adventures. In this number, the Player sings about Pippin's journey to visit his grandmother in the countryside. The song opens: "Well I'll sing you the story of a sorrowful lad/ Had everything he wanted, didn't want what he had/ He had wealth and pelf and fame and name and all of that noise/ But he didn't have none of those simple joys." In other words, it's a pretty accurate description of Fosse's philandering emptiness.
Episode 4, "Glory"/"The Manson Trio," Pippin
The main look viewers get at Fosse's choreography for Pippin comes when we see him rehearsing this section of the war-themed "Glory." It's famously dubbed The Manson Trio, why? Because of Charles Manson, of course. In an interview with Diane Paulus, who directed the heralded Broadway revival of the show in 2013, she explained that she once asked dancer and choreographer Chet Walker, who was in the original cast, how it got the name. "He said, 'Because Bob was very interested in Charles Manson,'" Paulus said. "It was the idea of the Leading Player as a kind of charismatic leader, kind of a cult leader. That's a particularly dark way to see it, but it was really illuminating to understand that reference had significance for Fosse: the juxtaposition of song-and-dance and people being killed." You can see Vereen perform the dance above in a clip from the 1981 TV movie version.
The scene in the show also highlights Fosse's cruelty upon rejection when he brutally criticizes a dancer who had previously pushed him away when he forced himself upon her. In actuality, Ballerina and Pippin company member Jennifer Nairn-Smith did kick him in real life to get away from his aggressive advances, and received his wrath. "He was a director, a manipulator. He knew the button to make you feel great and he knew the button to make you feel like shit," she said, per Wasson.
Episode 4, Medley/"I Guess I'll Miss The Man," Pippin
The episode concludes with Fosse contemplating suicide as he imagines the company of Pippin alongside Gwen and his friend the writer Paddy Chayefsky urging him on with a medley of songs from the show. It mirrors not only the climax of Pippin, in which the Player urges Pippin to complete the "perfect act" of self-immolation, but Fosse's film All That Jazz, in which the Fosse stand-in watches his loved ones perform as he sits unconscious in a hospital bed. But in Fosse/Verdon it all wraps up with his daughter Nicole singing Pippin's "I Guess I'll Miss The Man," which stops him from jumping out a window. The song belongs to Pippin's love interest Catherine.
Episode 5, "Where Am I Going?" Sweet Charity
As Fosse/Verdon heads to the Hamptons for an intense episode that deals with grief over the death of Joan Simon and Gwen's thwarted career, it strays away from the fantasy of the theater. However, it does make time for one heartbreaking rendition of Sweet Charity's "Where Am I Going?" performed by Williams. In the musical, Charity sings the song after she quits her job as a taxi dancer; In the series, Gwen does it as a eulogy for her lost friend Joan. Williams also peppers the number with Gwen's personal anxieties. She's pleading with Fosse, now a couple with Ann Reinking, to take on Chicago, while he sidelines that for cinematic ambitions.
Episode 6, "All That Jazz," Chicago
Once again this episode didn't rely on musical numbers, instead framing Fosse's health struggles with an homage to his 1974 Lenny Bruce biopic Lenny. While we see clips of Tony nominee Brandon Uranowitz playing Dustin Hoffman playing Lenny Bruce in the editing bay, more frequently the show cuts to Fosse performing grim stand-up about his own life in the style of Bruce. The one moment we do see some song and dance is in a sequence at rehearsals for Chicago, Verdon's passion project. He coughs as Chita Rivera (Bianca Marroquin) and the company members go through the iconic opening: "All That Jazz." Now, I don't think I really have to go too deep into the plot of the Chicago, one of the most famous musicals of all time thanks to the 2002 film. Murdering ladies! Jazz! A slimey lawyer! You'll see more of it in the next episode, but dancer Gene Foote told Wasson that Fosse's instructions for "All That Jazz" were: "I want you to confront the audience with murder in your eyes and dare them to look at you."
Episode 7, "We Both Reached For The Gun," Chicago
The seventh episode is all Chicago all the time with Fosse returning to direct after his time in the hospital. When they get to "We Both Reached For The Gun," the comedic number in which slimy lawyer Billy Flynn attempts to murderer Roxie Hart into a sympathetic character, we start to see how age is affecting Bob and Gwen's work. Gwen's body can't keep up with his vision for the steps, so he makes her a marionette, sitting on Flynn's lap. According to Wasson, the strain on Fosse was also evident in the staging of this particular song. One person told Wasson that Fosse's interpretation felt strangely "slow," and added, "I was like, Okay, this is the dance of a depressed man." While it's not exactly Fosse's choreography, you can see the film version of "We Both Reached For The Gun" featuring Renee Zellweger and Richard Gere above.
Episode 7, "Nowadays," Chicago
Gwen is desperate for a better closing number for Roxie Hart, so songwriters John Kander and Fred Ebb bring her "Nowadays," a tune that, per Wasson, they wrote in a half an hour. Gwen wants the song for herself, and co-star Chita Rivera acquiesces, but Bob has other ideas, envisioning it as a duo. Wasson emphasized how cruel Fosse was to Verdon as he plotted Chicago. Rivera allegedly told Ebb: "That's the great Gwen Verdon up there, and look what they're doing!" In the clip, Verdon and Rivera perform "Nowadays" on The Mike Douglas Show.
Episode 7, "Razzle Dazzle," Chicago
Williams as Verdon performs a glittering rendition of Billy Flynn's number "Razzle Dazzle" to score a sequence of Gwen and Bob trying to impress an adoption agency in their attempts to have a child. Jerry Orbach, best known now for patrolling the streets of New York as Lennie Briscoe in Law & Order, was the original Billy.
Episode 8, "Mr. Bojangles," Dancin'
Early in the finale, Bob improvises with his daughter Nicole to the song "Mr. Bojangles." As Nicole said in an interview with Vulture, this was a common occurrence in their household, and this particular moment inspired a number in 1978's Dancin'. The timeline gets swapped around in the series -- you can see a poster for Dancin' in Bob's apartment. The interaction between father and daughter also echoes a moment in All That Jazz, which the on screen Nicole watches being filmed. Above, see Ben Vereen rendition of the dance from the revue Fosse.
Episode 8, "Bye Bye Love," All That Jazz
The series recreates the grand finale of All That Jazz in which Roy Scheider's Fosse stand-in performs for a surreal audience of his peers and loved ones, bidding farewell to the world. The original is embedded, but in Fosse/Verdon Scheider is played by executive producer Lin-Manuel Miranda.
Episode 8, "A Little Brains, A Little Talent," Damn Yankees
While Bob is working on what would be his magnum opus, there's something tragic about the parallel of Gwen trotting out one of her old Damn Yankees songs at a charity function.
Episode 8, "If My Friends Could See Me Now," Sweet Charity
Fosse/Verdon ends back where it began: With Sweet Charity. Gwen and Bob re-team one final time to work on a revival of the musical starring Debbie Allen. As they work with Debbie on the gleeful number "If My Friends Could See Me Now," in which Charity delights at her fortune, Gwen steps in, remembering the steps. Her body is creaky, but her sense of the moves remains.