Even though it's been a decade and a half since Friends went off the air, the once-in-a-generation sitcom is still wildly popular in syndication and on Netflix, where it's reportedly one of the streaming giant's most-watched shows ever. And while re-runs are great, fans will soon have a chance to get their fix of Ross, Rachel, Monica, Joey, Chandler, and Phoebe in real life courtesy of a new immersive experience. It opens in September in New York and will come complete with re-enactments of iconic moments, recreated sets, and, of course, the Central Perk couch. 
To celebrate the 25th anniversary of the when Friends first debuted on NBC, Warner Brothers is opening a massive pop-up experience dedicated to the long-running series in the city in which it was set. The nostalgia fest will allow fans to fully immerse themselves in familiar sets, play with replica props, and even act out a few of the most iconic scenes. 
The special event, dubbed "The One with the Pop-Up" will open for a month in Manhattan's Soho neighborhood and welcome visitors with recreated fountain set similar to the one featured in the show's opening credits, followed by a series of different areas dedicated to each major character. For instance, you'll be able to re-enact Ross's famous sofa pivot scene, peek through Rachel and Monica's purple door, relax on Chandler and Joey's recliner (after a game of foosball), and even stick a turkey on your head. The walking tour wraps through a recreated version of the gang's popular hangout, Central Perk, where you can snag a pic on the orange couch. For true Friends fiends, there will also be a gift shop stocked with all manner of memorabilia at the end.
Recommended Video
Tuna Eyeball with Timothy DeLaGhetto and Ben Sinclair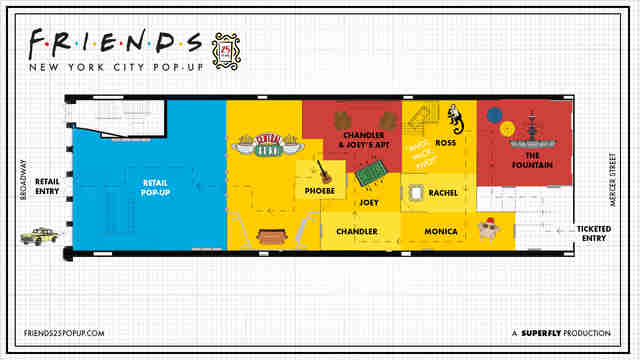 "As we celebrate the show's milestone anniversary, we are excited to bring the Friends experience to life for our fans in a way that pays homage to the remarkable cast of characters, iconic sets and instantly quotable moments," said Peter van Roden, senior vice president Warner Brothers Consumer Products, in a press release.
You still have plenty of time to binge the show before you visit (and before it leaves Netflix), since the monthlong pop-up doesn't officially open until September 7. But it's almost certainly going to be popular, so you can reserve tickets ahead of time starting August 2 on this site. 
Sign up here for our daily Thrillist email and subscribe here for our YouTube channel to get your fix of the best in food/drink/fun.