Panera Bread = A Rare Bedpan, and 33 Other Absurd Restaurant Anagrams
<a href="https://www.flickr.com/photos/jeepersmedia/14526615451/" target="_blank">Flickr/JeepersMedia</a>&nbsp;/ Jennifer Bui/Thrillist
Have you ever wondered if there might be any hidden, secret messages if you rearranged the letters in The Cheesecake Factory? Well then you, friend, lack intellectual curiosity. Because there are. There most definitely are!
Thrillist mobilized an army of linguistics experts (or maybe just a single online anagram generator) to bring you these: the most eye-opening, insightful, and occasionally just kind of weird and gross phrases taken from the spellings of America's most popular chain restaurants. 
 
How did the bra freeze in the first place? 
 
Of particular interest to any bedpan collectors out there.
 
Sounds painful. 
 
Maybe it's connected to that burst sack? 
 
Sound advice. 
 
Outback Steakhouse = Sue Ate Oak Buckshot
Did it come with a Bloomin' Onion? 
 
So the banjo is skinny now? 
 
Einstein Bros Bagels = Big Tensionless Bear
Sounds like a pretty chill bear. 
 
Bojangles Famous Chicken 'N Biscuits = I Snag Unjustifiable Cockscomb Hens
Wow. Just wow. 
 
Cheek chess sounds like a euphemism for... something? 
 
Better than robbing ice cream shop cash registers, amirite?!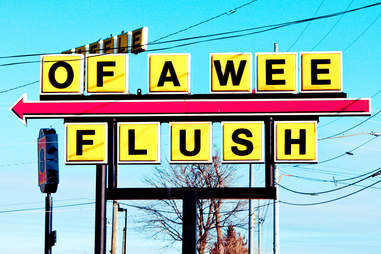 <a href="https://www.flickr.com/photos/thomashawk/7397828902/" target="_blank">Flickr/Thomas Hawk</a>&nbsp;/ Jennifer Bui/Thrillist
Burger King = Rink Bugger
It's grosser if you're British.
 
Doesn't sound sanitary. 
 
Bad panda!
 
At least it's passionate.
 
Golden Corral = Nerd Oral Clog
Not quite clear what that is but... yeah, probably gross. 
 
P.F. Chang's China Bistro = Frothing Hips Can Scab
Good to know. Also terrible to know! 
 
Ruby Tuesday = Yea Dusty Rub
Is a dusty rub really worth cheering about? Unclear. 
 
Ick. 
 
It works on a few different levels. 
 
Kentucky Fried Chicken = Rectify Unchecked Kink
Or don't rectify it. People are into what they're into!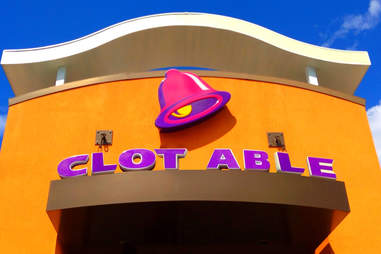 <a href="https://www.flickr.com/photos/jeepersmedia/13754701885/" target="_blank">Flickr/JeepersMedia</a>&nbsp;/ Jennifer Bui/ Thrillist
Careful with those Quesaritos. 
 
Would seem to work better for Taco Bell, actually, but those breadsticks probably do the trick. 
 
Don't talk about Grimace like that. 
 
Macaroni Grill = Clamoring Liar
That's a bold accusation. 
 
New marketing slogan? 
 
That would be a great new name for the fried mozzarella. 
 
You will, however, find many of studs who are rather kind! 
 
Cheddar Bay Biscuits do a number on the waistline. Worth it!
 
Texas Roadhouse = Exhausts A Rodeo
Seems on theme at least?
 
Friendly's Ice Cream = Acme Fire Cylinders
Sounds like a Wile E. Coyote accident waiting to happen.
 
Long John Silver's = Jill Governs Nosh
Who gave Jill this power? Will she use it to take everyone to Long John Silver's? 
 
Think about THAT next time you order extra sour cream on that burrito. 
 
Hooters = He Torso
Mind. Blown.
Matt Lynch doesn't have enough vowels in his name to spell interesting things. Talk spelling and grammar with him @MLynchChi.