14 Signs You're on a '00s Reality Dating Show
Telepictures/WireImage/Getty Images
You might think you're not currently on a reality dating show from the '00s, but, really, how can you be so sure? Examine your surroundings closely. Are you followed by cameras at a low-rent nightclub? Is your name Chad? Now, check to see if you are wearing a vest over a T-shirt. You can never be too careful. A trip to the Splash Spa might be in your future. 
While the high-concept dating show is far from dead -- FOX premiered the Mark Burnett-produced Coupled this week and The Bachelor is still going strong -- the genre reached a delirious, trashy, and weird-as-hell peak in the first decade of this century. To help you celebrate those gloriously gonzo shows gone by, I've put together a list of signs that you're actually on a reality dating show from the '00s. Leave your dignity in this intro paragraph and read on.
You are in a hot tub
Be careful. Do not put your head under the water -- there are too many chemicals. Quickly survey the perimeter. If you are alone in a hot tub, you might be in a wealthy friend's backyard or perhaps on a business trip at a Hilton. But, if you are surrounded by two or more members of the opposite sex vying for your attention, you are probably on a reality dating show in the '00s, possibly Blind Date, Average Joe, Age of Love, A Shot at Love with Tila Tequila... I could go on. It could be any of them. They all had hot tubs, right? Proceed with caution.
You love body painting
Like trucker hats, LIVESTRONG bracelets, and waterboarding, body painting was very popular during the '00s -- or, at least, it seemed very popular if you spent your evenings watching reality dating shows. I'm not sure if anyone ever enjoyed body painting, but it was always one of the cringe-worthy "ice-breaking" dates that two strangers were forced to go on in a given Blind Date episode, along with skydiving, go-kart driving, and kite-flying. Body-painting companies must have really made bank during the reality dating boom. If you love body paint, you are probably on a reality dating show -- or you are filming an Avatar body-paint tutorial -- either way, seek help. 
<strong>Elimidate | </strong>YouTube
You have a really vague job like "event coordinator"
Don't worry: no one will ask a follow-up question about your job. Just keep nodding and praying that your co-workers don't watch elimiDATE, particularly episodes about single gals competing for the love of cowboy Shane in Kansas City.
You are constantly being asked if you're "down to experiment"
Stop nodding. Run.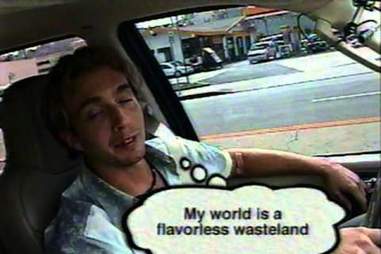 <strong>Blind Date | </strong>Universal Television
You are followed by pesky thought bubbles
If all of your thoughts are snarky, belabored one-liners that can be contained in little Garfield-esque inner-monologue clouds, you are on Blind Date. Be extra good and maybe you'll get to meet Roger Lodge.
You use a black light to look for semen on sheets
No, you are not CSI forensic entomologist Gil Grissom. You are a contestant on MTV's Room Raiders and you are looking for bodily fluids because that's a great way to begin a lasting relationship based on trust and mutual respect. Also, you might be Zac Efron. 
<strong>Ex-Treme Dating | </strong>Relativity Media
You have an earpiece in your ear
Stay calm. You are being directed by an ex-boyfriend or -girlfriend of your date like on EX-treme Dating or MTV's Exposed, two shows with similar concepts and equally terrible names. That earpiece does not make you a CIA agent. Instead, you are getting a steady stream of burns, giggles, and insights like, "Reggie is obsessed with pornography and has deep-seated emotional issues."
You're arguing with your girlfriend on a stage
Sorry, hate it or love it, you are popular rapper The Game and you are on Change of Heart. 
You wear a terrifying mask
Oh shit. You are on an episode of Mr. Personality. Don't remember this show? Like trash classics Temptation Island, Married by America, Who Wants to Marry a Multi-Millionaire, and The Littlest Groom, this show aired on FOX. It was about a woman who had to pick from 20 men who all wore frightening masks, so that they would be judged by their character instead of their looks, and it was hosted by Monica Lewinsky because presumably Kato Kaelin was busy.
You pretend to be a millionaire
If you find yourself lying about your income and wearing much nicer shirts than you would normally sport, but still unbuttoning them a few extra buttons because you are a human beefcake, you are probably Joe Millionaire.
<strong>Next |</strong> MTV
You are on a strange bus
For some weird reason, oversized vehicles were a big deal in the '00s: hummers, buses, and Tony Soprano's Escalade were all huge. So, it makes sense that the era birthed two classic dating shows that made excellent use of buses. Both Next and The 5th Wheel put very excited daters in vehicles fit for bus enthusiast John Madden. While MTV's Next now has a certain amount of cache for its proto-Tinder "swipe right" approach, The 5th Wheel, which was hosted by Aisha Tyler in its first season, is the better show for its bizarre pacing, creepy party room on the bus, and tendency to cast daters who loved sucking toes. If you love buses, you probably also love sucking on toes.
You are chained to other humans
Relax: that chain does not mean you are in a real-life Saw scenario. Instead, you are on UPN's Chains of Love, a truly deranged show that asked the question: what happens when you chain a woman to four boring men and force them to do things like go ice skating together? The answer is not much. The best part about this show was the Locksmith, a bodyguard-looking dude who dressed in black, wore Matrix sunglasses, and showed up for the elimination rounds. He was cool. Hopefully he's still out there getting free drinks from people who recognize him as the Locksmith from Chains of Love. Never change, Locksmith. You are beautiful.
You have snow in your mouth
You are on elimiDATE with the woman in the video above and she just shoved dirty snow in your mouth. You made so many excellent life choices to get to this point. Life is great. Regret nothing. (But, seriously, watch this clip all the way to the end.)
<strong>Shipmates | </strong>Sony Pictures Television
You are Chris Hardwick
Before he became the lord of AMC post-episode chat shows, the comedian was the host of Shipmates. You're probably not Chris Hardwick, so you're likely in the clear on this one. Unless you actually are Chris Hardwick. In which case, hello! Thank you for reading this article and making it to the end with your busy schedule. Please use your Nerdist money to bring back Shipmates.
Sign up here for our daily Thrillist email, and get your fix of the best in food/drink/fun.
Dan Jackson is a staff writer at Thrillist Entertainment and he thinks if they're making more
Twin Peaks,
they should make more
elimiDATE
too. He's on Twitter: @danielvjackson.