Netflix or Hulu: Which Batshit Crazy Fyre Festival Documentary Should You Watch?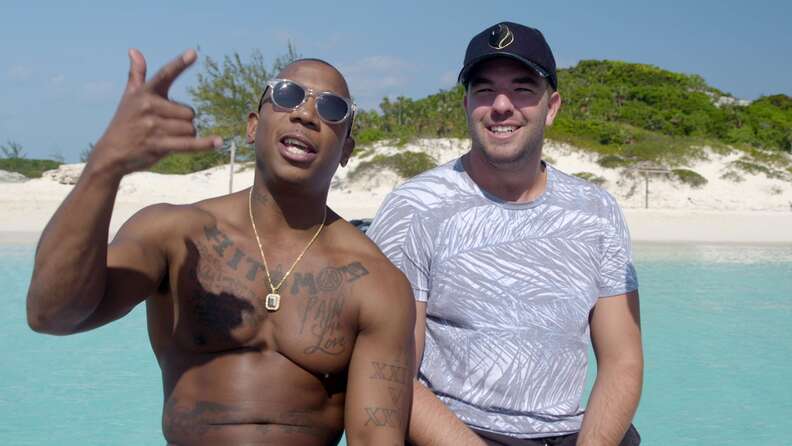 'Fyre'

| Netflix
'Fyre'

| Netflix
These days, it's never too early to recount the recent past. So it's fitting, then, that just 20 months after the massive Fyre Festival debacle, we're treated to not one, but two documentaries premiering on competing streaming services in the same week. That Hulu surprise dropped its film, Fyre Fraud, only days before Netflix's anticipated FYRE was set to premiere shows what a hot media commodity this already well-known story was, and still is. Both movies, for all that they cover, are imperfect recollections of this insane cultural moment, but in the end, one of them comes out on top with a more thorough examination that is, frankly, just more entertaining. (Spoiler: It's Hulu.)
Fyre Festival, of course, was the ill-fated, luxury music festival that astonishingly imploded on the world stage in April and May 2017. The festival's organizers and founders, serial startup scammer Billy McFarland and perplexingly enduring rapper Ja Rule, booked major musical acts like Migos and Blink-182, sold lodging in luxury villas and glamping tents, and promised weekends of Instagrammable landscapes and partying on a private island once owned by Pablo Escobar. Helped along by a flashy viral commercial starring Instagram's most-followed models, like Chanel Iman, Bella Hadid, Emily Ratajkowski, and Hailey Baldwin, McFarland managed to collect millions of dollars from the would-be festival goers. It wasn't until they arrived in Exuma, Bahamas, ready to flaunt their good time online, that everyone learned there was no festival at all, just a bunch of soaked disaster relief tents and $2 million worth of booze in what was essentially a concrete parking lot. The influencer attendees documented the scam in real-time on social media, thus beginning one of the greatest communal dunkings on rich Millennials ever to hit the internet.
I watched the Netflix film, Fyre, first and came away from it with a greater sense of the destruction McFarland's defrauding wrought, beyond the schadenfreude broadly painted in headlines when the scandal first broke. Behind the publicly embarrassed social climbers were McFarland's employees, including those who worked for the tangentially related Fyre app company, which sold itself as the Tinder of booking high-profile acts like Coldplay for backyard events, and found their work wrapped up in McFarland's lies. There were the Exuma locals who worked long, grueling, laborious days for weeks trying to build infrastructure for the festival in an impossibly short amount of time. To this day, the film says, they still haven't been compensated to the tune of a quarter million dollars.
Near the movie's end comes one particularly heartbreaking interview with Exuma restaurant owner MaryAnn Rolle, who was hired by McFarland to provide catering for the festival but was never compensated. She starts crying as she recounts that she lost $50,000 of her life savings because of McFarland's lies.
Despite the follow-up of the aftermath, the movie left me wanting. There was little examination of the power of celebrity influence and social media culture that McFarland and his team harnessed to sell millions of dollars worth of nonexistent entertainment and lodging. Above all, there were no interviews with McFarland, who ends up escaping being held to task, but still mythologized as an evil, yet cunning mastermind.
Luckily, Hulu's Fyre Fraud came through with the juice. Their documentary does include interviews with a dopey-eyed, blinky McFarland that offer a bit more insight on his pre-Fyre Fest background and motivations without inadvertently lauding him, but mostly make him look like any number of business school grads fluent in the language of deception in the pursuit of cutting deals. As to be expected, Fyre Fraud overlaps with Fyre in a number of ways, including one unsurprising video of Ja Rule ending a toast to employees with the phase "and fuck like pornstars." However, Fyre Fraud dedicates more time to examining the zeitgeist (and lack of due diligence on the part of investors) that allowed for this incredibly average white dude to defraud untold numbers of people using the lure of aspirational tribalism and the whip of FOMO.
"What Fyre Festival did prove is that power of influence is real, because at the time there was nothing else but influence," says social media strategist Vickie Segar, one of the film's talking heads.
Fyre Fraud also includes input from Bahamian journalist Ava Turnquest, who gives more context on the colonialist attitudes that made McFarland and organizers treat the area and local community like its pawns. "The culture of exclusive resorts, this ultra-luxe lifestyle in an environment where there's so much poverty -- there is a level of collusion and pay for play and kickbacks involved," she notes.
What's more, only Fyre Fraud highlights the extensive background role social media marketing company Jerry Media, mostly known as FuckJerry, had in promoting the festival and explicitly reveals in the end that Fyre was made in partnership with FuckJerry, whose actions are identified in a class action lawsuit against Ja Rule and McFarland. (They were not charged, ultimately, because it was determined that their actions were done at the behest of their client.) Fyre Fest is truly an ever-flowing font of salacious scams.
Neither documentary can be said to have all the facts. Fyre Fraud, for example, omits the detail included in Fyre that the festival got kicked off of Pablo Escobar's island because the owner explicitly asked them not to market it with the drug lord's name. They did anyway. Fyre also includes the concerning story that McFarland asked event producer Andy King to give a customs agent a blowjob so that they could gain access to a shipment of bottled water.
And further, neither production is without ethical suspicion. Shortly after Fyre Fraud hit Hulu, Fyre director Chris Smith told The Ringer that Fyre Fraud directors Jenner Furst and Julia Willoughby Nason had paid McFarland for an interview, which McFarland used as leverage to try to jockey a higher rate from Smith for his documentary. (To be clear: Smith rejected the offers.) Furst admitted as much to paying McFarland, though the exact amount is still in dispute.
Other than McFarland's (paid) participation, the main difference between the two docs is the overall tone. Netflix's film is decidedly more somber than Fyre Fraud, which includes upbeat music and lighthearted B-roll footage (a cat catching a mouse, Dave Chappelle making fun of Ja Rule on Chappelle's Show, Paul Giamatti on Billions) to underscore just how absurd the whole story is, including more peripheral items of interest like McFarland's first start-up venture (a fancy "credit card for millennials") and asking talking head influencers to describe what "being a brand" means to them (they can't).
What emerges from watching the two nearly one after the other is a tug-of-war over this cultural moment's legacy. On the Netflix end, it was a tragic abuse of power that left untold numbers of Bahamians on the hook for one inept rich white dude's latest whims. The Hulu film's approach is best summed in the words of one of the prosecuting lawyers interviewed, a smile creeping across his face: "It would be perplexing and funny if it wasn't criminal. And it is criminal. But it still is perplexing. And still a little bit funny, but still horrible." In the end, Fyre Fraud stands out as the much more satisfying take in its focus on, well, us: the rabid consumers of the Fyre Fest schadenfreude, the obsessives of the year in white grifters, the ones supporting the influencer economy.
Over the past few years, there have been meaningful reframings of cultural memory. Once publicly shamed women like Tonya Harding and Monica Lewinsky have found new recognition as resilient feminist icons. Major publications like National Geographic and the New York Times have apologized and attempted to make amends for past racist and sexist coverage or omissions thereof. And alongside these re-examinations, nostalgia for the recent past has become a communal cultural security blanket. The Fyre Fest documentaries are an interesting example of the two meeting in the middle. You choose, they both seem to ask, what light to cast this story in going forward. With stray threads of the incident left to explore, like how much FuckJerry really knew about the project's inviability, I wouldn't be surprised if more Fyre Fest content crops up in the future. If both movies settle on any one thing, its that our culture is always willing to pay attention to a dumb white guy with a good scam.