Watch the Teaser Trailer for Netflix's Documentary About the Fyre Festival Disaster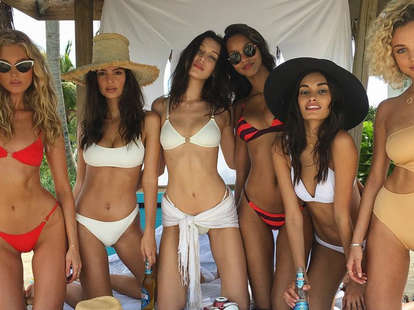 Fyre Festival
Fyre Festival
In April of 2017, a mix of music fans and Instagram influencers descended on an island in the Bahamas for a weekend that promised DJ sets, jet ski adventures, and all the exclusive good times money can by. What they ended up with at the now notorious Fyre Festival was, in fact, the opposite of that: Piles of trash, disaster relief tents, and "catered" meals consisting of bread and slices of cheese. As far as social-media-era catastrophes go, it was a perfect mix of schadenfreude, shady grifters, and Lord of the Flies suspense.
Now, you can relive the whole disaster with Netflix's upcoming Fyre, a documentary that, according to Netflix, aims to give "a first-hand look into the disastrous crash of Fyre as told by the organizers themselves." It's produced by Vice Studios, Library Films, and Jerry Media, and comes from director Chris Smith, who made last year's brain-teasing Jim Carrey and Andy Kaufman documentary Jim & Andy: The Great Beyond. So, expect it to be pretty out there.
If you don't remember -- or haven't followed the wave of lawsuits following the incident -- the event's organizers included rapper Ja Rule and tech entrepreneur Billy McFarland. As memorably described in a piece on The Cut, the behind-the-scenes talent also included a marketing guy who said, "Let's just do it and be legends, man." He ended up being right, and will hopefully be memorialized in this documentary, which you can watch the trailer for below.
Netflix isn't the only company looking to get in on the post-Fyre Festival mythmaking action. Earlier this year, Hulu announced a documentary series (developed by Billboard, Mic, and The Cinemart) about the event. There's also an in-development movie from Seth Rogen and The Lonely Island that apparently shares some of the same broader plot details with the incident. Like Woodstock and Altamont were for the 1960s, Fyre Festival will likely remain a cultural touchstone people reference when they want to evoke the particular anxieties, tensions, and absurdities of the mid-2010's.
Also, it's just really funny. When was the last time you looked at the tweet with the picture of the bread, cheese, lettuce, and tomato? It holds up. If any of these documentaries can capture the bleak and hilarious energy of that tweet, they'll be worth checking out. Fyre, the Netflix doc, drops on January 18, 2019.
Sign up here for our daily Thrillist email and subscribe here for our YouTube channel to get your fix of the best in food/drink/fun.