Gael García Bernal Wants You to Understand What Trump Means to Mexicans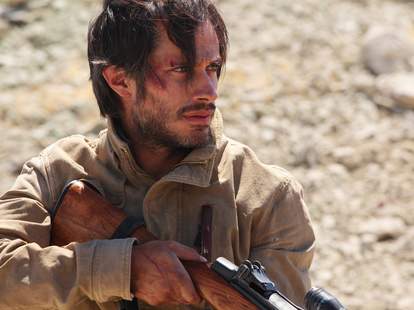 Gael García Bernal is talking about Donald Trump, but he has a better reason than most of us. The 37-year-old Mozart in the Jungle actor is one of the biggest stars to emerge from Mexico, a target of the presidential candidate. His new thriller, Desierto, is about a militant American gunning down illegal border-crossing immigrants. And like many, Trump's left him completely depressed. The country he knows is a heated talking point.
"He's obsessed," he says about Trump's relationship to Mexico. "There's nothing more false than the United States being a victim of the world, or being a victim of Mexico. It's constructed on lies completely, and the whole world mocks that -- but at the same time, we're really worried about what the fuck is going to happen."
In Desierto, the debut feature from Jonás Cuarón (son of Gravity director Alfonso Cuarón), Bernal's political anxiety becomes a living nightmare. The actor plays Moises, a Mexican migrant worker making the trek across the US border to reunite with his wife and daughter. Standing in his way is Sam (The Walking Dead's Jeffrey Dean Morgan), a whiskey-sipping, gun-wielding American psycho with a vendetta against his neighbors to the south. When Moises and his fellow travelers enter Sam's crosshairs, the hunter starts picking them off one by one. It's "The Most Dangerous Game" with a timely (and horrific) twist.
Bernal describes the film as a "very dry action movie," and he's not just talking about the harsh desert conditions it was filmed under. Cuarón creates suspense and tension with scale, Bernal darting under the blazing-hot sun, sprinting through barren vistas, and hiding behind giant rocks. At one point, to escape a bloodthirsty dog, he crawls through a patch of cacti. You'll check your socks for sand when you leave the theater.
An emphasis on the tactile allows the film's ideas to simmer and bake under the desert sun. Where many films would attempt to psychologize Dean Morgan's sniper character by giving him a tortured backstory or a belabored justification for his evil actions, Desierto refuses to provide pat, easy answers. (In fact, the film's Mexican distributors used fan reactions like "I'm rooting for the killer" in a disturbing trailer.) "It's the nature of monsters," says Bernal. "Nothing justifies any of it. So there's something quite perverse about saying we need a justification."
Though the film was made well before Trump was the Republican nominee and his wall-building proposals became common talking points, Bernal sees connections between the film and the current political climate. In the same way he doesn't think there's vindication for the villain's actions in the film, he fails to see how anyone could vote for Trump in good conscience. (Though he's quick to admit he's never met anyone who plans to vote for Trump.)
"I think anyone that can give a rational explanation for why they're voting for Donald Trump is a person that definitely doesn't exist," he says. "It's a very emotional vote. It's a very irrational vote. The world is brokenhearted and some people are solving it through empathy and through a sense of common good, and some others are reacting to that brokenheartedness by creating resentment."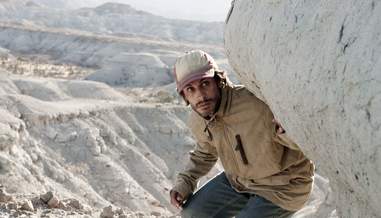 STX Entertainment
But, hardly a party politician, he's not just frustrated by Trump: he doesn't understand why Democratic candidates in the US also criminalize the people making the same journey his character makes in the film. He's angered by the way Trump's statements about Mexicans being "criminals, drug dealers, rapists, etc." have dictated the conversation. Obviously, he hopes that Desierto, in its own small and scrappy way, can help shift the country's focus back on the human struggles of the migrant workers trapped in this political stalemate.
"The Democrats are willing to remain silent in many ways," he explains. "And that just blows my mind because then the narrative is established: it's allowed to say that migrants are really bad and everybody sort of believes that. So, it's fucked up."
With the possibility of a Trump presidency lingering in the future, does he have any hope that Trump will lose and his proposals will become a thing of the past? "There's a little bit of hope out there," he says. "There might be a chance."
Sign up here for our daily Thrillist email, and get your fix of the best in food/drink/fun.