'Game of Thrones' Creators Reveal the Secrets of Season 7's Dragon Battle
"This is bigger than BOB."
"How can it be bigger than BOB?
"IT'S BIGGER THAN BOB."
Game of Thrones executive producer Bernie Caulfield remembers reading the Season 7 script for "The Spoils of War" and being in awe of what creators D.B. Weiss and David Benioff came to dub "The Loot Train Attack," a massive action set piece that would be even bigger than BOB a.k.a. the instant-classic "Battle of the Bastards." On top of battalions of armored troops -- more commonplace than anyone in Westeros would like, frankly -- "The Loot Train Attack" would pile on a horde of Dothraki riders, some oversized weaponry courtesy of Qyburn, a handful of the series' heroes, and for the first time in true land battle, Daenerys's dragon, Drogon. On the page it read like an unprecedented undertaking and a truly epic spectacle.
And anyone who tuned in to this week's Game of Thrones knows that that's exactly what "The Loot Train Attack" turned out to be.
In the heat of Game of Thrones battle (emphasis on heat, in the case of "The Loot Train Attack"), it's hard to suss out every element required to bring the fantasy to life. As the show's prop masters will insist, that's the point -- when they've expertly canvassed the shooting location to make sure every twig is in ready-to-crunch place, every wooden wagon has just the right amount of char to make it look like the victim of Drogon's attack, when every stunt guy's enflamed chainmail is flailing at just the angle so as to simulate an erupting fireball, then the actual craftsmanship disappears and all that's left is... reality. Haunting, harrowing, vengeance-serving reality.
Shot among the granite boulders and desert terrain of Los Barruecos National Monument in Cáceres, Spain, "The Loot Train Attack" was a terrifying culmination of the show's warring factions -- as Weiss puts it, Dany's dragons are like "napalm or an atom bomb" compared to Jaime Lannister's foot soldiers -- and an all-hands-on-deck operation for every department on the Game of Thrones production. Besides the painters in charge of spraying down scorched objects with faux (and sometimes real) ash, there were bevies of cameramen rolling up to eight-cameras at a time to capture the sprawling action; there were stunt people on both the Lannister and Dothraki sides of the line; there were visual effects people, who worked to integrate Drogon into the fight via high-speed drone photography and intricate rigs that allow Daenerys (Emila Clarke) to ride her beast into battle; and there was director Matt Shakman, tackling his first Thrones episode after a stint on... It's Always Sunny in Philadelphia. Whatever the case, he was qualified, thanks to a vision for the scene.
"I chose to focus on Jaime," he says in HBO's official behind-the-scenes video. "It was about being on the other side of a dragon attack, trying to hold on to his troops as he watches the world change forever."
D.B. Weiss is a little less serious when it comes to the "world change forever" weight of the sequence. "What if someone had an F16 at a medieval battle?" he says with a sadistic, steady glee. The answer: 20 stunt guys simultaneously (and safely) burned at once -- more than in any other sequence in TV history.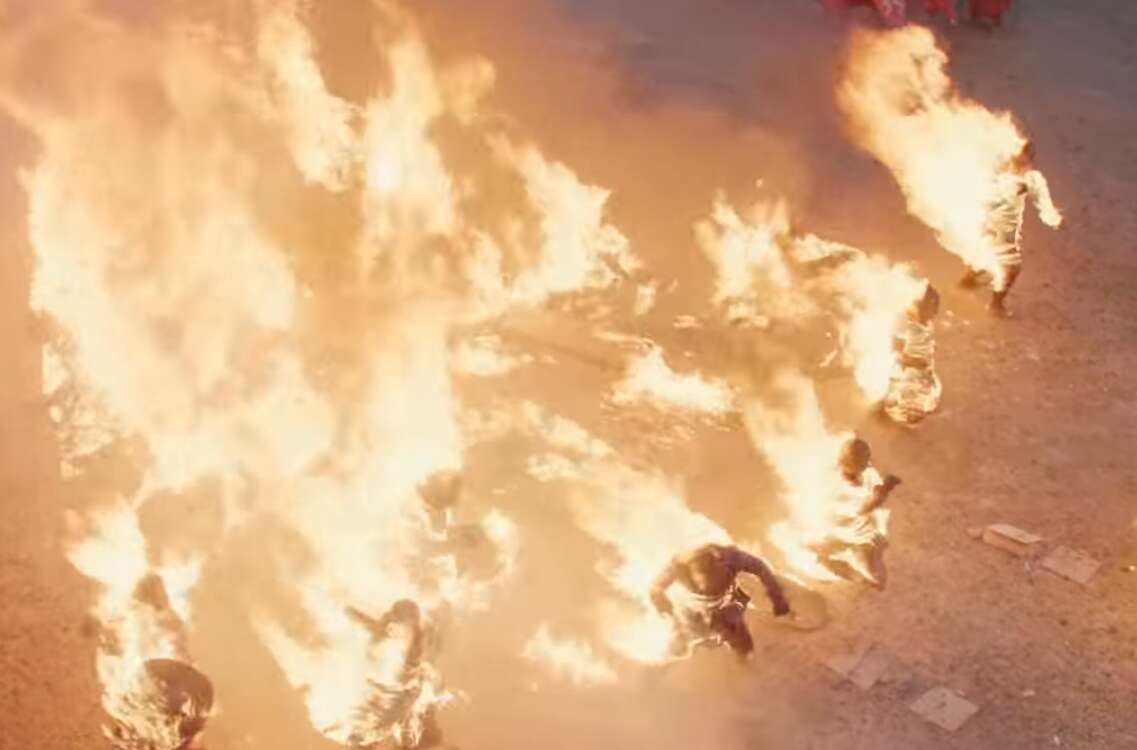 Watch the entire 14-minute making-of video above, and read our full "Spoils of War" Season 7 recap of the episode for a sense of just how seismic "The Loot Train Attack" could turn out to be for your favorite characters.
Sign up here for our daily Thrillist email and subscribe here for our YouTube channel to get your fix of the best in food/drink/fun.
Matt Patches is the Executive Entertainment Editor of Thrillist. He previously wrote for Grantland, Esquire.com, and Vulture. Find him on Twitter @misterpatches.