A Wig Expert Analyzes the Crazy Hair on 'Game of Thrones'
From age-masking necklaces to Littlefinger's secret wormhole that allows him to travel through Westeros in the blink of an eye, many things strain credulity on HBO's Game of Thrones. But perhaps the most credulity-straining element is the insane hairstyles its characters wear.
As with most things Thrones-related, a ferociously appreciative community has risen up to untangle these updos, and figure out how to replicate them -- without HBO's hair-and-makeup budget at their disposal. We spoke to one such expert, Shannon, aka Silvousplaits, one of the internet's leading GOT hair aficionados, who shared her encyclopedic knowledge on some of the show's most gravity-defying constructs.
Shannon calls her specialty "investigative hairstyling" -- researching and reverse-engineering the styles she sees, then re-creating them on her YouTube channel for you to mimic at home. Shannon walked us through some of her favorite characters' hairdos in current and past seasons. Take notes: if you want your hair to look like Dany's, you're gonna need some help.
Cersei
"Lena Headey actually has a pixie cut in real life, and looks awesome in it -- blonde or brunette!" Shannon points out. We thought the deposed queen might cover her cropped hair with a headscarf, à la Olenna Tyrell, after Season 5's traumatic shearing, but Shannon disagrees: "She might prefer to just hide in the castle, rather than remind people that her wonderful mane is gone," she says. "Olenna would probably say, 'Suck it up, tart, headscarves are rad.' Cersei's hair has already been growing, and while her wig mileage may vary, I bet Lena likes how much lighter it is compared to her previous massive wig."
Earlier in the series, Shannon speculates, "Cersei had two wigs on rotation for the show. One was for the clean, braided works of art, like that picture at the Purple Wedding," which had vintage necklaces woven into it. "The other is for when she's grungy and disheveled." Thrones lead hair designer Kevin Alexander has drawn inspiration for Cersei styles from source material as diverse as ancient Greece and 1960s beehive updos.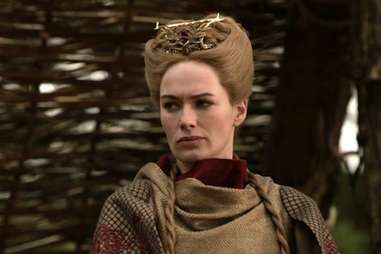 Shannon points out that most women, Lena Headey included, don't actually have enough hair to support these updos -- literally. "Almost no one on Earth has enough hair to do this style without any extensions," Shannon cautions. "But [HBO stylists] can sew on as much hair to a wig as they like." Most extensions are made of pricey human hair, which can drive hairpiece costs as high as roughly $8,700 in some instances.
"Almost every period show adds extensions, not just Game of Thrones," Shannon reminds the truthers. "And for a show like this, the main purpose is art and storytelling, not complete historical or physical accuracy. Adding more hair enables you to communicate character and do more artistic things."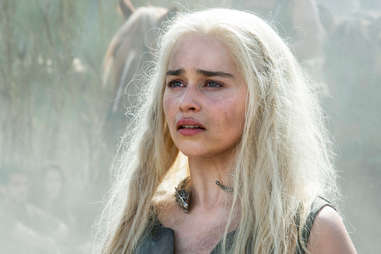 Daenerys
The current season has found Dany with uncharacteristically dry hair, as she has been dragged around the desert by the Dothraki and setting whole buildings on fire. "That girl needs some coconut oil, stat," says Shannon.
Earlier in the series, many of the Mother of Dragons' dos were very "Stephanie from third grade" -- braids straight down the back of the head, and just simple enough to trick us into thinking we might be able to re-create them ourselves without much assistance.
"Those sorts of braids, and even the more elaborate ones like this, are tight and structural. That's not necessary for most of the women on the show who hang out in castles all day, but you need this sort of practicality when you're running around in the desert on horseback. This was one of the first Game of Thrones styles I learned to do, and once in, it doesn't budge for days! "
Shannon also points out that these are more practical for stylists to construct, as they better protect the condition of the wig from destructive set elements, like smoke. Plus, "Braids hold pretty well on their own in long hair! Lots of surface area between strands, so lots of friction. I'm not surprised that even a dragon ride couldn't knock out the braids entirely."
In the fighting pits of Season 5, "Daenerys' hair in Meereen doesn't need to be quite as practical as it was in the desert, because she's simply sitting in a pyramid all day," Shannon said. "This style involves six different braids taken from different parts of the head and wrapped around some sort of hair bump... it's pretty easy to find a foam hair bump from any beauty supplier and tuck that in underneath a section of hair at the back of your head. I have a video for that at-home method, so you can see what I'm talking about."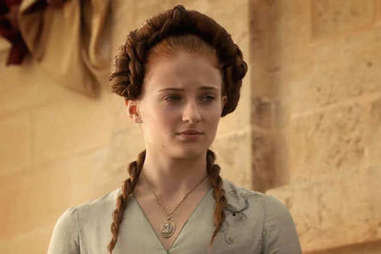 Sansa
Season 6 has thus far found Sansa dirty, terrified, on the run in the frozen North, and embracing the more practical side braid. "Physically, it's not as sturdy, as I don't think she was planning on running through the forest the morning she leapt off the walls of Winterfell. But that loose look is popular right now. It's not hard either, so it's worth the trade-off."
Sansa's hair is Shannon's favorite. As the character known to constantly redefine personal misery, she says Sansa's styles lend a "chameleon effect": her wedding was probably a high point, transitioning her from abused hostage to untouched trophy wife; now "Sansa is in survival mode. She has no safe space to turn to, so she's doing her best to blend in... She starts out wearing Northern-style braids around her temple while living at Winterfell, and then adopts the outrageous hair roll worn by the court ladies when she's in King's Landing."
When Margaery came on the scene, Sansa started wearing her hair in loose twists like her friend. While traveling with Littlefinger, Sansa's hair is very similar to Catelyn's. And finally, when she's at Winterfell trying to survive her new husband Ramsay, she sports the Northern style again.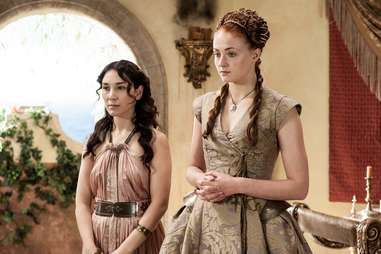 Naturally, then, for the Lannister wedding, Sansa wore an ornate King's Landing stereotype. "She's fully embedded in and controlled by the world right now, and her hair reflects that," Shannon remarked of the style.
Margaery
As she's been hanging out in the dungeons lately, Margaery could use some coconut oil, too. The High Sparrow threatened that she might have to go on her own walk of shame soon, which would likely involve a Cersei-style crop.
In the meantime, let's think of her happier hairstyles: for her Purple Wedding, Margaery had actual antlers hidden in her hair, as the stag is House Baratheon's sigil. "Notice how Margaery always has more hair pinned up off her neck than the other women?" Shannon asks. "It shows more skin to make her look sexier, and that's totally intentional."
Check out all the latest Game of Thrones Season 6 photos that tease the next episode.
Sign up here for our daily Thrillist email, and get your fix of the best in food/drink/fun.
Ben Philippe is a writer based in New York City. His hairstyle of choice is "The Usual," perfected by a silent and ruthlessly efficient barber named Jorge at the corner of 109th and Amsterdam. Find him on Twitter: @GoHomeBen.