Game of Thrones thrives on violent conflict. Though the series is packed with melodrama, political maneuvering, dark humor, graphic sex, and cool winter coats, it's also possible to view the show as a WWE-like series of pay-per-view ready showdowns. For years, one conflict has reigned supreme in the minds of many theory-obsessed fans: Cleganebowl.
Given that Sunday night's relatively subdued episode dangled Cleganebowl as a real possibility, this is something you're going to want to pay attention to. Let's take a closer look at this hypothetical not-so-Royal Rumble.
Recommended Video
Netflix's New Sci-Fi Show Is Its Biggest Production to Date
So, wait -- what's Cleganebowl?
You'll likely remember the two hulking characters named Clegane who have appeared on the show: Sandor "The Hound" Clegane and Gregor "The Mountain" Clegane. If you're the type of person who can never remember character names, the Hound is the gruff warrior with a scar on his face who used to work for the dearly missed Joffrey and then became Arya's Uber-horse driver before she became the blind karate kid. The Mountain is the giant goon who crushed Oberyn Martell's cute little head in Tyrion's trial-by-combat and then spent a season under a white sheet before being reborn as a killer Frankenstein in gold armor.
They are bros (like, actual brothers) but they are definitely not bros (as in friends). They have a legit beef that dates back to their childhood, when Gregor burned off half of the Hound's face for taking his little toy knight. It must have been a cool action figure, like the Westeros equivalent of a Pog or a Charizard card -- or the Mountain is just a scary psychopath.
Either way, they hate each other and have enough villainous back history and musculature to make any type of confrontation a must-see event in the GoT universe. But the Cleganebowl is something more specific than a Cain vs. Abel-style throw-down: it's a way of life, a meme, and a movement. 
According to Know Your Meme, the theory was first introduced on a 4chan thread by an anonymous user in March of 2013. The proposed plotline involves the revived zombie version of the Mountain fighting on behalf of the accused Cersei Lannister in a trial-by-combat and the Hound picking up a sword against his brother as a representative for the Faith. Ever since the idea was introduced, it has sparked blockbuster levels of excitement that rival any big UFC bout.
The flames were stoked more last season when a flashback showed a young Cersei sitting down with a fortune-teller who told her she would be strangled by "the valonqar," a High Valyrian term meaning "little brother." There are a range of theories for who the valonqar could be -- most notably Tyrion -- but it's certainly possible that the witch was referring to the Hound, the younger brother of Cersei's murderous guardian. Imagine the Hound taking out his brother in combat and then going straight for Cersei. Forget Batman v Superman or Captain America: Civil War: this would be your fight of 2016 right here.
Part of what makes the conflict so intriguing is that it wouldn't be the first time the two brothers have crossed swords on the show. Back in Season 1, when Ned Stark was still around to take Sansa to brutal jousting matches, the Mountain faced off against Ser Loras Tyrell, and the confrontation ended with the Hound jumping in to save Loras from the unhorsed and unhinged Mountain. The two battle for a bit before King Robert intervenes -- an amuse-bouche of unexpected violence. Watching it now feels exactly like a classic pro-wrestling interference run-in that gets broken up by a referee on WWE Raw.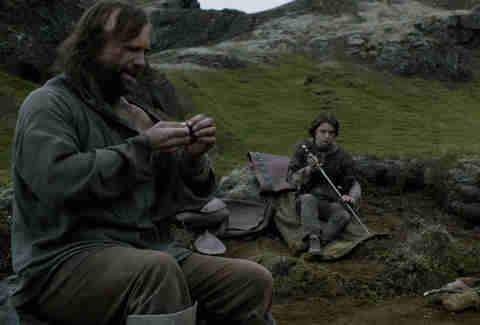 But, wait, isn't the Hound dead?
Not exactly. We debated this point a lot when we introduced our high-stakes bracket to determine which Game of Thrones character you'd most want to see come back from the dead. On one hand, it seemed very likely that the Hound -- who got his ass kicked in the Season 4 finale by Brienne of Tarth in a Tyson-esque ear-biting brawl and was left for dead by Arya -- had been dispatched to the same dark place Jon Snow briefly went to.
But, come on, this is TV -- we never saw the Hound die. So we ended up including him on our bracket, even though we suspect he's going to make his big return at some point. And, judging from recent episodes and some textual clues, it could happen very soon.
For one thing, many book-readers have pointed to a specific moment that hints at the Hound's eventual return. As this helpful Business Insider primer on the theory points out, Brienne of Tarth visits the Quiet Isle, a monastery-like refuge where she encounters the Elder Brother; she later learns that he had come across a wounded Sandor Clegane and attempted to nurse him back to health. And then Brienne sees a tall gravedigger in the distance and also finds the Hound's headstrong horse, named Stranger, in the stables.
What's the title of episode four? "Book of the Stranger." Coincidence? Probably -- the Stranger is also an aspect of the Seven, the gods of the Faith of the Seven, and represents death.
But keep in mind what English actor Ian McShane, who will guest star in an episode this season, said in an interview earlier this year. "I bring back a much-loved character everybody thinks is dead," the artist formerly known as Al Swearengen told the BBC. Initially, there was speculation that the Deadwood star had blown the Jon Snow reveal. But with Jon back among the living and McShane's appearance still to come, it's all the more likely that the much-loved character in question will be the Hound.
Sunday night's episode makes me suspect that the Hound is all but guaranteed to return this season, maybe even in a Cleganebowl scenario. In one of the funnier, gassier scenes in GoT history, Cersei and Jaime are discussing the possibility of trial-by-combat and explicitly state that Qyburn's gold-armored goon is Gregor Clegane, something that had only been implied before.
In another scene, the Hound is mentioned by name. Taking a break from smacking Arya with a staff, the Waif queried Arya about her famous kill list and asks why the Hound had been on it but then removed. Would they even be talking about him if Sandor wasn't going to come waltzing back this season?
Why are people online so obsessed with this theory?
Sometimes it feels like Game of Thrones exists so its fans can theorize about possible twists, secret family trees, and potential resurrections. As much as a show like Lost inspired feverish analysis of every inconsequential detail -- shout out to Nikki and Paulo! -- the rich detail found in George R.R. Martin's novels takes it many steps further, because fans are speculating not just about what will happen on the show but in the A Song of Ice and Fire series as well. Along with R + L = J, the Cleganebowl has gripped the minds of a certain kind of super-fan like a nasty infection of greyscale.
Just watch the video posted above. Really. Watch the whole thing. You done yet?
That clip, along with similar ridiculous videos, helped popularize the theory, bringing it out of web forums, chat rooms, and discussion threads into articles like the one you're reading right now. There's a whole sub-Reddit devoted to the Cleganebowl, a place to share theories, images, and jokes about the eventual confrontation. For example, Sunday night's episode inspired multiple posts about a single line Jaime said. The thread has its own terminology and in-jokes. They mostly involve two words: get hype.
As you can tell from the menacing "Hard in the Paint" beat that scores the video above, the excitement fans have about the Cleganebowl is fervent. It's like a higher calling -- a religion founded on hype. The type of cause that, were it happening in Westeros, might lead to forehead carvings. 
But there's also something reductive about the whole thing. Whether you love it or merely tolerate it, you have to admit that at this point Game of Thrones is a thorny and ambitious storytelling achievement, one that often wallows in dark themes about human nature, the dangers of religious fanaticism, and the struggle to retain order in a chaotic world where everyone is seeking power. Reducing the show to a macho wrestling match under-cuts that ambition.
It wouldn't surprise me if Benioff and Weiss feel the same way. This is still Game of Thrones. As Sunday's Bran flashback showed, there's nothing the creators like to do more than set up a classic fantasy trope and then provide some sort of twist that subverts the expectations of the audience. While the show often rewards the bloodlust of its viewers, it usually does so in a way that confounds your expectations or upends convention. To again borrow a term from professional wrestling, there might be a swerve coming up.
So, enjoy the videos. Read up on the theories. Look for clues. Prep for the return of the Hound. And get hyped! Just keep your hype level in check -- for now.
Check out all the latest Game of Thrones Season 6 photos that tease the next episode.
Sign up here for our daily Thrillist email, and get your fix of the best in food/drink/fun.
Dan Jackson is a staff writer at Thrillist Entertainment and he's trying to control his hype levels. He's on Twitter: @danielvjackson.