'Game of Thrones: The Last Watch' Is a Lovely Tribute to the Unsung Heroes of Westeros
By the end of Game of Thrones, I was feeling as burnt out on the the series as King's Landing after Daenerys' massacre. I wasn't sure I wanted to watch the documentary about the making of the final season, titled The Last Watch. What could it tell me that I hadn't learned in the oodles of bonus features HBO dropped over the course of the final six episodes? But the two-hour special ended up truly exposing a side of the enormous series that most viewers hadn't yet experienced.
The Last Watch thankfully avoids digging into plot choices or Westerosi lore, sparing viewers the kinds of rehashing and controversy found online during Season 8. It barely spends time with the actors fans have come to adore. Instead, Jeanie Finley's film introduces us to the men and women who truly made Thrones run. There's the dedicated "Head of Snow," who poured white flakes in the corners of Winterfell, and an eager extra who's been a loyal House Stark guard for multiple years. You meet the woman who ran the snack cart frequented by extras and crew members and is proud of her famous toastie, plus the husband-and-wife team in charge of prosthetics, missing their daughter back home as they turn people into wights.
These are people who rarely get glory on any production big or small, but are essential to making it run. In that way, The Last Watch is a genuinely moving document. Yes, it is a victory lap for a mammoth achievement in television history, but it's the right kind of victory lap, one that turns the spotlight away from the figureheads like showrunners David Benioff and D.B. Weiss.
The documentary isn't devoid of snippets with the stars. It takes us into the finale table read, in which Kit Harington learns how Jon stabs Daenerys. He's shocked; Emilia Clarke makes memeable face. Cast members -- including Harington, but also Tom Wlaschiha, who played Jaqen H'ghar -- are sent to Spain as decoys to keep the plot hidden. But all of the actors' actions are contextualized by the usually silent forces that support them. Here are some of the champion Thrones employees that The Last Watch highlights.
Andrew McClay, showing off his beloved jacket

| HBO
Andrew McClay, Stark Guard
McClay is easily the documentary's breakout star, a thrillingly enthusiastic extra with a big bushy beard, who cares deeply about his recurring role as a Stark guard. There was a close-up of him during the Battle of the Bastards, and in the final season he participates in the Battle of Winterfell and the attack on King's Landing. McClay's joy is infectious, but he represents legions of extras who have populated every massive scene and are nearly as responsible for the storytelling as the principal actors. The crew seems to absolutely adore him, and I promise you'll smile when you see him interact with Kit Harington, after making sure his hero, Jon Snow, gets one of the jackets the extras wear around the set. Harington loves the jacket, and McClay starts to beam with delight.
The man with the snow: Del Reid

| HBO
Del Reid, Head of Snow
Perhaps the first major revelation in The Last Watch is that Game of Thrones actually had a "Snow" department, which is both amusing and makes so much sense. The man in charge of all that fake powder, which is made of paper and water? That would be Del Reid, straightforward, frugal, and in a bind when snow actually hits Belfast. "If it snows, well, we can't just dress on top of real snow," he says during an intense phone call. It's a busy, stressful job, especially when he and his team are called to remove an entire horizon line of material they had just placed down.
Leigh McCrum, Coffee Van Manager
Who feeds people in Westeros? That would be Leigh McCrum and her "heart attack van." It's named as such for items like the "tiger toastie," a favorite on set, which consists of tiger bread, chicken, ham, bacon, cheese, tomato, onion, and tobacco onions. When the weather gets hot, she's there with popsicles on hand.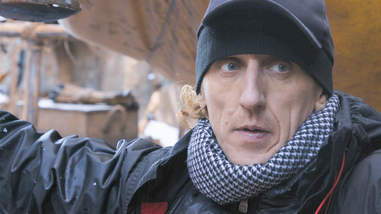 Vladimir, out of makeup

| HBO
Vladimir Furdik, The Night King
Furdik's name is probably already well known to Thrones fans as the man who portrayed the Night King, but The Last Watch provides a look into his transition from stunt man to Big Bad, both physically and psychologically. He's funny riffing on his character's fate, but honest in how uneasy he is with his dual roles. "This year I don't feel so very comfortable, because I don't know where I belong," he says, "if I am part of the actors or part of the stuntmen."
Sarah and Barrie Gower, Prosthetics
The Gowers are in charge of all the prosthetics, turning people into wights and White Walkers and attempting severed arm gags. Finley focuses largely on Sarah, as she frets about the reactions from Benioff and Weiss as she debuts her work. "I can't really tell what they think," she says. "I wanted a big round of applause." She's also an example of the toll that the show takes on families. In the middle of the seemingly endless night shoots for the Battle of Winterfell she longs for her daughter, whom she hasn't seen in three weeks. The girl arrives later and appears as a Wildling in the final moments of the series.
Managing the locations

| HBO
Naomi Liston, Location Manager
The hilariously profane Liston is essentially a master coordinator. "I sort of end up doing all the logistics and the running of all the locations when we're out and about, which is great fun," she explains. Her job also involves determining where the crew can smoke. "These big gas canisters, that's all propane," she warns at one point. "You cannot sit there having a fag, otherwise the whole thing's going to go up."
Deborah Riley, Production Designer
Riley's work has been heralded during the series' run, but it's worth repeating here. While Dubrovnik usually stands in for King's Landing, she elected to rebuild streets for Daenerys' rampage in a parking lot in Belfast. Then you get to watch it all go boom.