Euron's Mystery Gift Revealed in One of 'Game of Thrones' Craziest Scenes Ever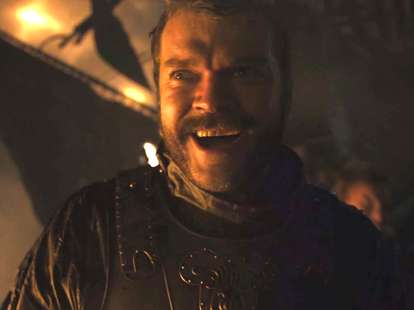 HBO
HBO
This post contains major spoilers for
Game of Thrones
Season 7, Episode 2, "Stormborn," and every episode before it. Visit our "Beyond the Wall" hub for more
Thrones recaps, theories, and spoilers.
By Game of Thrones standards -- I mean, just look at the Starks -- the Greyjoys are a pretty run-of-the-mill family. Uncle Euron launches a surprise night attack against the ships of his niece and nephew, kills their new allies and scores of their crew, cackles with menacing delight when Theon abandons his sister, and achieves the upper hand in a nascent struggle for the Iron Throne, which doesn't really matter because remember, folks: White Walkers.
But what did we learn from the climactic sea battle that capped "Stormborn," episode 2 of Game of Thrones' seventh season? More than you think.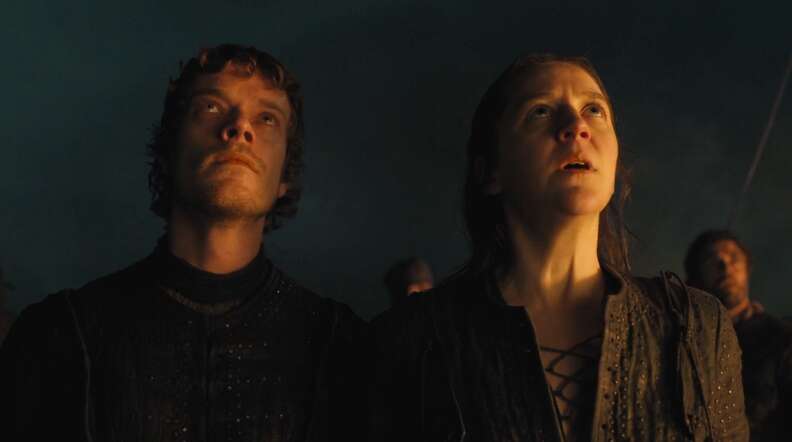 Theon's emotional scars weren't healed by a single pep talk from Yara
Theon Greyjoy has had a rough go since betraying his benefactors, the Starks, and pretending to have burned alive two Stark children in a failed attempt to secure Winterfell. Ramsay Bolton applied his talent for vivisection to a captured Theon, eventually depriving him of not just his most prized body part (ahem), but also his previous identity as Theon. He became Reek.
Finally Theon manages to do the right thing by helping out Sansa and escaping from Ramsay's grasp, to reunite with his long-lost sister, Yara. When Yara (who along with Theon is leading a breakaway band of Greyjoys in opposition to their Uncle Euron, as sadistic and powerhungry as they come in GoT) gives him an emotional pick-me-up speech, the gist of which is, "If you're gonna be a crybaby because some guy cut off your genitals while you were still living and sent them to your family, you might as well end it all," you may have raised an eyebrow or two. Will Theon, who once was so beaten down that Ramsay Bolton gave him The Color Purple treatment, finally stand up and fight when his sister needs him most?
Nope. As Euron holds an ax to Yara's throat and dares Theon to act, the poor, tortured Greyjoy jumps off the edge of the boat. It turns out that the battle scenes of men mutilating other men might not have been the best thing for Theon's healing journey; you can't exactly pull yourself up by the bootstraps when you've gone through what Theon has, and images of people cutting off ears and tongues doesn't sit well with most people who haven't been Ramsay Bolton's prisoner. Of course, as we know from Ser Jorah's painfully silent battle with greyscale, diseases in the GoT universe don't always correspond to our own. There may be hope for Theon yet -- technically Daenerys has a few more boats that could sail his way -- but now he's got no fleet and his sister is a POW.
We know what "gift" Euron plans to give Cersei
At the end of last week's premiere, Euron promised he'd return to Cersei with a badass gift that she can't get anywhere else, and you can be damn sure it's not one of those Kay jewelers "Ever Us" love rings for your best friend AND lover (they're the same person OMG!). Instead, he'll be bringing news that the Martells -- responsible for the death of Cersei's daughter and in open rebellion with her -- are dead. The three Martell girls a.k.a. the Sand Snakes had a lot of fight in them, but giant ax beats whip pretty much every time. Two of the Sand Snakes wind up impaled on and hanging from their ship, while Ellaria and Tyene Sand appear to be part of Euron's sweet gift to Cersei.
Euron also offers Yara, though Euron's plans for her aren't clear yet. He could've killed her right away, so the implication is that she'll become a prisoner. Bad things happen to Greyjoy prisoners, as we've seen. But keeping them alive could also be his downfall -- let's not forget Olenna Tyrell's parting words to Daenerys on this episode: "be a dragon." Ms. Stormborn's plan B could leave King's Landing in ruins and Yara with one more chance of revenge.
Yeah, so that apparently flawless battle plan Tyrion drew up is dead on arrival. All this sets up an epic human-on-human battle for the Iron Throne -- as long as the White Walkers don't get there first (still a problem, those White Walkers) -- one in which Cersei's forces suddenly don't look so doomed to failure. We haven't even talked about the whole dragon glass mining company Jon Snow needs to get off the ground! Don't worry: Answers are coming soon.
Sign up here for our daily Thrillist email and subscribe here for our YouTube channel to get your fix of the best in food/drink/fun.
Anthony Schneck is an Entertainment Editor at Thrillist. Follow him @AnthonySchneck.