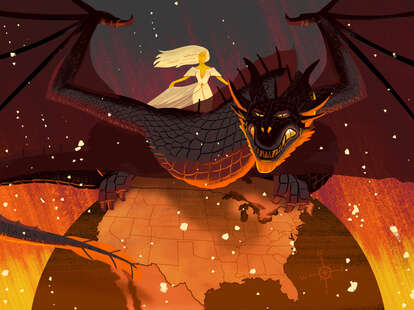 Jason Hoffman/Thrillist
Jason Hoffman/Thrillist
This Is How Many People Watch 'Game of Thrones' in Every State
When you think of a Game of Thrones fan, is the picture that comes to mind that of an overweight, unemployed fantasy geek in a basement, taking breaks from bingeing episodes only to polish their sword collection? Turns out the reality might resemble someone more like Frank Underwood. Yes, Washington, DC really loves them some dragons.
According to data the good folks at Nielsen sent over to Thrillist, our nation's capital has the most loyal Thrones fans in the country. With 7.48% of households tuning in live or watching the same day on average over the course of series' run (based on data from the Season 1 premiere on April 17, 2011, through the fifth episode of the recently ended Season 7), the District of Columbia ranks ahead of all 50 states. Maybe that's not surprising, given that DC is basically our King's Landing, filled with power-hungry politicians clamoring to take control of the Iron Thr... er, I mean White House. People do love to watch relatable characters.
Coming in at No. 2 -- and first among all of the actual, full-fledged states -- is Rhode Island, with an average of 6.4% of households watching. New Jersey, Massachusetts, Maryland, North Dakota, New York, Connecticut, Virginia, and Nevada round out the top 10 (see the graphic below) and hint at a clear trend: densely populated Northern (especially Northeastern) states just love Game of Thrones more.

A couple things could explain this. For one, the Northeast is statistically more affluent and people there are more likely able to afford a paid subscription to HBO -- remember, these ratings reflect people actually watching real TV on Sundays, not finding leaked episodes or otherwise illegally streaming the show.
But the concentration of high-population-density states at the top of the ratings ranking is also interesting. While the metric here -- average percent of households watching, as opposed to a raw amount of viewers -- should account for population density, there could be a water-cooler effect at play here. Game of Thrones is a pop-culture monster, spawning merchandise, watch parties, beer, recipes, relentless pop-culture references (go watch Logan Lucky for a particularly great one) and endless chatter in the form of tweets, podcasts, and internet hot takes. In densely populated areas, it can sometimes feel like everyone is watching and the pressure can be great to stay current and make sure you stay in the loop about the most shocking deaths and craziest fan theories. What I'm trying to say is that the North(east) remembers... to tune in on Sundays at 9pm EST.
On the flip side, Wyoming comes in as the most disinterested state, with a measly .55 percent of households tuning in on average since the series began; at 1.02 percent, Hawaii is a distant second-lowest. We can only assume these states are filled with Wildlings stubbornly refusing to assimilate into our dragon-obsessed society. On second thought, people in Hawaii may just be busy at the beach. Winter is never coming for them there.
Sign up here for our daily Thrillist email and subscribe here for our YouTube channel to get your fix of the best in food/drink/fun.
Alex Garofalo is the SEO manager at Thrillist. He is currently busy moving from Washington Heights to Brooklyn, but when he has free time he likes to write things, like screenplays and stories like this!