What Was Brienne Writing in That Big Ol' Book?
There was a quiet moment at the end of the Game of Thrones finale, after Bran the Broken had been handed whatever is replacing the Iron Throne, after Greyworm and the Unsullied and Dothraki leave King's Landing, and immediately after Jon was exiled back to Castle Black to reunite with his direwolf and his wildling buddy Tormund yet again as his compromised punishment for killing the queen. We find Ser Brienne of Tarth, paging through a very, very large history book, settling on the short entry for Ser Jaime Lannister that ends at his service under King Tommen I.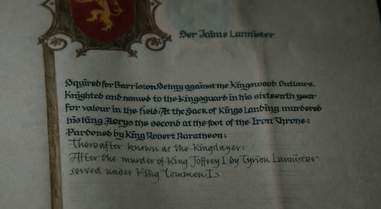 HBO
This several thousand-page tome is called The White Book, formerly The Book of the Brothers, that serves as a three-hundred-year record of all of the people who have served in the Kingsguard, the royal bodyguards of the Iron Throne, each getting one page of content to hold their lifetime doings. Per the novels, it's the duty of the Lord Commander of the Kingsguard to keep this a living document, adding new entries and amending existing ones. Loyal servant to the Realm that she is, Brienne began her Lord Commander tenure under Bran by giving Jaime's page the abridged version of his story since Tommen took the throne all the way back in Season 4.
HBO
Now, the timeline of serving under Tommen to being captured at the Whispering Wood to being set free by Catelyn Stark to losing his hand (whenever that sentence is completed!) is a bit... incorrect, to say the least. The descent/ascent of Joffrey to Tommen took place in Season 4, but the Battle of the Whispering Wood -- the Lannisters versus basically everyone else -- happened on-screen all the way back in late Season 1. Both the infamous Red Wedding and Jaime losing his hand are Season 3 events. If that wasn't enough, there's more!
On what seems to be a new page, which is a BREAK of PROTOCOL for this book, the cherrypicking of events continues framed in quite generous terms: "without loss of life," "sacrificing his childhood home in service to a greater strategy," "outwitted," "fought ... bravely, narrowly escaping death," "pledged himself to the forces of men." None of this is untrue, but there is a curious indefatigable nobility that Brienne is trying to impart on Jaime's legacy that's a little difficult to swallow knowing so much of his journey was mired in... incest. The entry soon comes to a close:
HBO
We can see that the key "alone" was added to the sentence about riding to Winterfell to keep the living alive, which is indeed true, but ignores the bigger picture, which is that Cersei literally told Daenerys and Tyrion that they can fuck right off with their battle against the undead -- she'll wait out their armies' decimation and take on the rest herself at King's Landing -- and that's when Jaime "pledged himself ... alone," in a sharp break from his sister for the first major time ever in Game of Thrones. The "impossible odds" against the Night King: that line tracks. The next, however, that he "escaped imprisonment" blatantly skips over that he wasn't a prisoner when he left Winterfell -- he was captured because of that choice. And he didn't escape, he was freed by his brother, Tyrion, and "saving the capital from destruction" would not be the log line of his mission. If anything, it was to reunite with Cersei yet again, with no greater calling other that to be by her side when King's Landing fell. That final line -- "Died protecting his Queen." -- is especially heartbreaking coming from Brienne with their long, entangled history.
Brienne would be the last person to undeservedly badmouth a dear friend and lover after their death, but completing her and Jaime's saga with these revisions to the Kingsguard book is disappointing, to say the least. In lieu of mentioning her own knighting -- wholly earned by Brienne, and a bona fide good deed by Jaime -- she pens a massaged version of Jaime's life. If her reaction to Jaime leaving Winterfell to be with Cersei after the two of them boinked wasn't already a major break from the Brienne we've come to know on Game of Thrones, this scene was one final wallop. Yes, their relationship has always been complicated, and yes, the show has gone through great lengths to paint the depths of their bond. But it would have been immensely more satisfying if she had sat down to start with her own page that said that Jaime Lannister knighted her Ser Brienne of Tarth, the first female knight, who would go onto become the Lord Commander of the Knightsguard of the new world.
Leanne Butkovic (@leanbutk) is an entertainment editor at Thrillist.