Why Jon and Dany's Relationship Will Be the Ultimate 'Game of Thrones' Payoff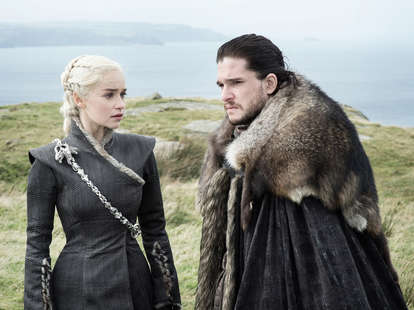 HBO
HBO
It was always inevitable. Jon Snow, bastard of Winterfell, and Daenerys Targaryen, mother of dragons: destined for a path of collision. In both Game of Thrones and the book series A Song of Ice and Fire, they are literal polar extremes, his Northern and icy exterior as imbued in his nature as her fiery dominance. In a recent interview with Deadline, Thrones director Alan Taylor confessed that author George R.R. Martin told him long ago that the saga is all about Jon and Daenerys. "He did sort of say things that made it clear that the meeting and convergence of Jon and Dany [was] sort of the point of the series."
Naturally, when two attractive and similarly aged people with powerful and foretold destinies come together, tensions will rise and sparks will fly. That's why, for years now, Jon and Daenerys have been a popular 'ship in Thrones fandom, despite never having met. It helps that the show's iconography often mirrors their journeys; Jon's through the icy terrain north of the Wall and Dany's in the deserts of Essos. And both have been "reborn," by literal resurrection (Jon) and a magical pyre that also hatched dragons (Dany).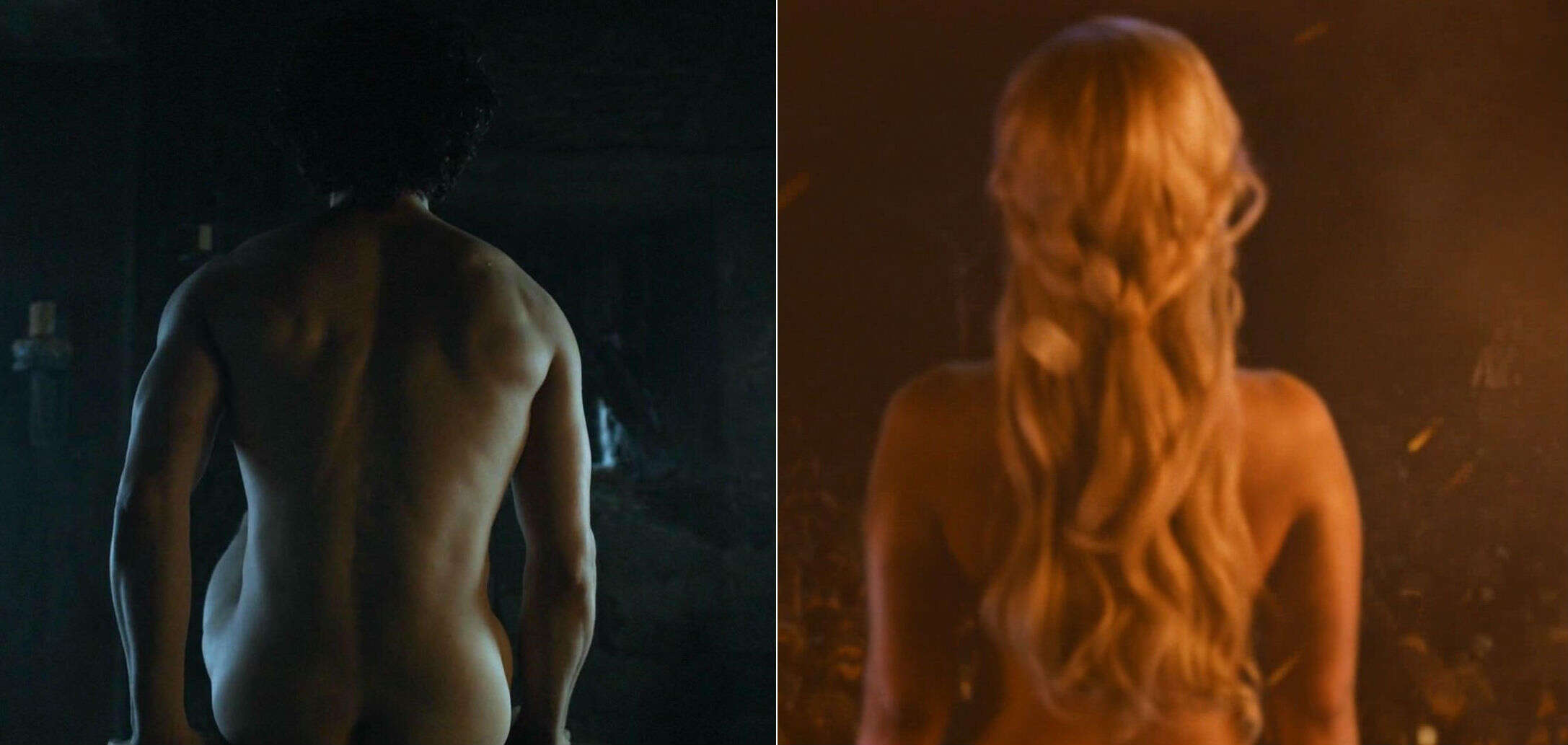 So yes, Jon and Daenerys are the perfect recipe for fan adulation. That's why their meeting -- in Season 7, Episode 3, "The Queen's Justice" -- was so loaded. It wasn't exactly an arms wide open coming together, with Dany expecting Jon to bend the knee and Jon expecting Dany to easily submit to his White Walker destruction plan, but was fraught with the intense stares and obvious attraction fans hoped for.
Of course, there's one hitch in this otherwise rosy relationship: Daenerys is Jon Snow's aunt, so their union would be incestuous.
The murky morality hasn't exactly stopped ardent supporters from wanting it, though. After all, Jon and Dany grew up apart from one another, with no knowledge that they're of the same bloodline. Jon's father -- though wildly hinted at it -- still technically hasn't been confirmed to be Rhaegar Targaryen, Dany's brother and lover of Jon's for-sure mom Lyanna Stark. Their separate lives and identities may not totally excuse the rapturous desire for them to "just kiss already," but in a show with ice dragons, faceless assassins, patricide, and a full-on brother-sister affair, is aunt and nephew really where we draw the line?
For those in blissful denial about how complicated an aunt-nephew relationship might get, fear not -- the show is almost definitely going there. Producers David Benioff and Dan Weiss have confirmed in Season 7's Inside the Episode segments that Jon and Daenerys are falling hard for one another. They even have their very own Ramin Djawadi-composed love theme, a combination of Stark and Targaryen instrumentation that pops up whenever the two share an intense moment.
And the real icing on the cake? The Season 7 finale is titled "The Dragon and the Wolf." After last episode's intense boat moment, where Jon finally declared his allegiance with Dany, it seems we're on course for an ice and fire romance.
To that end, let's look back at some key moments in the history of Jon/Dany 'shipping, with a little help from Kit Harington and Emilia Clarke, whose could looks certainly don't hurt the fan art.
The romance got its sea legs in the books (and fan fiction)
It's hard to pinpoint exactly when Jon/Dany became a popular fan romance. Martin's first book in the series, A Game of Thrones, was published in 1996 and predates current internet hysteria. But, as with all true romance fandoms, you can trace origins through fan-fiction archives. This Livejournal fic, "The First," dates back to 2004, between the release of the third and fourth books in Martin's saga. The popular fan-fiction site, An Archive of Our Own, has Jon/Daenerys romance stories starting from around 2007, four years before the show began. It's possible even more stories exist in the annals of extinct Angelfire URLs and long-dead message boards.
Even before fan fiction popularized the idea, the book text indicated a future romance. Dany has visions in the House of the Undying of blue roses, Lyanna Stark's favorite flowers, which were given to her by Rhaegar as a loving gesture. Dany sees blue roses growing out of ice, perhaps indicating her own romantic union with a Stark. The blue rose has become a potent symbol in the Jon/Dany affair, popping up in fan art and even, briefly, on the show, when Daario presented her with several different flowers, specifically a blue rose.
Kit Harington and Emilia Clarke fueled the fire
The actors who popularized Jon and Dany are to blame for much of the recent fervor. Not only are they attractive and easily gif-able, but they've fanned the flames of a Stark/Targaryen (or, er, a Targaryen/Targaryen) hook-up for a while now.
In separate interviews, they've both mutually selected one another's characters as marriage potential. And Emilia especially has taken advantage of the fad, peppering her Instagram with cute snapshots of the two on set and even posting a now-viral video of Kit flapping his cape wings like a dragon.
But nothing is quite so popular in the Jon/Dany fandom as this 2012 Rolling Stone cover shoot.
The behind-the-scenes footage shows Kit and Emilia cuddling up and laughing in the sunlight, but it's this outtake that really sent fans spiraling. Photographer Peggy Sirota posted it to her Instagram with this tantalizing caption:
"This moment was unforgettable. It was a small crew on that day, just a few of us out in the field. The chemistry between these four was huge, as you can see... I asked them to kiss, I suppose love was in the air, & I was just lucky enough to be there."

Kit and Emilia aren't actually dating, though there is one little anecdote that could make their love scenes awkward: Kit is dating (and supposedly engaged to) former co-star Rose Leslie, who is Emilia Clarke's real-life best friend. The three of them have been spotted out and about together on multiple occasions.
It's coming -- whether you like it or not
No matter your take on Jon and Dany, it's best to prepare for the inevitable. The finale is sure to see some sort of temporary resolution for the season-long buildup, from cliffside conversations to intense looks in a cave (Jon's preferred love locale) to wounded hand-holding. In an interview with the Daily Beast, director Alan Taylor had this to say about the future of Jon and Daenerys:
"There's no secret that this is where this is going. Readers of the book have known that things were heading towards this destination for a while. Even the characters in this story know it's heading in this direction. Tyrion is making fun of Dany about what's brewing. So we knew it's got to come at some point, and I was glad that I got to be there for a major step forward for them. The fact that Jon's willing to now bend the knee to her as the next queen is a huge political step. The fact that they are starting to fall for each other is huge. It comes down to tiny moments and how they interact with each other. They're holding hands and there's this great look where she's swooning and she steps back from it, but it's clear that that's our destination at this point."
That hasn't stopped the debates, with some calling the relationship "weak" and too predictable, and others just plain wondering if it's gross to want an aunt and nephew to hook up. But as the story barrels towards predictable hero saving and fulfilled prophecies, an incestuous Jon and Daenerys love story is just the sort of bittersweet pill that made Game of Thrones so enthralling to begin with. And there's almost zero chance it all works out perfectly. To quote Ramsay Bolton, "If you think this has a happy ending, you haven't been paying attention."
Sign up here for our daily Thrillist email and subscribe here for our YouTube channel to get your fix of the best in food/drink/fun.

Lindsey Romain is a writer and editor living in Chicago. She covers politics for Teen Vogue and has also appeared in Vulture, Birth.Movies.Death, and more. Follow her on Twitter @lindseyromain.