Lena Headey Talks 'Fighting With My Family' and the End of 'Game of Thrones'
Suzi Pratt/Getty Images for Metro Goldwyn Mayer Pictures
The Instagram account belonging to Game of Thrones star Lena Headey is a goofy place. If you follow her, you'll find a litany of funny faces, mostly her own but sometimes with a co-star thrown in for good measure, and given Thrones' rabid fan base, a shot with one of her GoT pals can elicit wild speculation from ferocious clue-hunters. It's all very anti-Queen Cersei, who mainly keeps her face fixed in a plotting snarl.
Getting away from the "wicked queen" persona she's embodied since 2011 is one of the reasons Headey decided to make the comedy Fighting with My Family in between filming the seventh and eighth seasons of Thrones. In the movie, based on the real life of WWE Superstar Paige, Headey is Julia, a.k.a. Sweet Saraya, the frank, pink-haired matriarch of a rambunctious, loving family of wrestlers in Norwich, England. When Paige -- actual name Saraya-Jade Bevis (Florence Pugh) -- gets tapped to go to America and train to become part of Vince McMahon's empire, she's tasked with carrying out the dreams of her parents (Headey and Nick Frost), who saw wrestling as their way out of crime and addiction. While the latter half of Fighting with My Family has all the gloss of a WWE product, complete with a cameo from executive producer Dwayne "The Rock" Johnson as himself, the first half feels more analogous to the likes of Billy Elliot with its inspirational tale of Brits pursuing their passions no matter the odds.
Meanwhile, over in Westeros, Cersei is pregnant, or at least says she is, and facing the White Walker apocalypse alone, having rejected offers for a truce. One morning in February, we sat down the Headey to talk about the film, ask how she's prepping for the end of Thrones, and propose a match-up between two superstars of very different rings.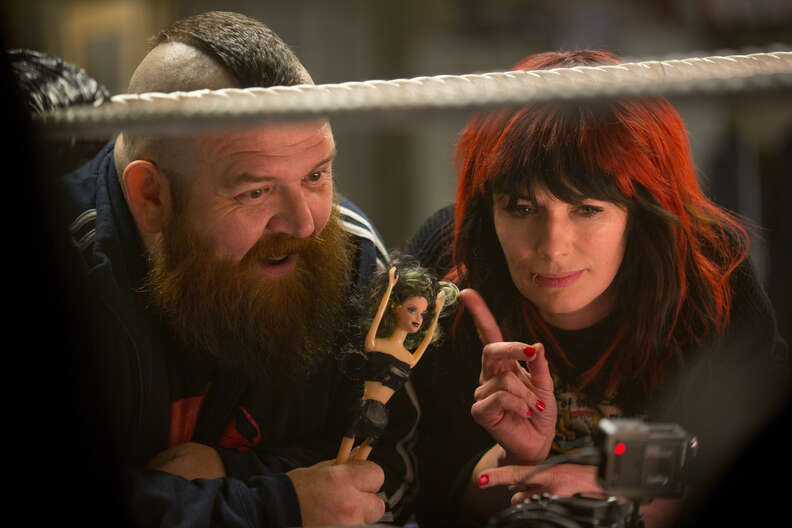 Thrillist: You filmed Fighting With My Family in between seasons seven and eight of Thrones. Is there a temptation to relax during that period? What made you want to go and do this?
Lena Headey: I saw the documentary [on which the movie is based] and fell in love with the Knight family, and I wanted to do some comedy. It was something very different and probably unexpected. And then I got the script from Stephen. Because I knew the documentary, I was really excited they were going to do the film version of this family.
How familiar were you with the wrestling world? You've done a bunch of action, but did you know wrestling moves?
Headey: No wrestling knowledge. I grew up watching old British wrestling, which was fat guys in unitards drinking pints and smoking cigarettes. I knew of the WWE because it's unavoidable. But yeah, I wasn't versed in any wrestling knowledge.
Did you have to train? What was it like wrestling with Nick Frost?
Headey: Wrestling with Nick Frost is hilarious, as most things with Nick Frost are. It was great. I didn't do any physical training. We obviously rehearsed that fight that we do with stunt doubles and us.
Knowing your social media presence, there's often a lot of goofy stuff going on, but you haven't had the opportunity to show that side of yourself on Thrones, for instance. What was the impetus to do more comedy?
Headey: I don't want to say I'm, like, hilarious, but obviously Cersei's sort of permeated everything. More than anyone ever thought would happen. So I think there's a preconception of who I am. That follows you weirdly in this industry, even with industry professionals who are like, "Oh God, you're funny and nice." Where I lay naturally as a person is more relaxed and nerdy than playing wicked queens.
When you say permeated what do you mean?
Headey: Just that Thrones has become so massive unlike anyone ever thought it would, and it's become part of a language now. The characters are used to represent things that have happened in the news.
Did you know Florence at all? Because her brother was on Thrones as Trystane Martell.
Headey: No, I never met Toby [Sebastian] all the time we did Thrones. I obviously hadn't met Florence, but I knew of her. She's kind of rising and brilliant. It's unavoidable. She's everywhere, quite rightly.
Did you talk to her about this weird intersection?
Headey: I think in passing. She was like, "He was on Thrones." I was like, "Yeah, I know." Then we continued slamming each other against the ropes.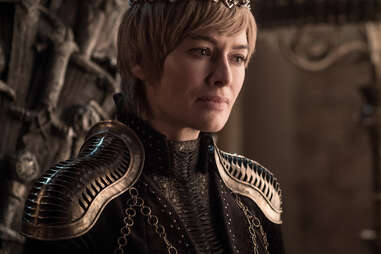 What was it about the Knight family that interested you?
Headey: They are such a deeply authentic family. That they don't hide anything. There's no pretense. There's no 'Let's act this way for this person, let's change.' They are who they are and they are a lovable bunch of sort of passionate nutters. I went into Julia's backstory a little bit. She was fascinating and truly an incredible human being to survive everything and come to this point in her life and find Ricky and fall in love with him. She kind of orbits around him. They have their kids and they kind of become this unit, and I can't have anything but respect and admiration for that as someone who has sort of resurrected everything and gone, 'You're not going to fuck with us.' This is it.
I love that reindeer costume you wear for the Christmas wrestling match.
Headey: I mean, talk about flammable.
In the media world, we're gearing up for the Thrones premiere…
Headey: The imminent release.
How are you preparing for the end of Thrones?
Headey: I'm not, really. The work's over in terms of shooting. That was last year, but we still have the press stuff, so we'll still kind of see each other. I don't think until it's over over will I know it's the end, if that makes sense.
HBO just released some photos which are mostly just of people looking at places. People have been digging into those. There's speculation over whether or not one photo indicates that Cersei is pregnant. How do you feel about the fanatical digging into that minutiae?
Headey: It's part of it. It's what we've come to realize: Anything you post people are like, '[Extended gasping noise] She just gave the whole game away.' It's like, 'I just posted a slice of pizza, that was it. Hand on heart, that was it.' So I think anything you say or do, it's like someone will interpret it as a clue.
Have you had to regulate yourself?
Headey: No. Because I genuinely just did that. I can't help it if people are projecting desires.
Someone found the original pilot script from before the reshoot, picked it apart, and found a scene of Cersei burning the feather that Robert Baratheon left on Lyanna Stark's stone. Do you remember filming that?
Headey: Yes. I do. It was a very cold crypt in Scotland somewhere.
Who would win in a fight? The Rock or The Mountain?
Headey: That's tough. Obviously, The Mountain is sort of dead. He's risen many times. Probably, I'm going to have to say The Rock, aren't I?
Well, you are promoting this film.
Headey: Ask me next week.