Nikolaj Coster-Waldau Says His New Movie Was Even Rougher Than 'Game of Thrones'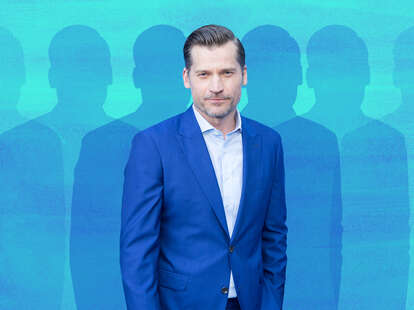 Nikolaj Coster-Waldau knows men can be good and evil. His arc as Jaime Lannister on Game of Thrones has been fraught with ups and downs, revealing a complexly drawn character you're never quite sure whether to trust. In the actor's latest film, Shot Caller, out Friday, the same is true for his character Jacob Harlon, an easygoing family man who is sent to prison after a gruesome car accident and forced to create gang allegiances in order to survive. It's a violent, compelling story of how we evolve in extreme circumstances.
"I could identify with Jacob," Coster-Waldau says, calling in from Los Angeles. "It's one of those stories where I thought, 'What would I do? Could I imagine going through that? If I was in his shoes would I have done differently?' It felt very easy to identify with. And it's a tough, tough world."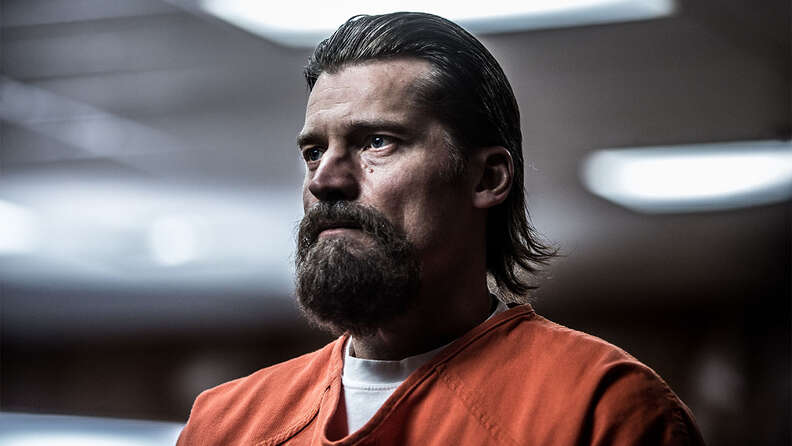 After visiting a prison, and meeting former inmates and law enforcement officers, Coster-Waldau felt shaken by the mere idea of incarceration. "I'd like to think that I could survive. And I'd to think, of course, that I'd make different choices than he did," he says. "But I'm not sure. I think we all know those moments in life when you're really, really afraid. If you can imagine being petrified 24 hours a day that would make it easy to make bad choices. That's what happens to these guys – it's a world of fear, and that eats you up."
We've seen the actor's Thrones character in the throes of battle, including a recent jump from horseback to avoid dragon fire, but Coster-Waldau still describes Shot Caller as one of his more physically and emotionally grueling experiences. While filming, he was handcuffed, shoved around, and even locked in a small cage, all of which made him consider whether the criminal justice system in America is all that effective.
"When you shoot you're only doing it for a few hours, [but] it's still extremely uncomfortable," he says of being locked up. "I've tried to imagine doing it for longer and it's tough."
In playing a criminal, though, Coster-Waldau feels he began to understand something more about humanity and the reason why contemporary society might be so divisive. Shot Caller is a reminder that there's always a gray area when it comes to people.
"My job is trying to understand what it means to be human," the actor reflects. "We're so much more alike than we think. One of the curses of present day is that we have this big need to divide the world into 'them' and 'us.' It goes between nations, between religions, with sexual orientation. And if you commit a crime we lock you up and it becomes very extreme and you're one of 'them.' If you serve your time you'll still be one of them.
"I think we could do ourselves a big favor if we tried to understand that we're all the same. We all make mistakes. We need to have more empathy with each other and listen more to each other. When [Jacob] comes out of prison he's done horrible things. But we've seen his journey and at the end of the movie, we understand who he was. Hopefully, I wouldn't end up how he did, but I can understand how that would happen. If we can acknowledge that evil and good are in all of us it's easier to control and help each other."
Coster-Waldau feels similarly about Jaime on Game of Thrones, particularly this season. On one (golden) hand, the character wants to help broker some kind of accord between his sister Cersei and her challenger Daenerys. But on the other, he's loyal to the Lannister family and will go to extreme lengths to stay in power – even charge at a fire-breathing dragon. After last Sunday's episode, in which it was revealed that Jaime survived the dragon attack, there is a lot of uncertainty about whose side he's actually on – something that's been true throughout the show.
"You see the actions before you understand the context," Coster-Waldau explains of Jaime. "So the actions are horrific and then when you learn the context and you learn why and how and you get more of an awareness of the guy, it makes it harder to see it as black or white. Usually when we watch a movie or something we'll put the characters into boxes, like 'That's the good guy, that's the bad guy.' I get those questions all the time: 'So you like playing bad guys?' But I never play characters as bad or good. I just look at it as human beings. Jaime is a good example. In the beginning it's easy to look at him as an arrogant, horrible person, and then you learn that you shouldn't just judge a book by its cover."
He adds, "Life can be very complicated sometimes and his is very complicated. There are these surprises being thrown at him all over the place, which is fun to play and fun to react to. For a second he thought he was in control when it came to the military part of the equation and then this fire-breathing monster dragon appears and destroys that idea. It's complicated, but it's fun to play."
Jaime also, apparently, is about to become a father for the fourth time. Cersei revealed she's pregnant, although some fans are skeptical. Coster-Waldau, however, feels that Jaime believes her – for now.
"I think he believes her," he says. "She looks happy for the first time in three years. She broke the spell when they embrace and she says, 'Never betray me again.' It's the briefest moment of bliss and then she destroys that and becomes the evil one again. Maybe we'll find out differently in one of the episodes to come, but in that scene, I think he believes her."
Coster-Waldau is currently finishing production on Brian De Palma's upcoming film Domino and doesn't feel that he needs some kind of Game of Thrones exit strategy in place now that the series is coming to an end with the upcoming Season 8.
"The truth is I've been doing other stuff," he says. "I've done at least a few projects every year for all those years, so it's not like I've just done Game of Thrones and just waited for it to end. It's one of the jobs I've been doing. But it's been a job that's lasted a long time, that's for sure."
And next? "If I'm still alive we'll shoot the final season of Game of Thrones," Coster-Waldau says. "We'll see in a few weeks."
Sign up here for our daily Thrillist email and subscribe here for our YouTube channel to get your fix of the best in food/drink/fun.