Here's What We Think Will Happen on This Week's 'Game of Thrones'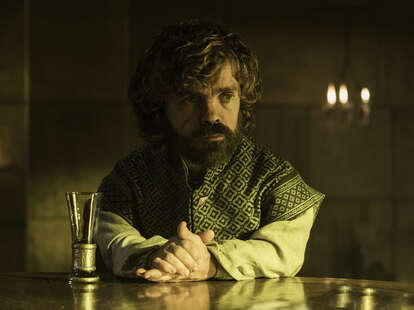 Helen Sloan/Courtesy of HBO
Two episodes in, the current season of HBO's Game of Thrones is moving at a breakneck pace, burning through plot points and family lines without being constrained by the books. A new pastime for even the most hardcore George R.R. Martin reader has cropped up around speculating on what might happen next based solely on trailers, HBO press materials, casting news, rumors, and popular fan theories. It's fun!
Coming hot on the heels of Jon Snow's resurrection, the Roose Bolton stabbing, and the weird Three-Eyed Raven stuff, tonight's episode, "Oathbreaker," is shaping up to be a doozy. But what kind of doozy? Both HBO's official release and preview trailer teasing "Oathbreaker" speak in riddles just begging to be decoded, and we're only too happy to indulge.
Our speculative run-through of "Oathbreaker" continutes below, but first take a minute to vote in our bracket tournament that asks you: Which dead character would you most like to see return to Game of Thrones? It's Ned Stark vs. Oberyn Martell for all the marbles, and one of them needs your help.

"They think you're some kind of god..."
These are the first words in the preview teaser for the episode, indicating that anyone who thought Jon Snow's return was underwhelming will quickly get some answers about what's next for him. Does the oathbreaker of the title refer to Jon, given that his death potentially triggered a technicality freeing him from his vows as a member of the Night's Watch?
The bigger question is whether he's emerged from his short trip to the afterlife an unholy abomination, with diminished capacities or memory loss, a la Beric Dondarrion. Undoing death comes at a price in Westeros, book or show; to quote George RR himself, "My characters who come back from death are worse for wear. In some ways, they're not even the same characters anymore."
But the line "They think you're some kind of god" indicates that the wildlings are a little starstruck by a newly living Jon Snow. They're not a bad crew to have in your thrall as Ramsay Bolton and his flayed men turn their eyes toward Castle Black.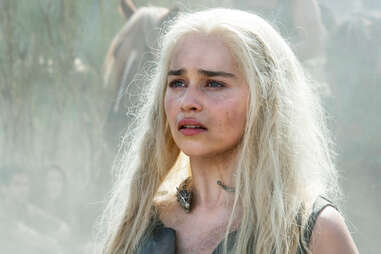 "Daenerys meets her future."
Let's face it: the Dothraki -- Doucheraki, as they are now known -- who captured Daenerys in the season premiere were fairly harmless. Beyond the bro-ish catcalls and exchanges, the mother of dragons didn't seem to be in any real danger in their midst. But in "Oathbreaker," the horde, it appears, will reach Vaes Dothrak, the heart of Dothraki culture, where Daenerys was once forced to publicly eat a horse's heart.
So get ready for Dany to meet other widowed khaleesis (e.g., her future) and much less agreeable Dothraki warlords -- who probably haven't started checking the skies for signs of an angry Drogon, but who should really consider doing that soon.
"Bran meets the past."
The difference between book-readers and show-watchers can often be summed up in these four words: the Tower of Joy. This line from the press release, mixed with the shot of a young Ned Stark saying "This is where it ends" as he draws his sword in the trailer, indicates that Bran's vision quest will take him and the Three-Eyed Raven back to a skirmish that in many ways started it all -- one that ultimately led to the downfall of the Targaryens, the rise of the Baratheons, and the many tragedies of the Stark family.
Who is inside the tower? What is the significance of this scene? Book fans hope that the episode will finally confirm R + L = J -- an equation we'll hold back on explaining for anyone still blissfully in the dark about the series' biggest fan theory. But just remember that, in season one, Eddard Stark reminisces about having made a vow to a woman close to him, who said, "Promise me, Ned."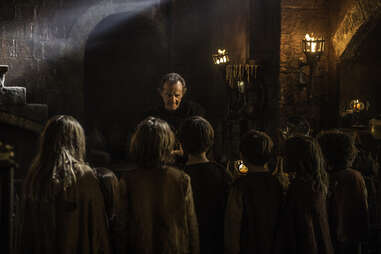 "Tommen confronts the High Sparrow."
Considering the amount of time we've spent there, we haven't actually seen much of the King's Landing key players this season. Now that we've established that Team Cersei includes Jaime and Tommen -- who has promised us to be more competent this year -- it's time to check in on some of the other power players currently lurking around the capital.
We are primarily thinking of the Small Council, which is now being headed up by Kevan Lannister; of Qyburn, who is prepping his next sin against nature; of Olenna Tyrell, who is scheming to secure the freedom of her grandchildren, including Ser Loras, who we haven't seen since he was imprisoned last season. Based on the photo above, it seems Qyburn, in particular, will be up to no good tonight.
"Arya trains to be No One."
Over a season into Arya's Braavos stint, it's rather shocking how little we know about the House of Black and White. For now, we've got more blind stick-training in the works, but we are also hoping to glimpse the inner workings of the Faceless Men's outfit now that we're entering the second year of Arya's assassin internship. We'll settle for a single, forceful whack to the face for the Waif, given the unfair beatdowns she's delivered to Arya the past two weeks. Just one knocked-out tooth is all we're asking.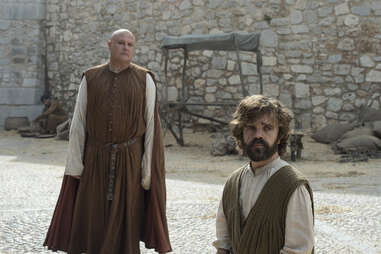 "Varys finds an answer."
Someone has been royally screwing with Meereen since the end of season four. With Daenerys still at large and her two dragons finally unchained by Tyrion, here's hoping that this teaser from the press release reveals just who has been stirring the pot and coordinating the Sons of the Harpy. If Tyrion can take a break from his so-very-hilarious jokes at Varys' expense, maybe we'll find out. Or perhaps the answer Varys finds involves that mystery Melisandre-esque woman in the pre-season trailer?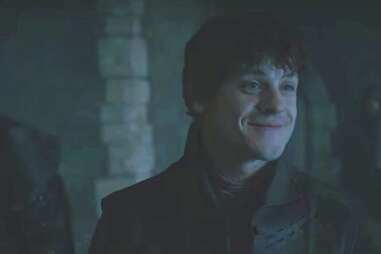 "Ramsay gets a gift."
As the episode promo reveals, a gift is set to be delivered to newly self-appointed Ramsay Bolton, Lord of Winterfell. What do you give the man who has everything as a result of sudden patricide? Short of his runaway wife and favorite toy (Sansa and Theon, respectively), you might want to give him something that will further help him secure the North.
Speaking of which, wasn't there another Stark who escaped his clutches and was last seen in season two high-tailing it to the Last Hearth, the seat of House Umber, to be sheltered secretly by Stark bannermen? Sansa is currently running as fast as she can away from Winterfell, and Jon Snow is still chilling at Castle Black -- but if there's one thing that could entice one or both of them to their old home, it's news that their young sibling, who had been presumed dead, had fallen into Ramsay's clutches.
That, or the news that Ramsay had smiled the way he's smiling in the screengrab above. What Stark wouldn't risk his or her life to smack that grin off his face?
Sign up here for our daily Thrillist email, and get your fix of the best in food/drink/fun.
Ben Philippe is a writer based in New York City. "Oathbreaker" will almost certainly find him making noises of giddiness as the camera pans into the Tower of Joy, no doubt to the delight of everyone he's watching the episode with. Find him on Twitter: @GoHomeBen.