Behold, 20 New Photos From 'Game of Thrones' Season 6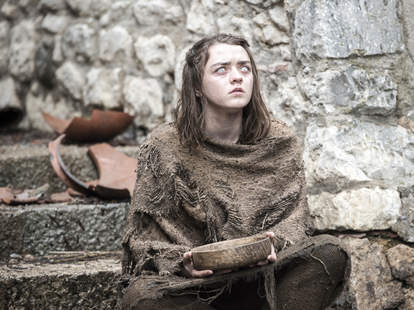 Winter is coming. In fact, it's here. But hey, so are 20 new photos from the upcoming sixth season of HBO's Game of Thrones, a show you likely have thoughts about. What do these photos reveal? Not much. Or maybe everything. Let's take a look.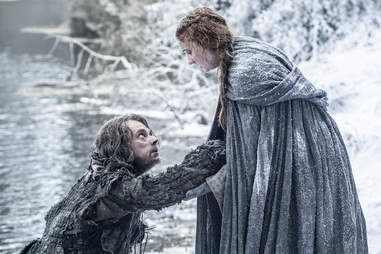 Helen Sloan/HBO
Sansa and Theon
Season five ended with Sansa and Reek (aka Theon Greyjoy) escaping Rape Castle by jumping off the ramparts. Looks like water broke their fall. If only they had some soap! These two need a wash!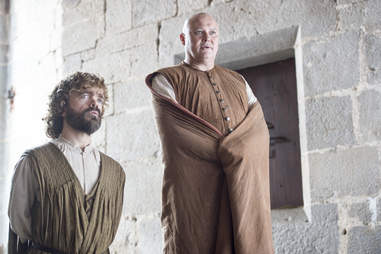 Macall B. Polay/HBO
Tyrion and Varys
Ah, the cloak-y charms of the eunuch known as the Spider. But what might the bald man and his bearded pal Tyrion be looking at this time?
Macall B. Polay/HBO
Arya
Uh-oh, she's still blind. Or just wearing contacts and going by the name Crazy-Eyes Arya. It's unclear.
Helen Sloan/HBO
Tommen, Jaime and (corpse of) Myrcella
Oh, those crazy not-Baratheon Baratheon kids and the stub-handed guy they don't seem to know is their actual father. Although it appears that King Tommen's the last Baratheon in King's Landing now. RIP, Myrcella B.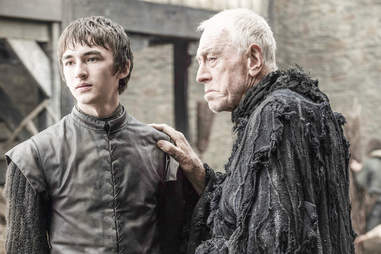 Helen Sloan/HBO 
Bran and Three-Eyed Raven
Bran's all growns up -- and now he's hanging out with that Lor San Tekka dude. What gives? Is this another of Rey's Force-dreams? What is happening here?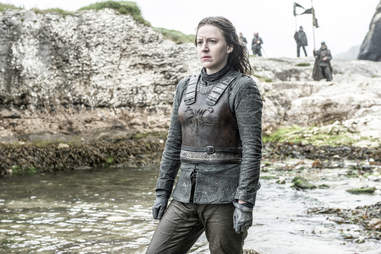 Helen Sloan/HBO
Yara Greyjoy
Look, it's Yara! Whose name is an anagram of Arya! This picture indicates little more than that this season is going to involve a lot of water.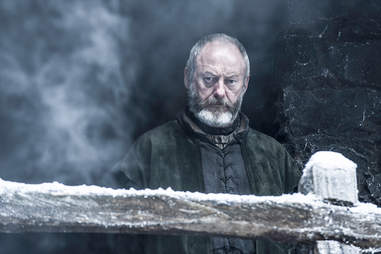 Helen Sloan/HBO
Davos
Behold, the loyal (and now liege-less) Onion Knight, who is probably on a mission of some kind.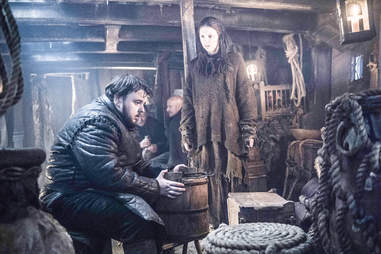 Helen Sloan/HBO
Sam and Gilly
Are they sailing to Braavos? The Citidel? Somewhere else? When is this show debuting???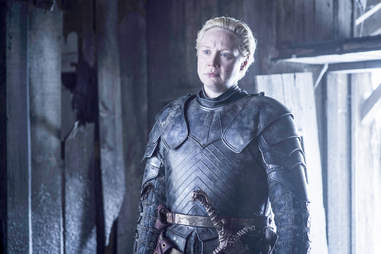 Helen Sloan/HBO
Brienne of Tarth
Look, it's Captain Phasma sans helmet! Just another example of Game of Thrones riding the coattails of Star Wars: The Force Awakens thunder.
Macall B. Polay/HBO
Daenerys
Daenerys has crazy hair. Perhaps the crazy hair of a woman who just took a ride on a dragon?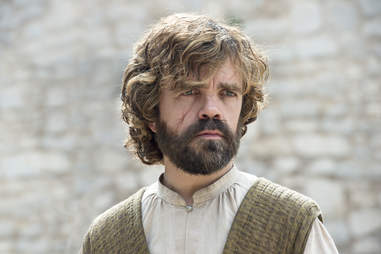 Macall B. Polay/HBO
Tyrion Lannister
Westeros' most-wanted man ponders something beardishly.
Helen Sloan/HBO
Septa and Margaery Tyrell
Looks like someone requires a holier-than-thou stare.
Helen Sloan/HBO
Jaime and Cersei
More stub-handed action for Cersei.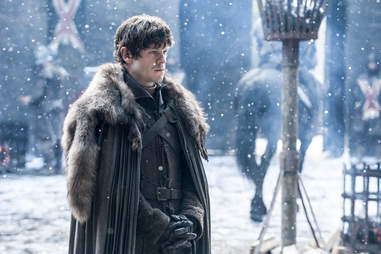 Helen Sloan/HBO
Ramsay Bolton
Evil.
Helen Sloan/HBO
The Boltons
Eviler.

Helen Sloan/HBO
Jaime
He's on a boat, with a dead body, sailing for parts unknown. But come on, where's Jon Snow.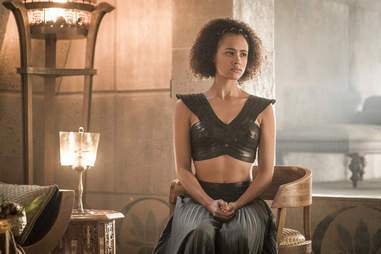 Helen Sloan/HBO
Missandei
That's not Jon Snow.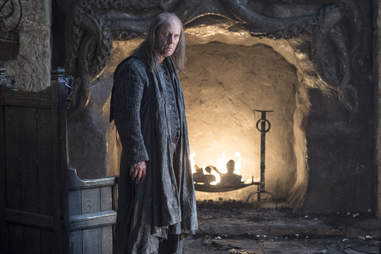 Helen Sloan/HBO
Balon Greyjoy
And that's not Jon Snow.
Helen Sloan/HBO
High Sparrow
Nope, also not Jon Snow.
Melisandre
And this is certainly not Jon Snow. But could Jon Snow be lying dead-but-not-really nearby?
Sign up here for our daily Thrillist email, and get your fix of the best in food/drink/fun.
John Sellers is Thrillist's Entertainment Director and strongly believes that R + L = J. He's on Twitter: @JohnSellers.